As you all know, I love me some Enid Collins purses.  I have 32 of her box purses, mostly displayed proudly as art on my craft room wall: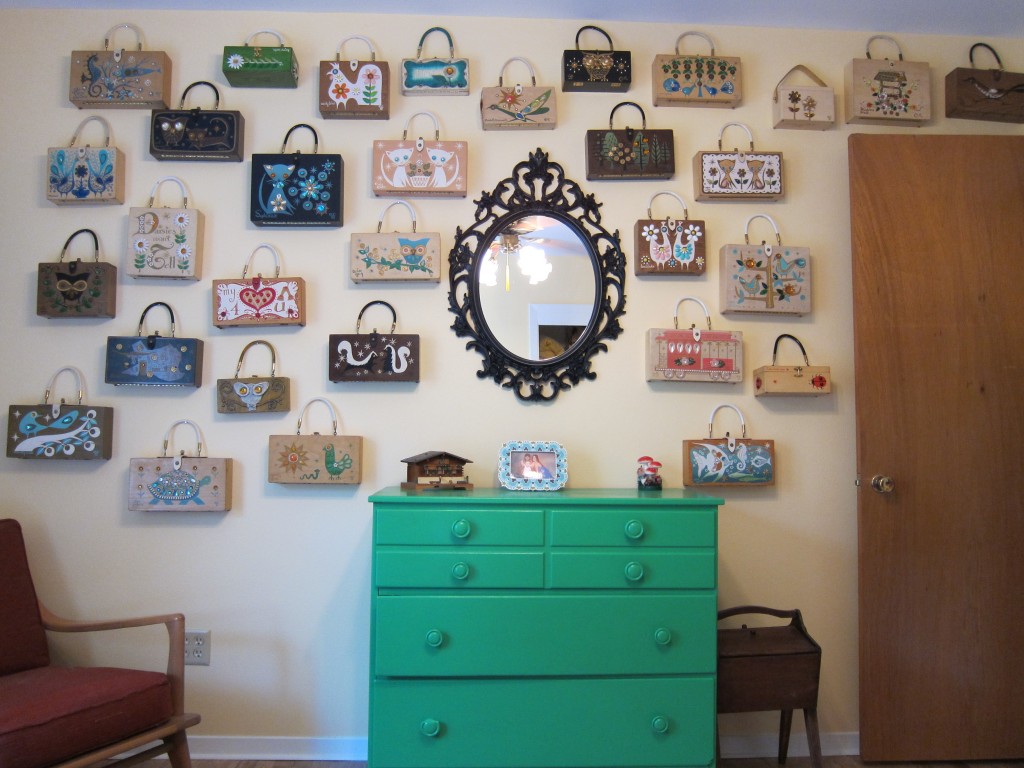 Enid Collins was a designer based right here in the Hill Country of Texas in the 50s through the 70s.  Mostly during the 1960s her purses were sold in high end stores like Neiman Marcus and Saks 5th Avenue.  Her bags were THE thing to carry.  They were either wood box purses or canvas bags, all decorated with jeweled pictures of flowers and animals.  She began in the 50s making bags out of her home with the help of her husband Frederic.  By the 1960s they were being sold across the country!  In the 70s she sold the company to the Tandy Leather Corporation.  Now for the fun part – pictures of my bags!
This one is one of my all time favorites.  I think it's pretty rare because I've only ever seen one like it come up on ebay, and it was in bad condition.  But seriously — My Heart Pants 4 U??  How freakin adorable is that?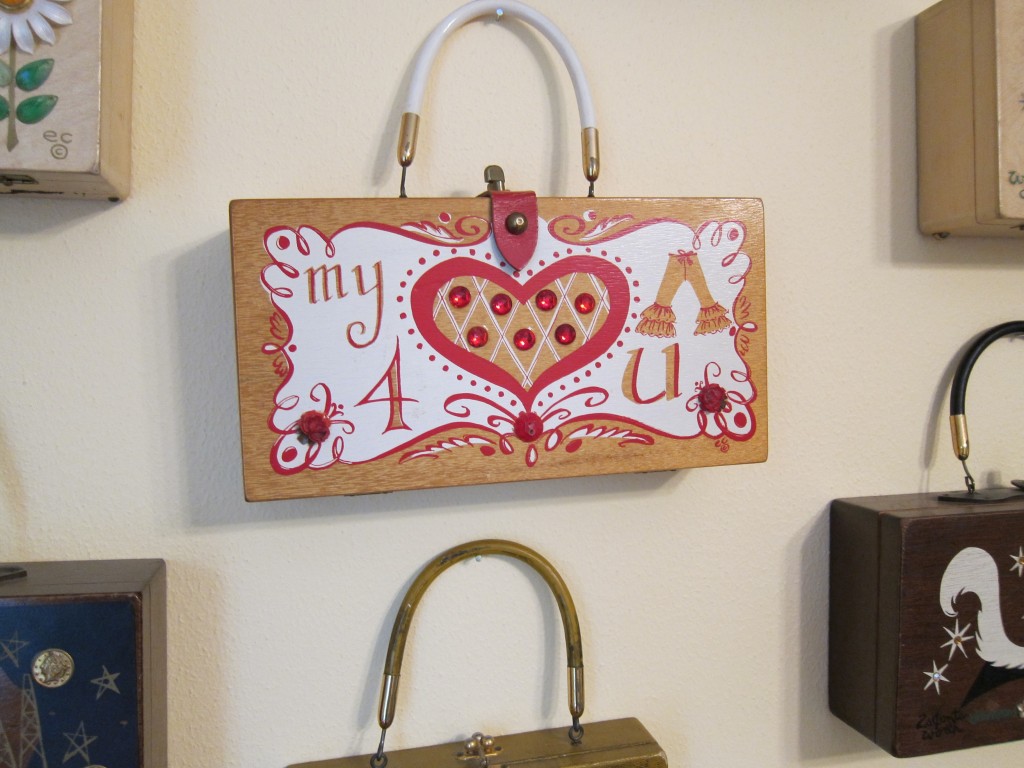 I also really love this Love Birds bag.  It sort of reminds me of my chickens.  I especially love the mod colors and design of it.  It's a bit different than the usual Enids.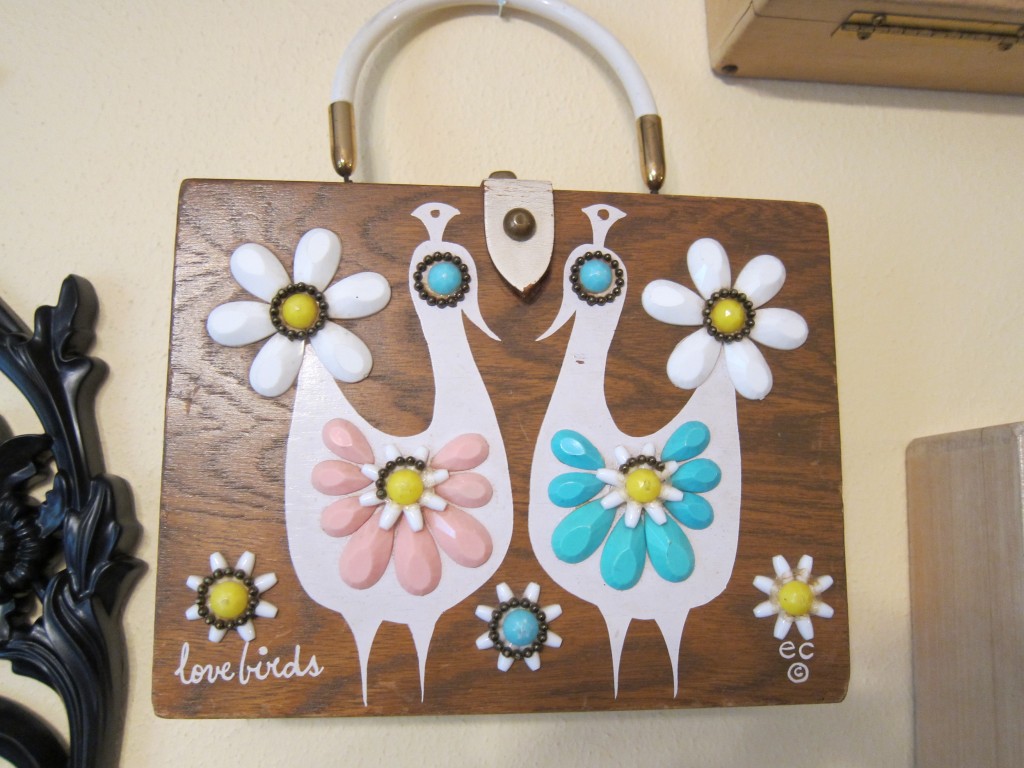 I'm pretty wild for these skunks, called 2 S¢ents Worth.  And they're picking flowers for each other!  Awwww….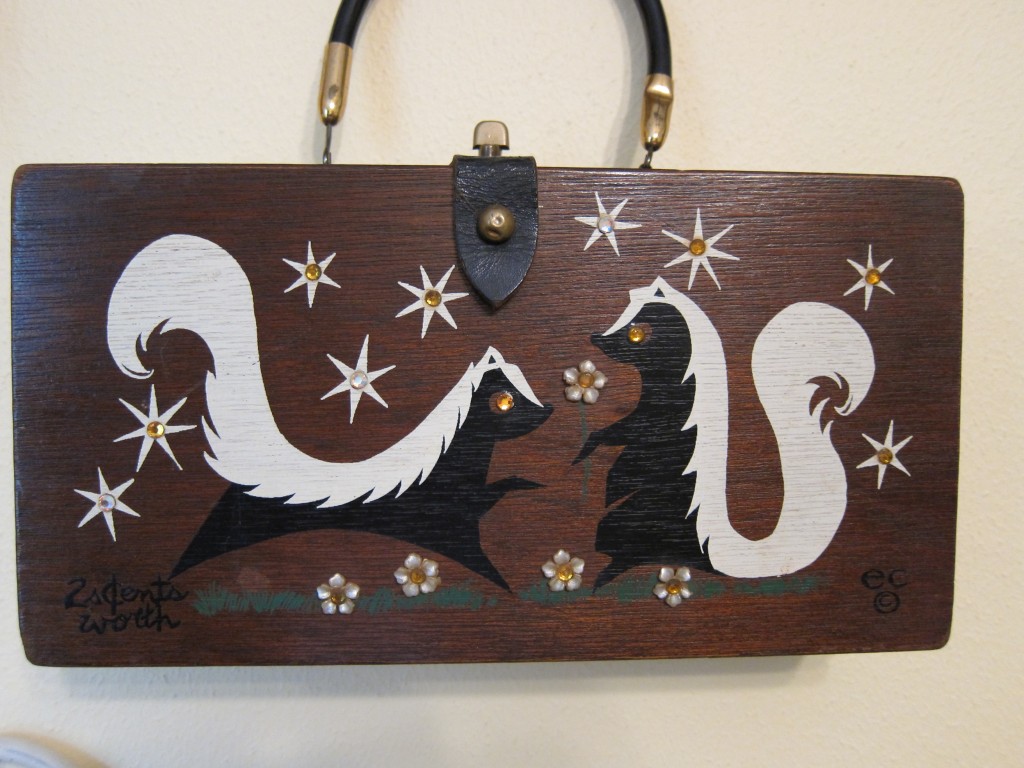 And how cute is the little worm on this Early Bird?  Little does he know he's about to become breakfast…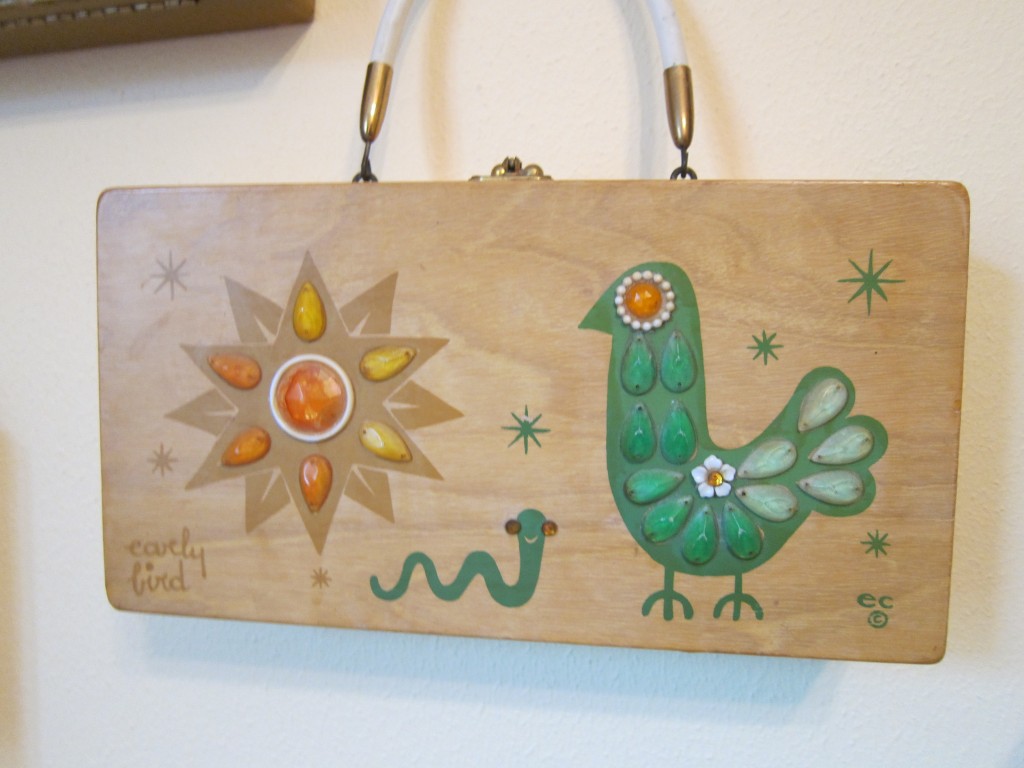 From 1966-1968 papier mache purses were created in Puerto Rico.  They are much more rare, and often smaller than the wood box purses.  Don't you just love this little owl?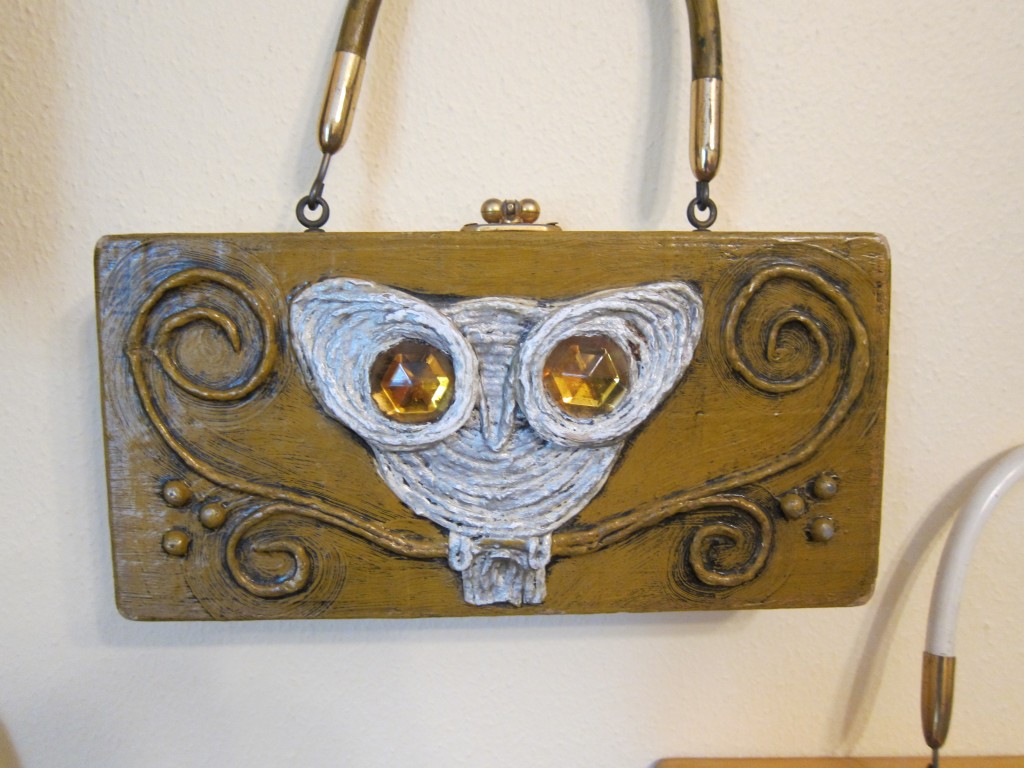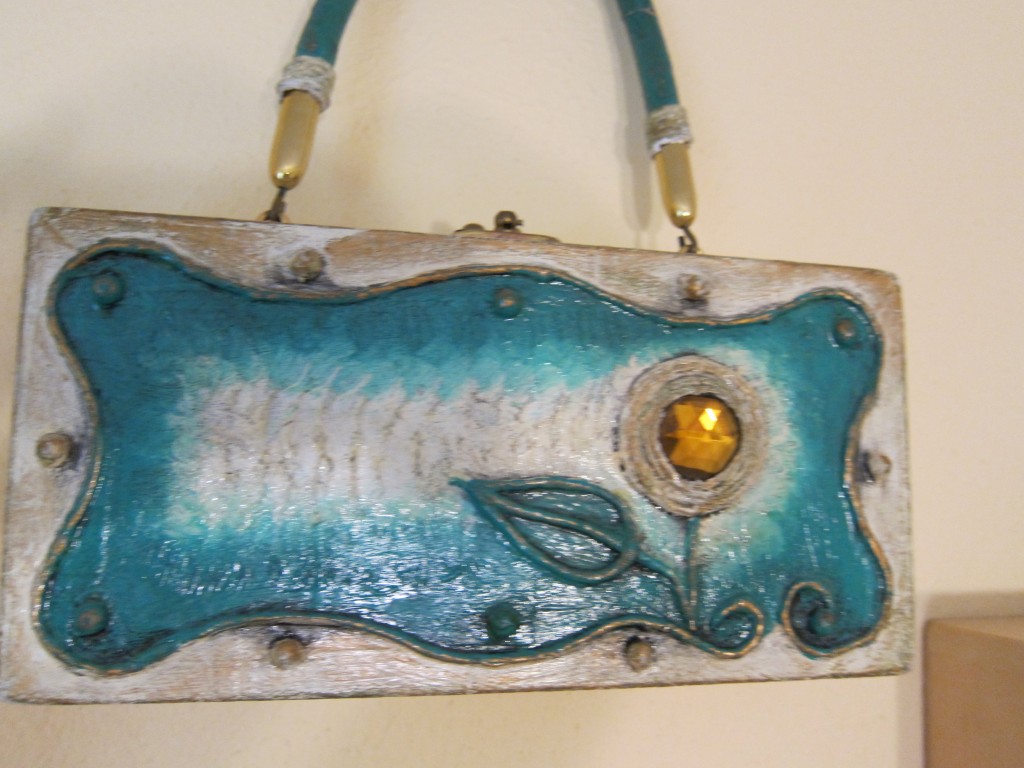 They were signed a little differently inside, and usually were painted inside rather than bare wood.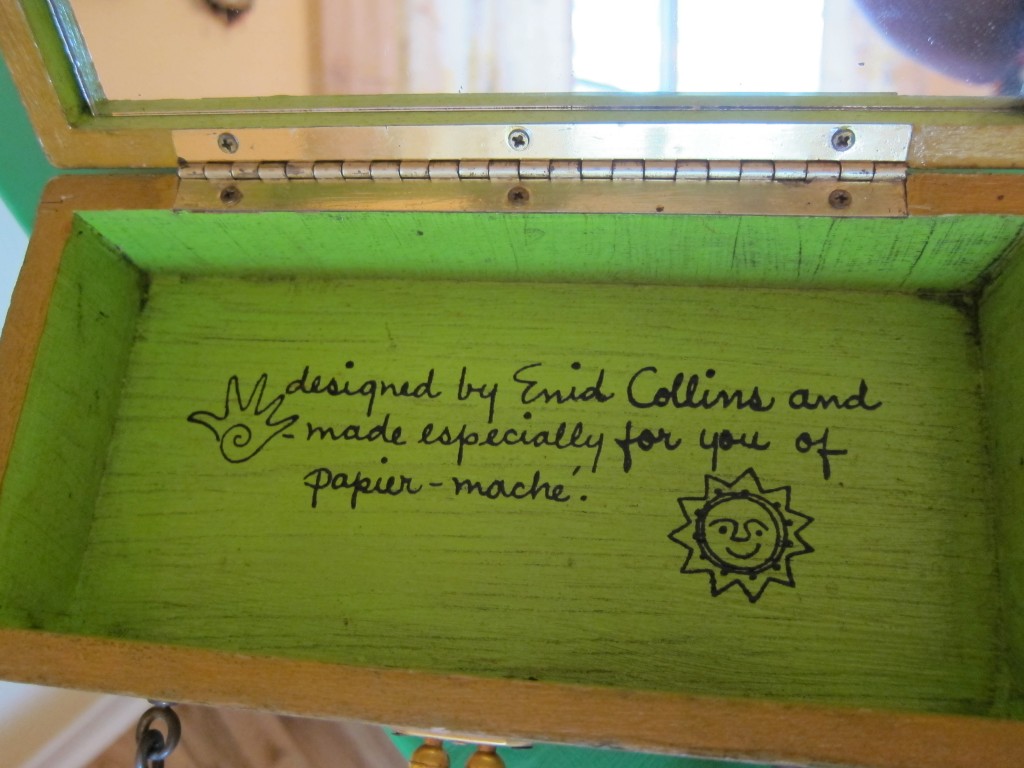 You can also sometimes find papier mache  jewelry made from this venture.  I have a turquoise flower brooch that I just love.  These will always be signed on the back.
Purses were often created in series.  In this shot you can see a couple more owl bags, and a couple of ones with cats.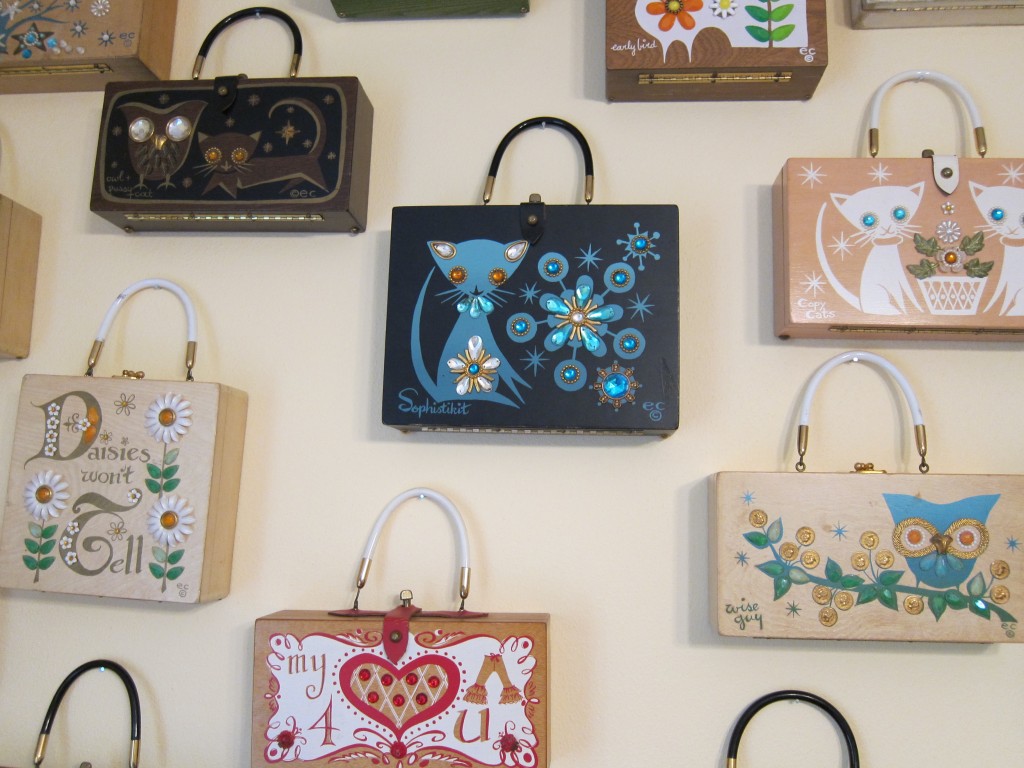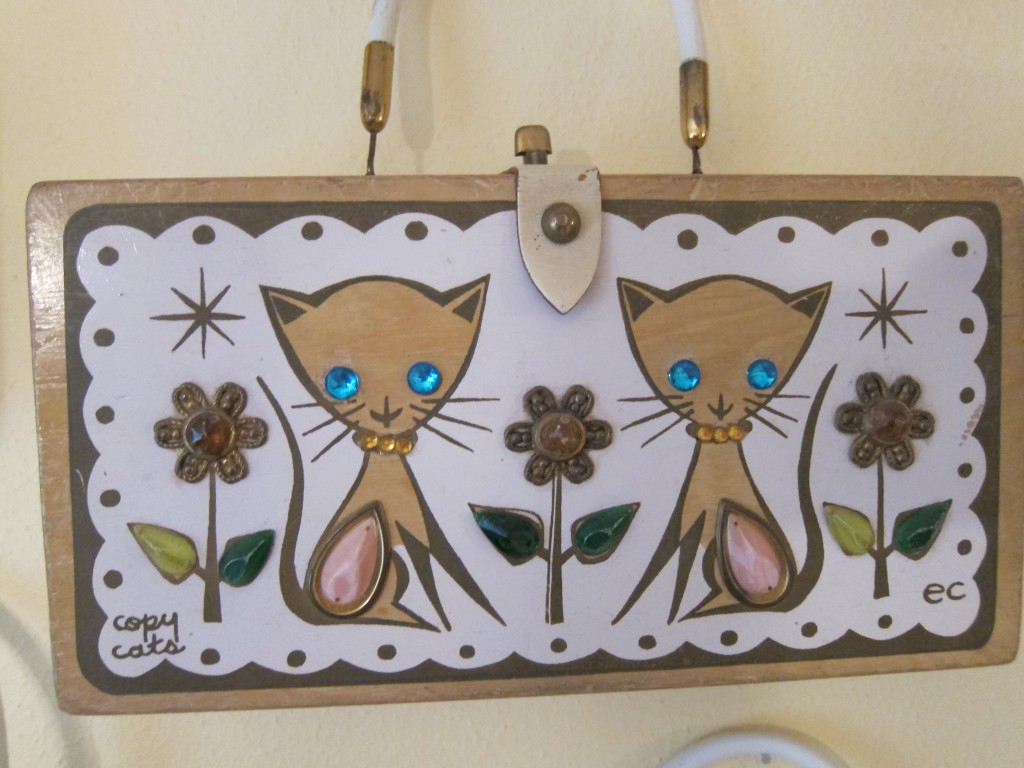 I love the colors in this For the Birds bag as well as the more uncommon, large square shape.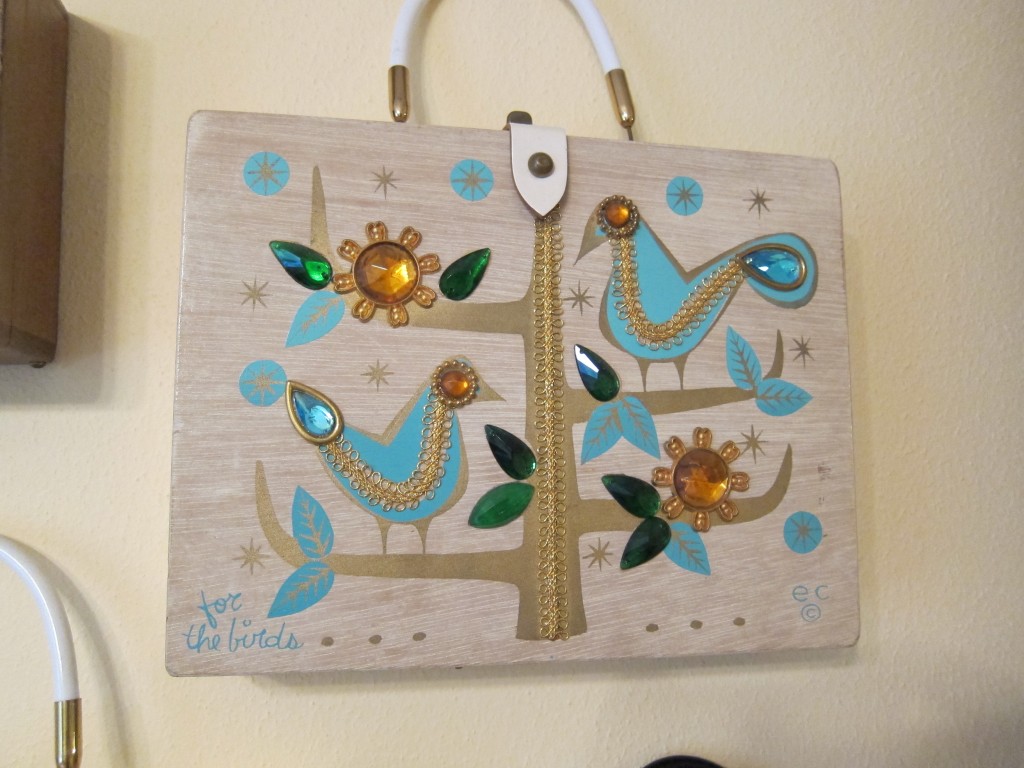 Money Tree was another often repeated theme.  I especially love the mid century modern design of the trees on this one.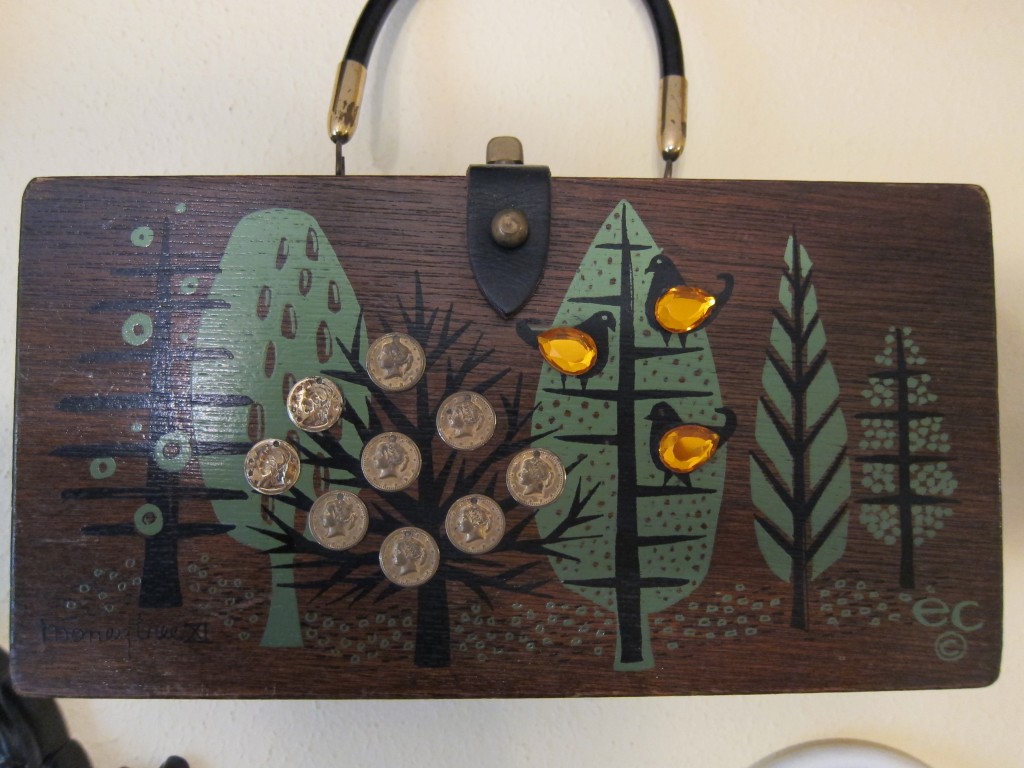 This Money Tree has some scratches, but I just love the plastic starbursts, the aqua, and the design of the bird!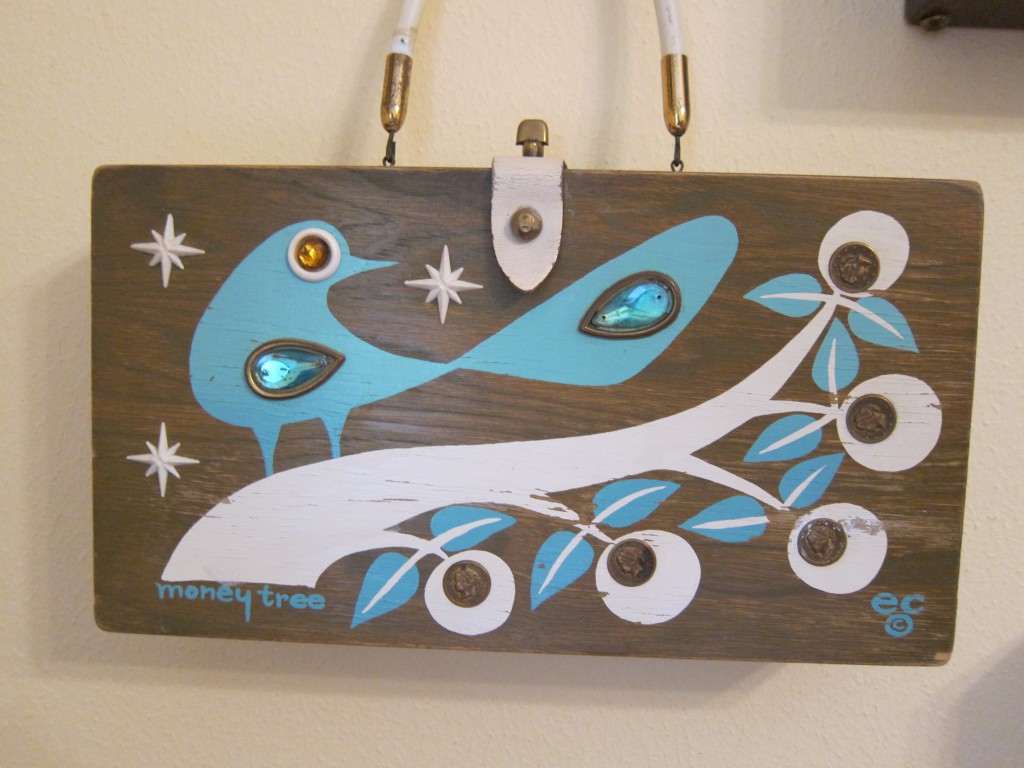 Transportation was another common theme for Enid's purses.  This Cable Car bag is too darn sweet with its pink and gold and flowers!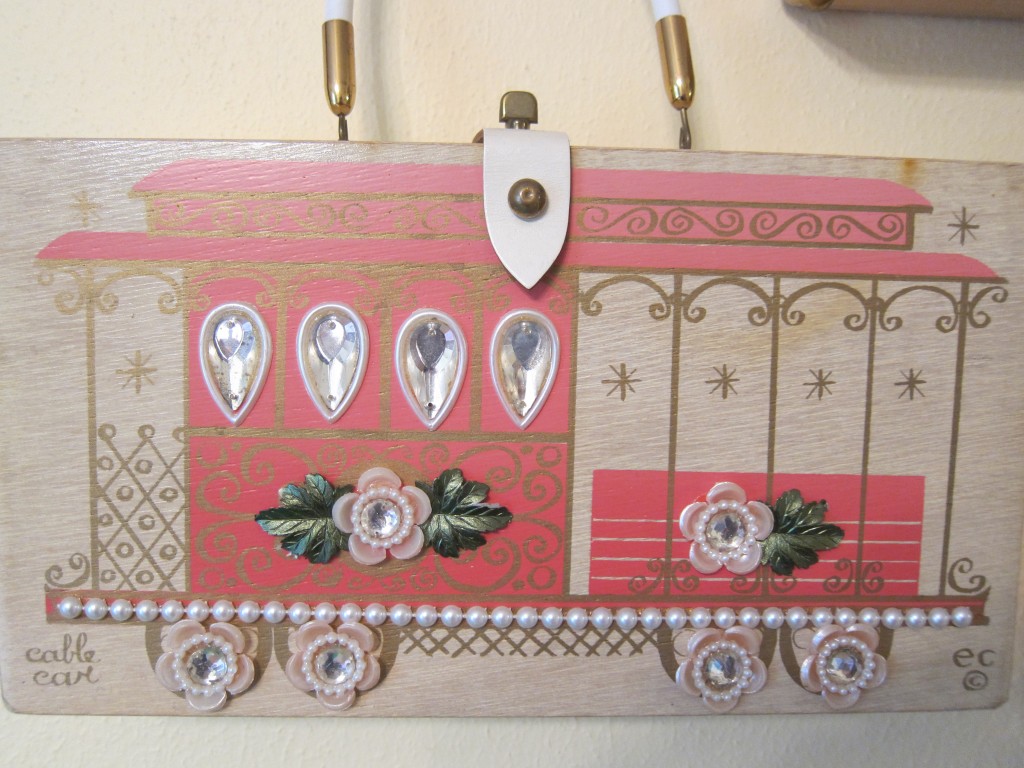 And here are a couple featuring sea life.  This one is called Gifts From the Sea (a nod to Ann Morrow Lindberg perhaps?)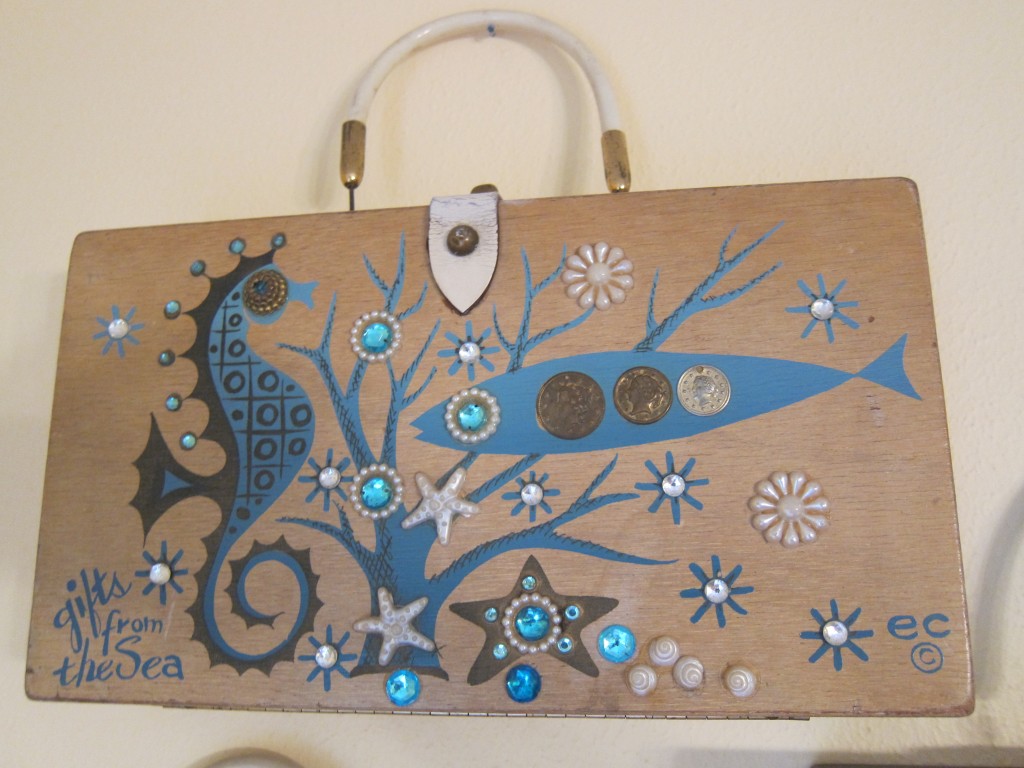 And this one is called Sea Fare.  There is nothing cuter than a seahorse, no?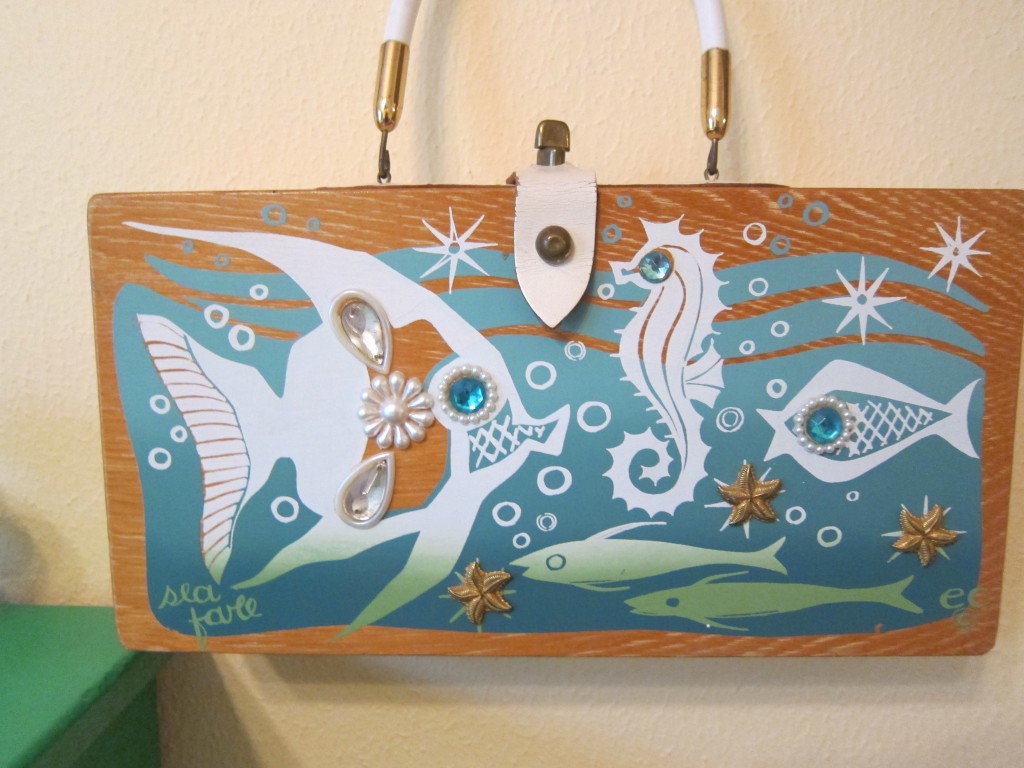 Peacocks were yet another popular theme.  Here is one example: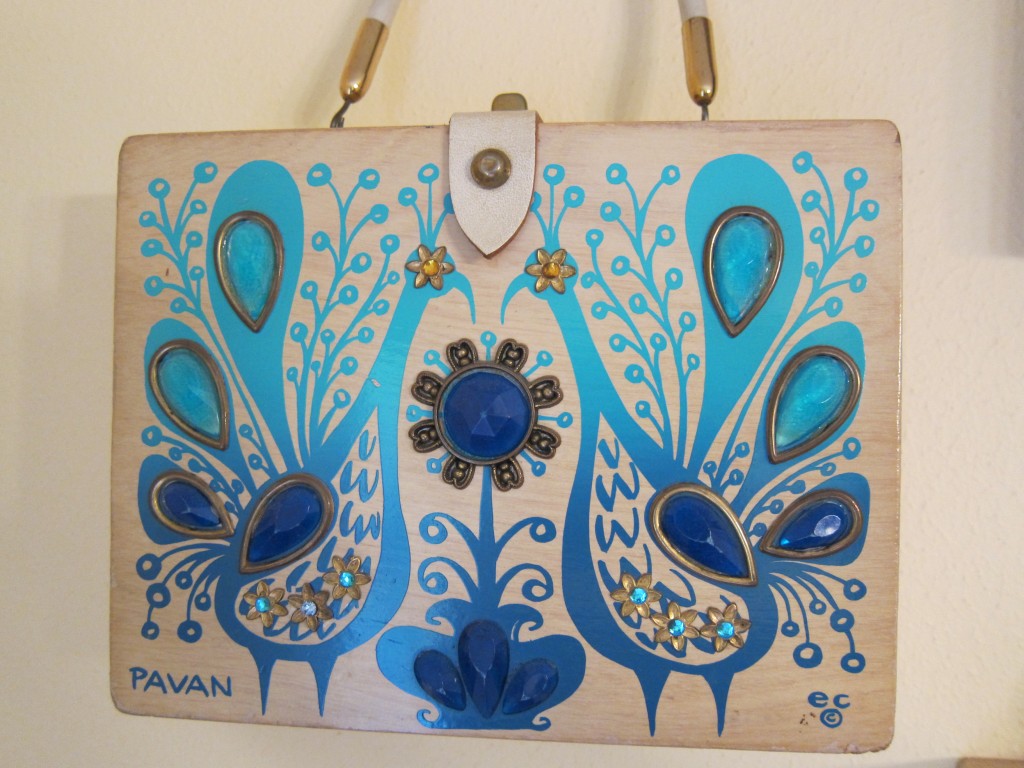 I have one bag with the original tag – this Roadrunner.  And why yes, I DO have a flair for the truly distinctive, thankyouverymuch!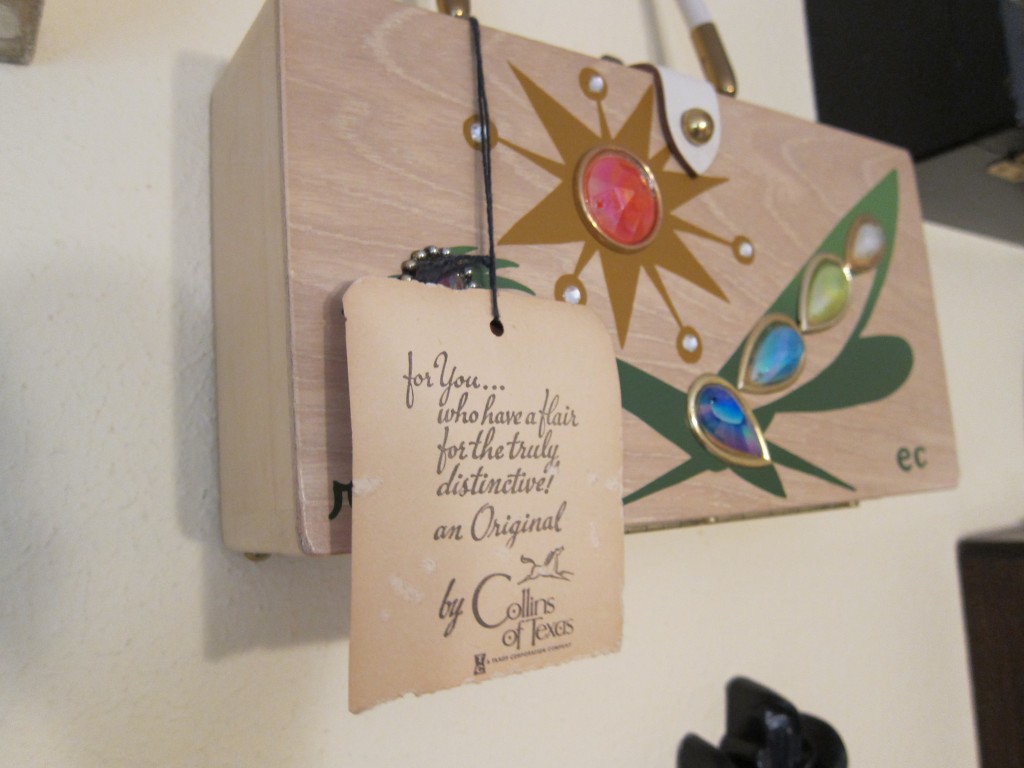 Notice how all the bags shown so far have a lowercase ec in the bottom right corner.  This means the bags were produced prior to Enid selling the company to the Tandy Leather Corporation in the 70s.  After that, the bags were marked with a Collins of Texas logo instead, like as seen on this child's size purse: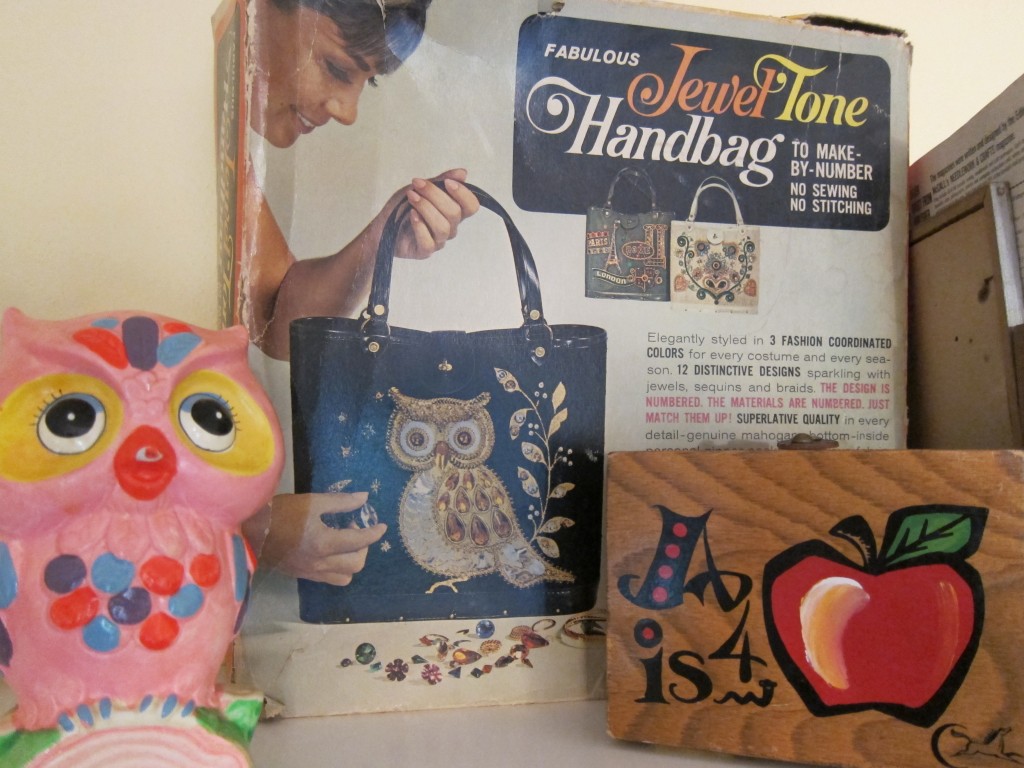 Also seen above is one of the many do-it-yourself kits made for people to try to replicate an Enid Collins purse at home.  These are NOT Enid Collins bags.  When buying, be sure to look for one of the two marks – the ec or the Collins of Texas logo.  There are many knockoffs out there.
I have some canvas bags I could post pics of and my papier mache brooch if anyone would like to see those too, but otherwise that wraps up my Enid Collins collection!  Hope you enjoy looking at them as much as I do!