I haven't talked too much about making dolls here on the old blog, but I really enjoy it!  Especially the dolls in the most excellent book Wee Wonderfuls – 24 Dolls To Sew And Love.  Each pattern in the book is one I'd love to make, and I have made 6 of the patterns so far, and two of them twice now!  I'd like to show you one of those today, the pattern Margot, which I absolutely adore.
Margot is a "topsy turvy" doll, which means you flip her skirt to reveal a new doll underneath.  When I was little I had one that was Little Red Riding Hood on one side and the wolf on the other.  Margot is 2 versions of the same doll – one dressed up and one dressed down.  I made Little Betty one a couple of years ago.  Please keep in mind that she has been well loved for a couple of years now and has gotten a bit worn!
Here is the dressed up version: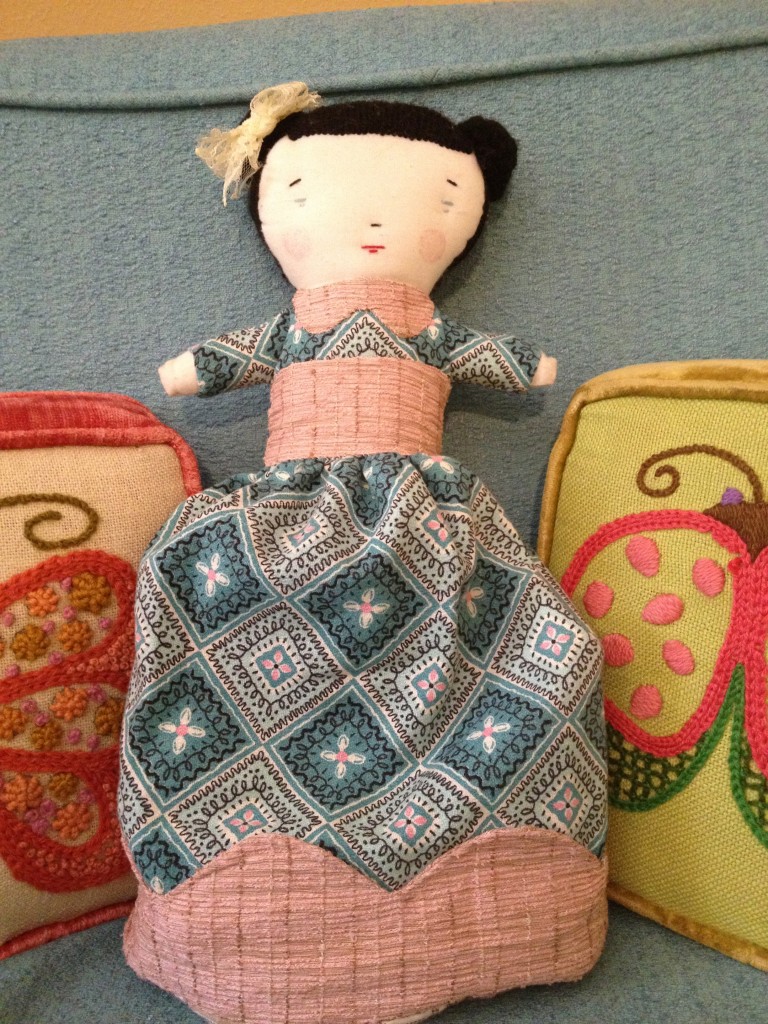 Isn't she precious??  I of course used sumptuous heavy vintage fabrics.  Dolls and doll clothes are wonderful applications for vintage fabrics because you can use those small scraps you can't bear to let go of.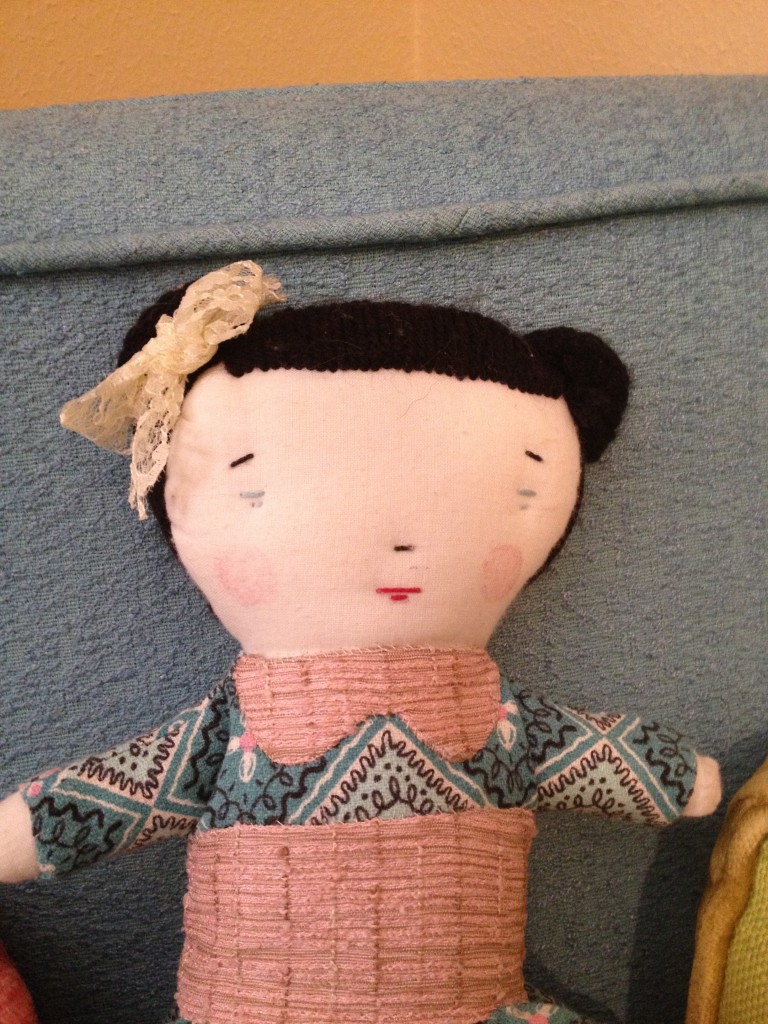 The facial features are so simply embroidered.  I love them.   It is truly a beautiful pattern.  I used muslin for the body of the doll – I like how the flecks sort of look like freckles.
Here is the dressed down side: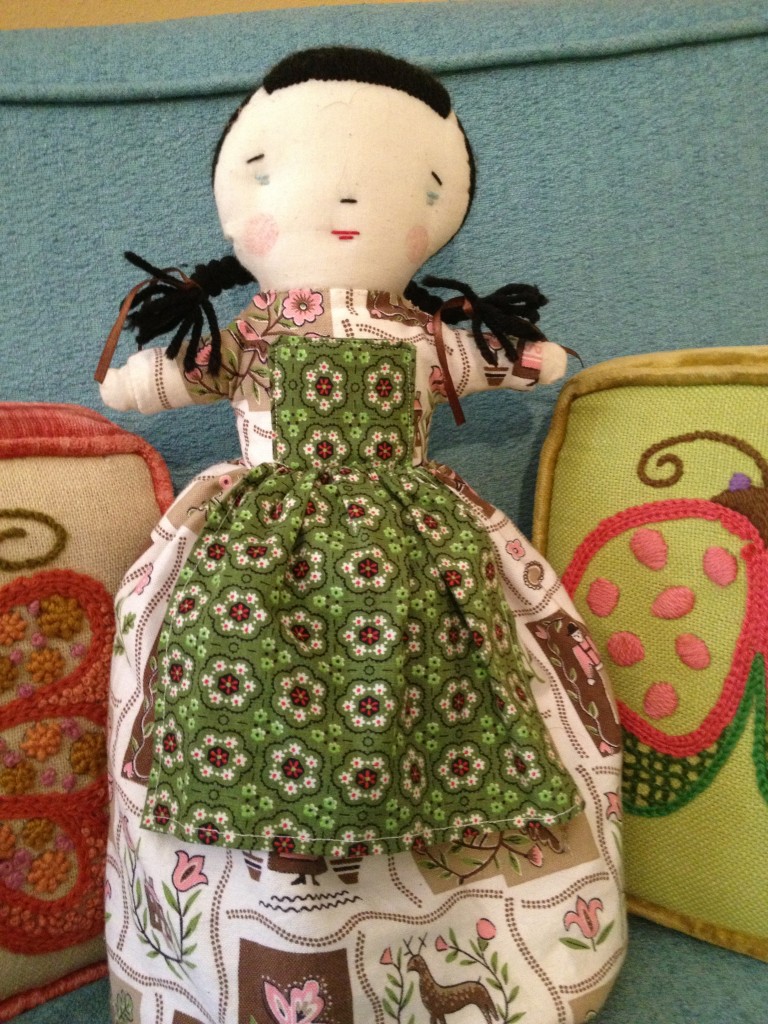 Well my darling niece recently enjoyed her 1st birthday and I thought her very own Margot would be a great way to mark the big day!  It's a good doll for small children because there are no buttons or doll eyes or anything that cold be choking hazards.  This is the case with most of the patterns in the book.
Here is my niece's dressed up Margot: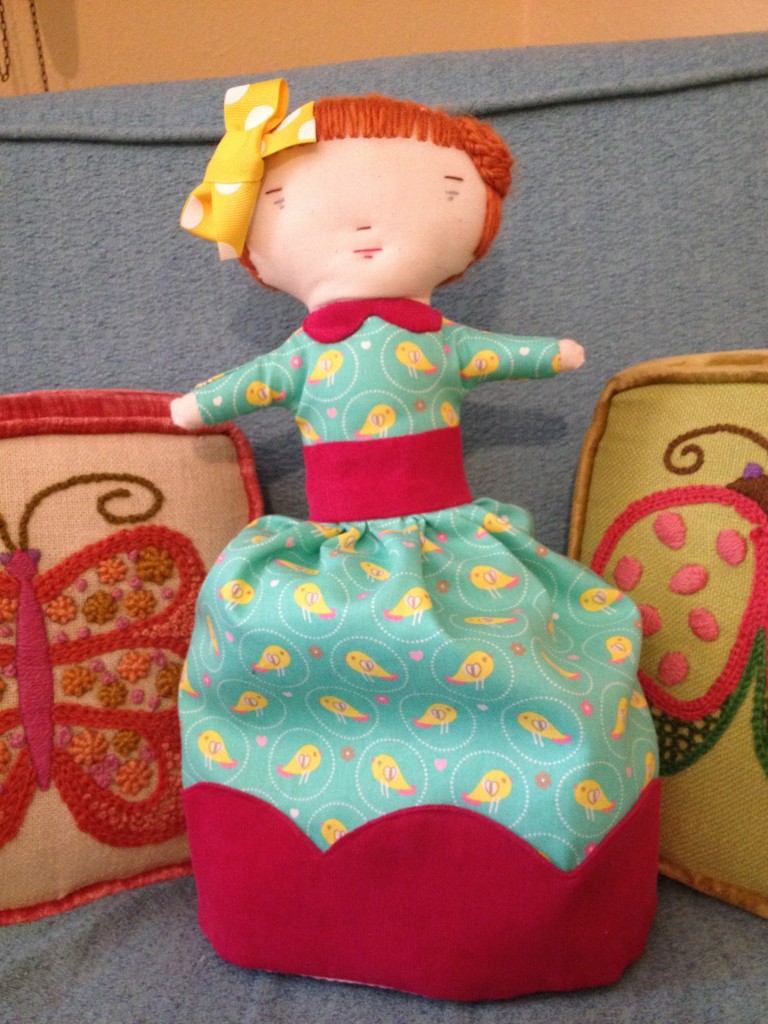 I didn't use vintage fabrics on this one because I thought these would be more her style.  They are still heavy canvas and corduroy, though.  I think the weight works well for the skirt-flipping feature.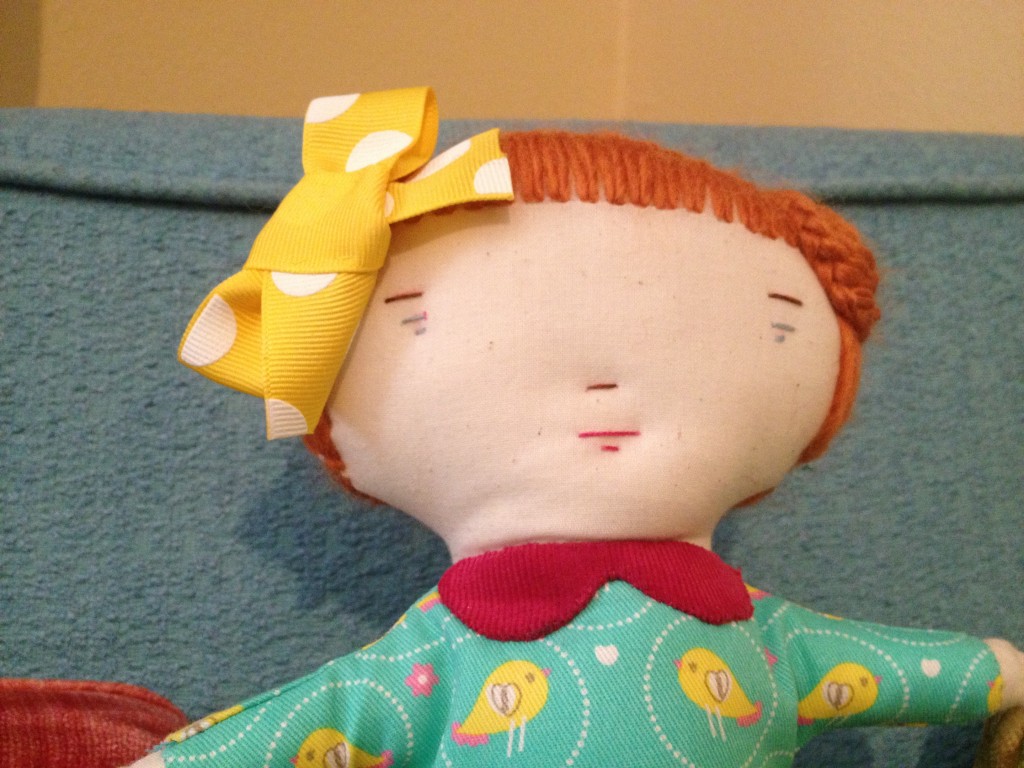 I really love the oversized bow I did on this one – I think it makes her look very 1930s!  I forgot to add the rosy cheeks to this one; however, I still think it looks ok.  I initially tried to use a heavier canvas for the body but after 2 evenings of sweating and cursing trying to embroider the hair I pitched it and started over with muslin.  It was dang near impossible to get the doll needle through with the yarn!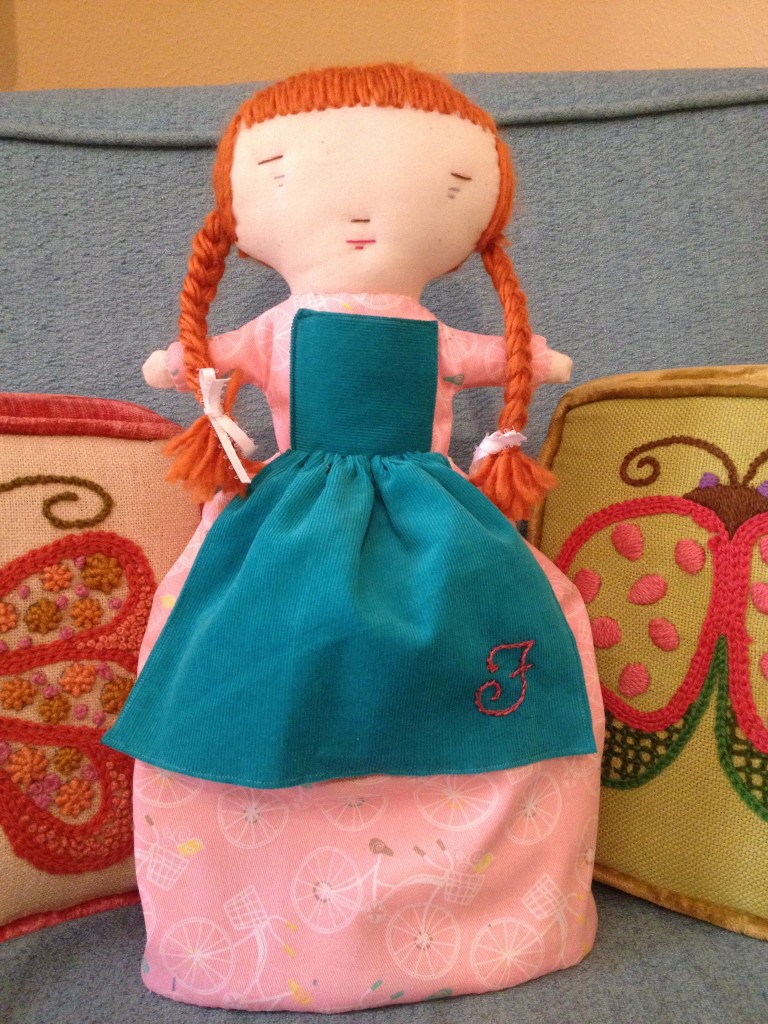 And here is her dressed down side!  I like the longer braids on this one vs Little Betty's version, although they peek out of the bottom of the skirt a bit when the dressed up version is out.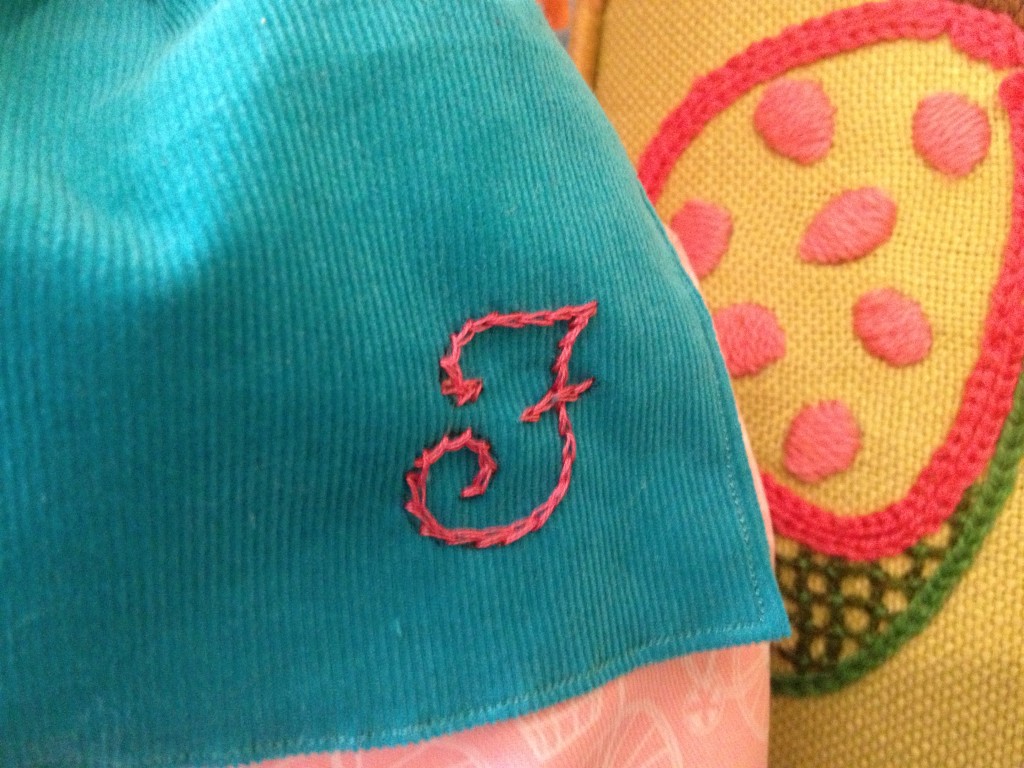 Since the apron fabric was a bit plain I decided to embroider my niece's initial on it, and I'm glad I did!  It adds a bit of personalization and jazzes it up just a tad.
If you enjoy this sort of thing and need a gift for a little one, definitely check this book out!  There are so many great patterns.