Last week Little Betty and I headed a few hours out of town to hit a huge flea market I've had some luck at in the past.  We made a few days of it so we could shop all the way there and back.  Although it wasn't that successful of a shopping trip, we sure did have fun!  And by successful, I mean, I didn't get as much as I was hoping for the shop.  I found PLENTY for me.  Oops.
I love driving through little country towns.  Such great eye candy.  We even saw a fossil!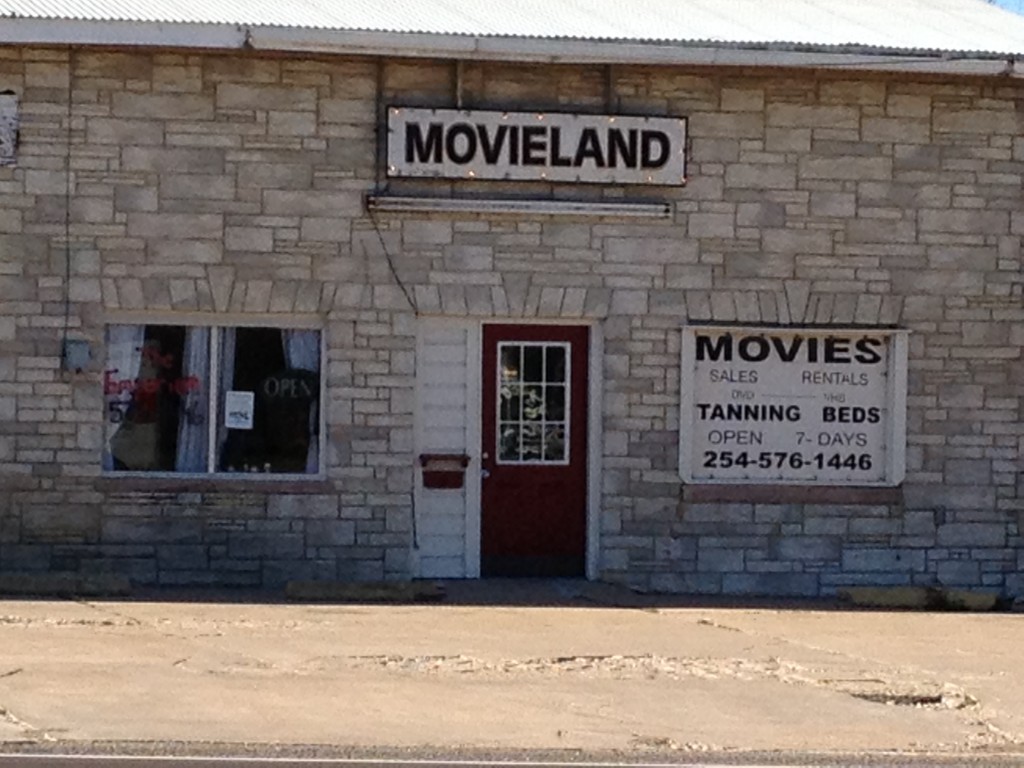 When we got there we stayed in a super cute and friendly little bed and breakfast called Buffalo Girls Hotel.  It was in a little Old West town full of ramshackle shops and restaurants.  It was awesome.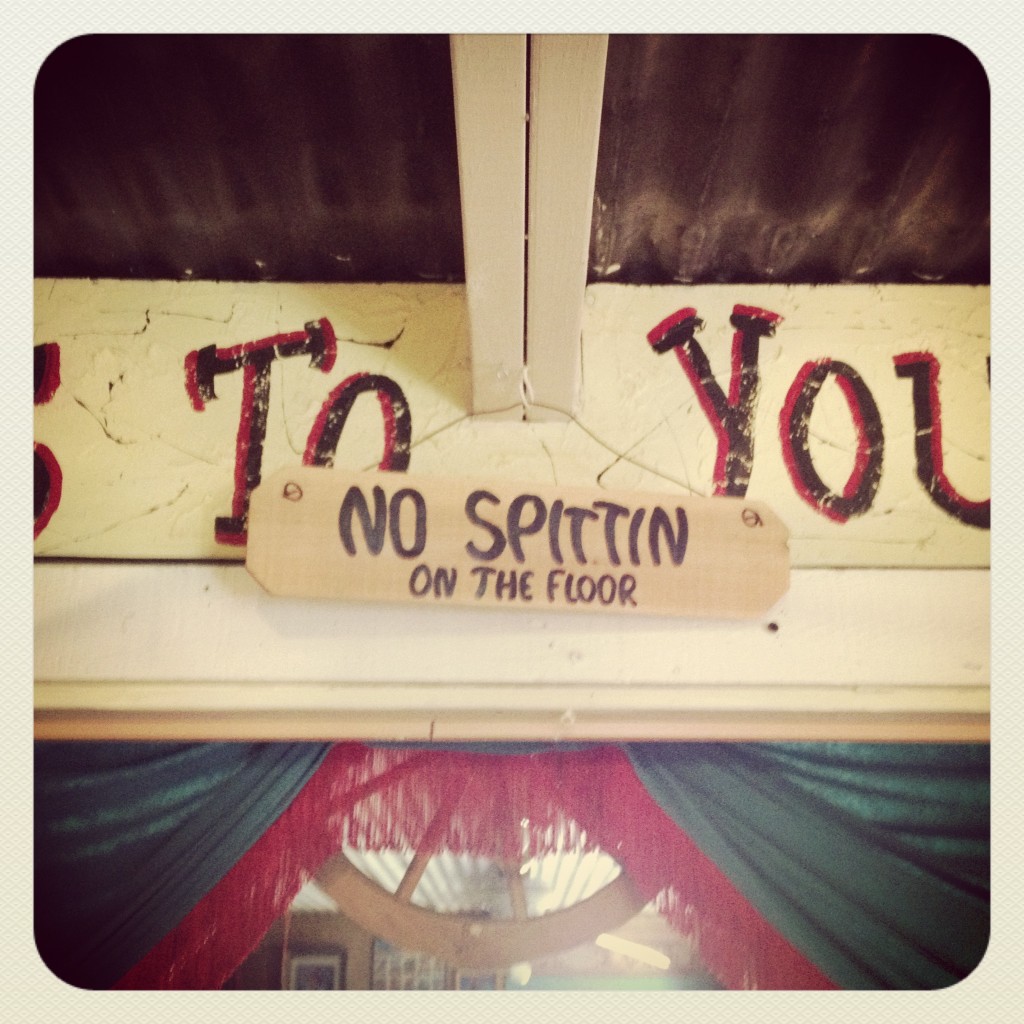 The flea market, as always, was exciting and fun.  So much to see!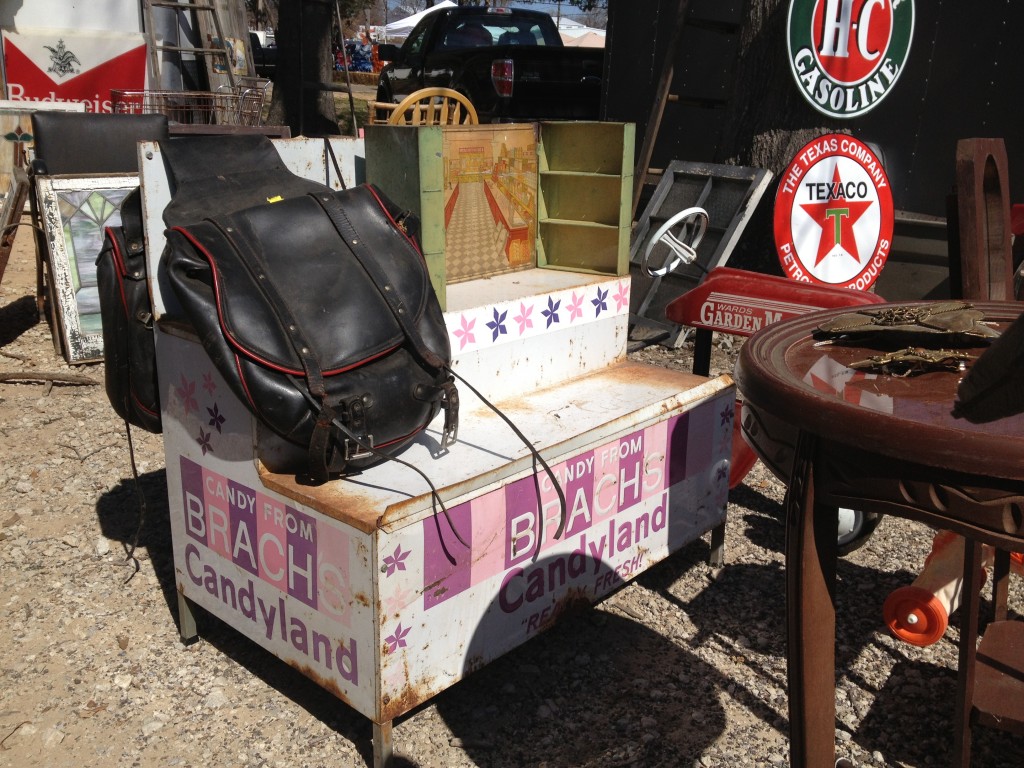 Wouldn't this candy display make the best toy storage in a kid's room?  I would have loved to get it for all Little Betty's vintage Fisher Price toys.
I was confused and annoyed by this sign.  So is the jewelry vintage or not??  Inappropriate use of quotation marks really gets under my skin.  But Sherry was super nice to Little Betty and gave her some free jewelry just for being adorable so I decided to overlook it.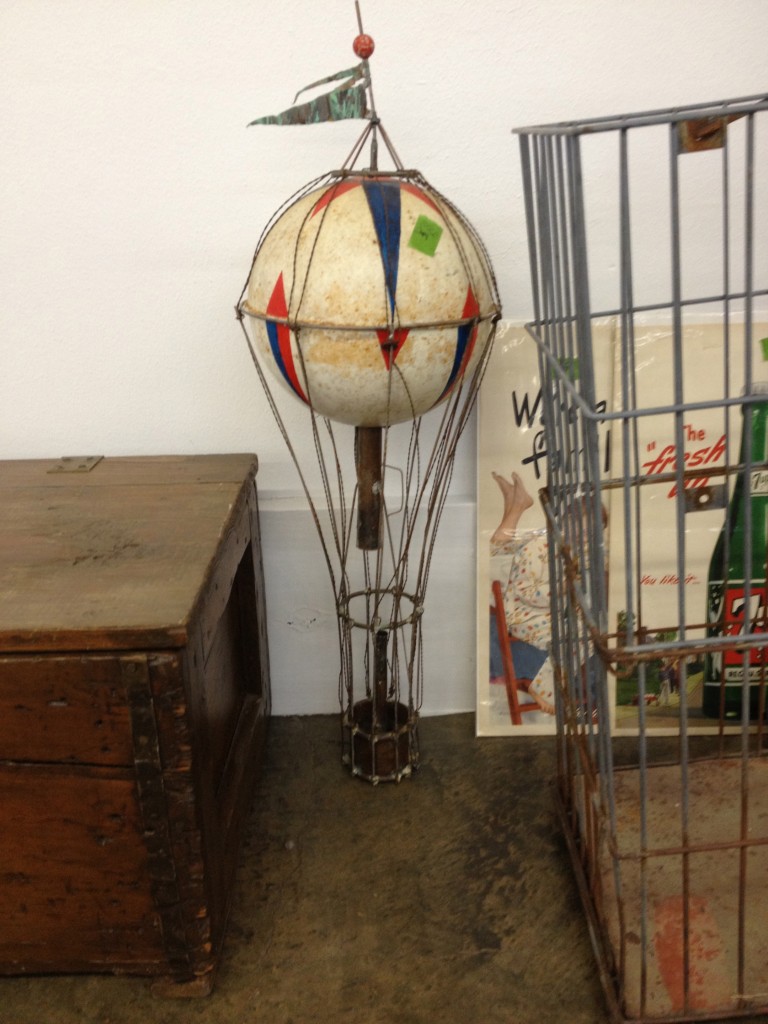 This amazing metal hot air balloon sculpture was only $5!  I did not haggle.  I just grabbed it gleefully and it now sits proudly beside my piano.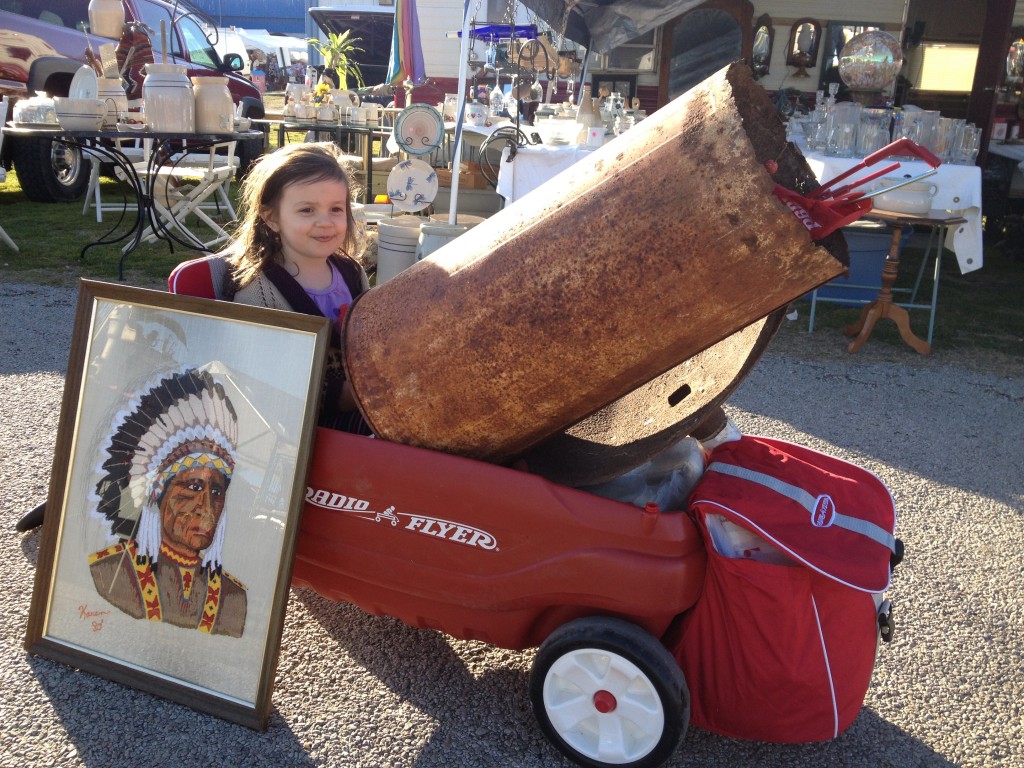 This trip marked the maiden voyage of our new, amazing wagon – the Radio Flyer Ultimate Comfort Wagon.  It was awesome!  It has 2 seats with tons of configurations – 1 seat with table w/ cup holders and crayon holders for drawing, 1 seat with huge storage area, 2 seats facing each other, 2 seats facing the same way.  It's amazing!  Plus it has that huge storage bag on it, a canopy, pockets galore, and about 7 cup holders for everyone.  Little Betty was totally comfy and I had lots of room for my goodies.  That is, until the end when we had to take the canopy off and load poor Little Betty down with all my purchases.  Anyhoo – totally recommend this wagon to other moms.  And check out that amazing Indian Chief embroidery!  How boss is that?  The big metal thing is part of something I'm now using as a planter.  More details on that in a day or so.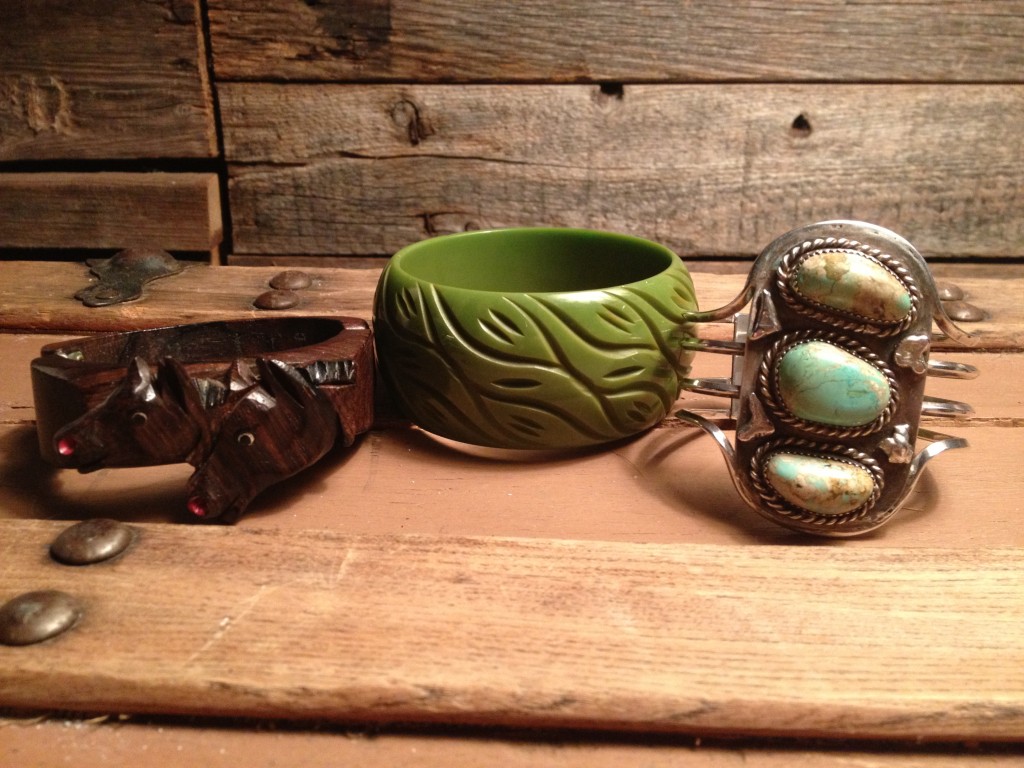 I mentioned I was a bit of a bad girl and spoiled myself.  Here are some of my splurges.  Me likey bracelets.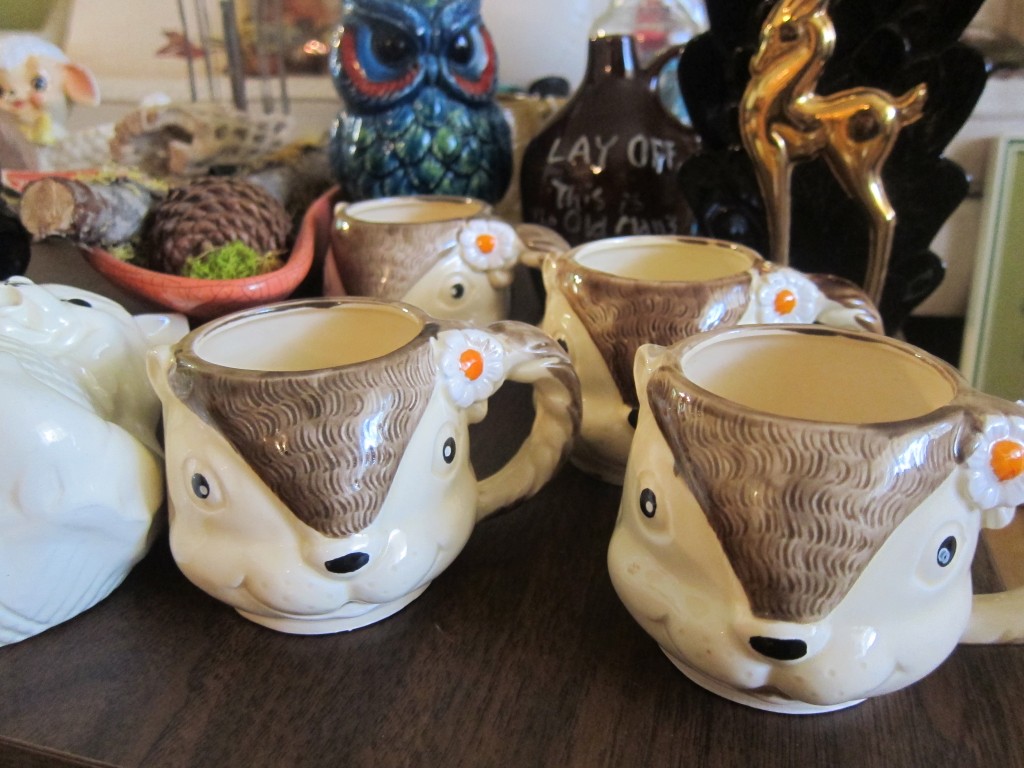 I also treated myself to the most amazing squirrel mugs EVER.  I only kept two and sold the other two.  They lasted about 7.3 seconds in the shop before they were snapped up.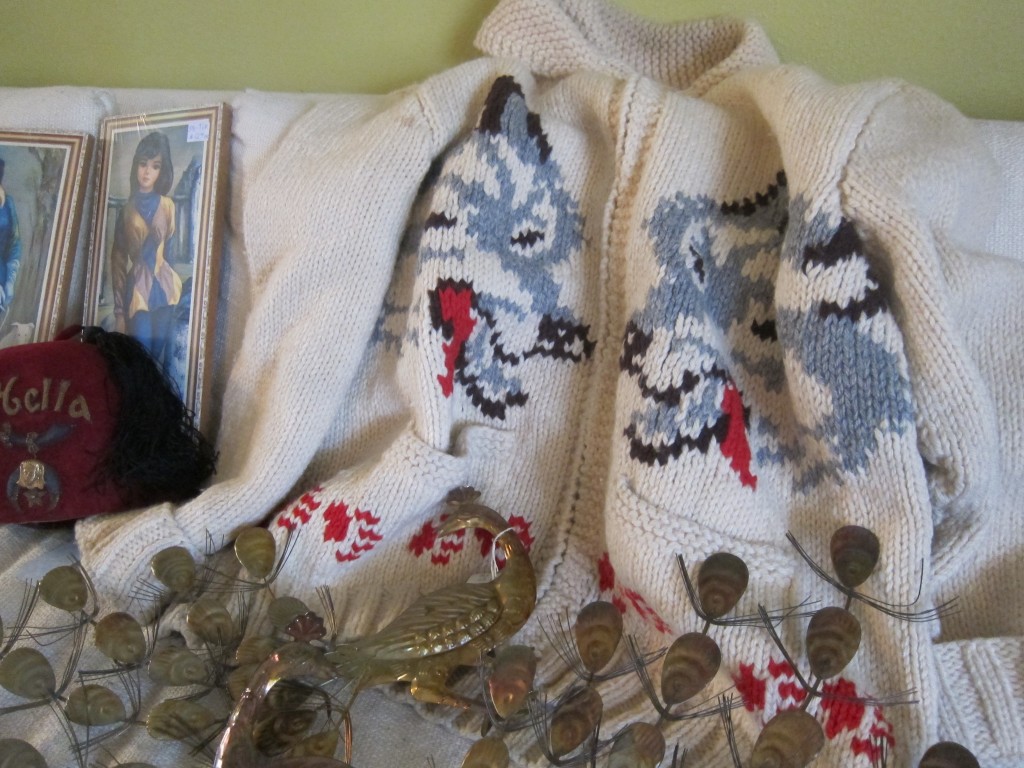 Also lasting about 7.3 seconds in the shop was this super incredible wolf cowichan.  I've never seen one with a wolf, and who doesn't love a good cowichan anyway?
Here are a couple things I didn't get, although I wanted to: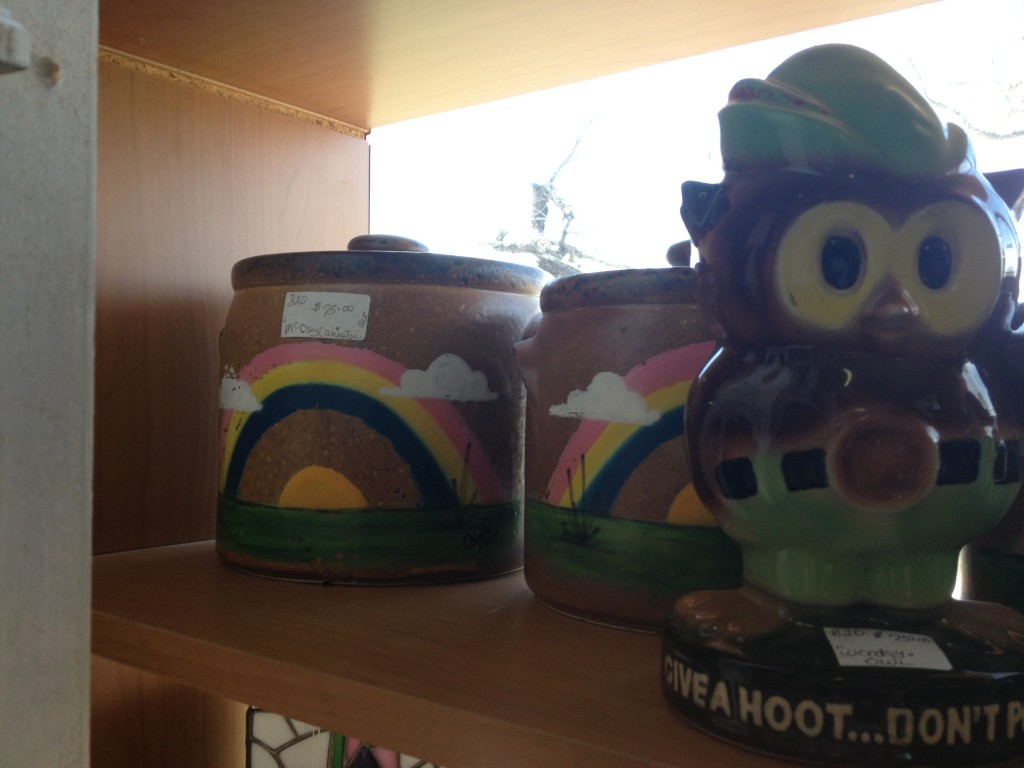 Oh how I coveted those McCoy rainbow canisters!!  They are all perfection.  But sadly they were $75.  That is just not going to work for me.
Also in the category of McCoy and too expensive, yet awesome, was this: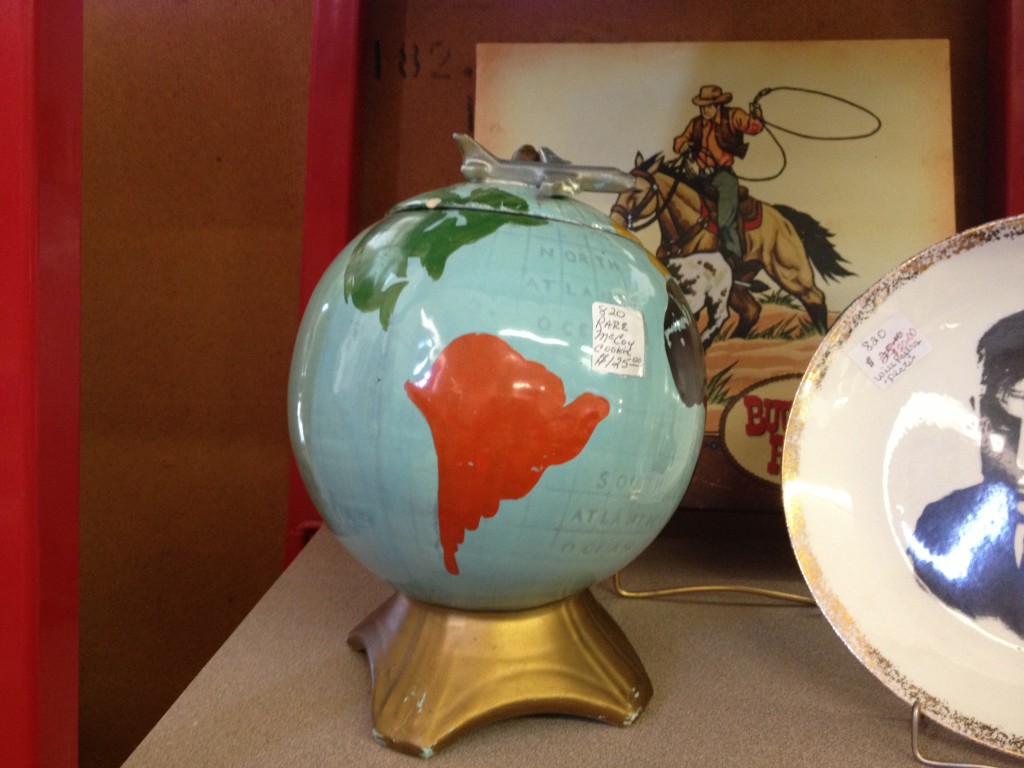 Is it not glorious?  If it had been half the price I might have been tempted.  But this was at the end of the trip and after my splurges on bakelite and turquoise.  I resisted.
Although the trip was not as fruitful as I had hoped, I am not too bummed, for guess what awaits me in a mere week and a half??  WARRENTON!!  I shiver with anticipation at the thought of her endless tents of vintage perfection.