Little Betty and I embarked on a whirlwind out of town shopping trip this weekend.  Although most of it was for the shop,  there are a couple things I don't think I'll be letting go of.
But first, I must tell you about the bizarre house I encountered at an estate sale.  One of the things I love most about estate sales is that you never know what you're going to walk into.  It could be a great experience or you could end up running out screaming in terror.  (Just kidding!  I never do that.)  This particular house was pretty unique even from the outside.  It had some good mid century lines, but not classically so.  I can't even describe it, and I'm sorry I didn't get a picture of it.  But I do have some things to show you on the inside!  This house had 3 50's tiled bathrooms.  Yay!
A green one: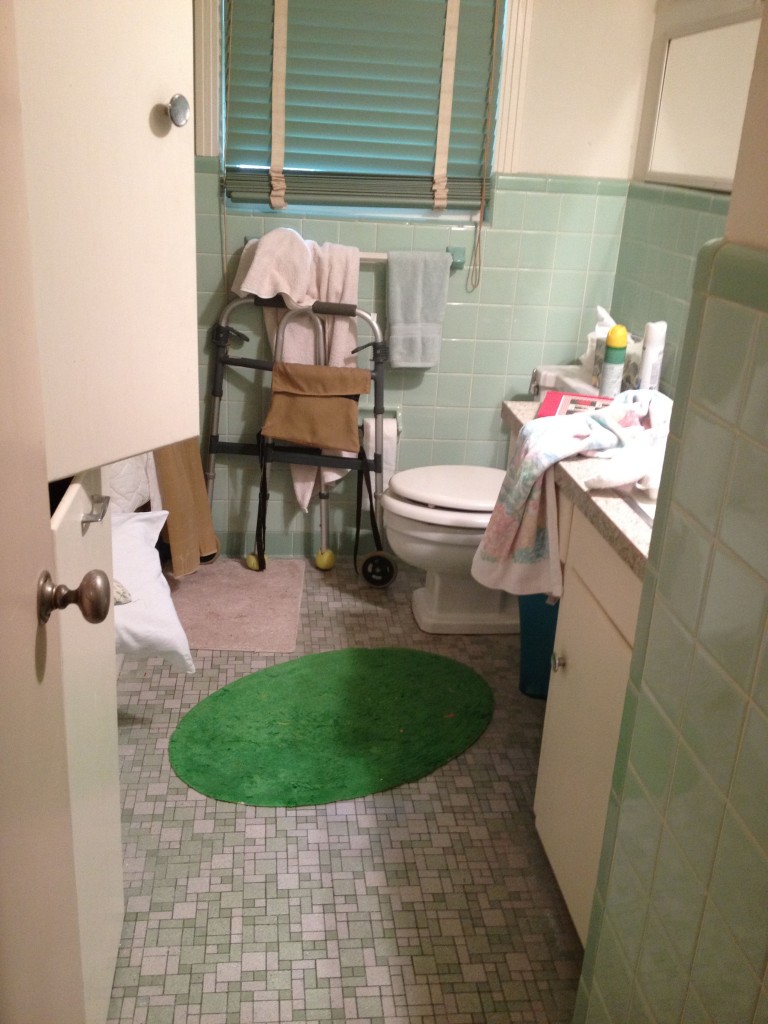 A yellow and blue one: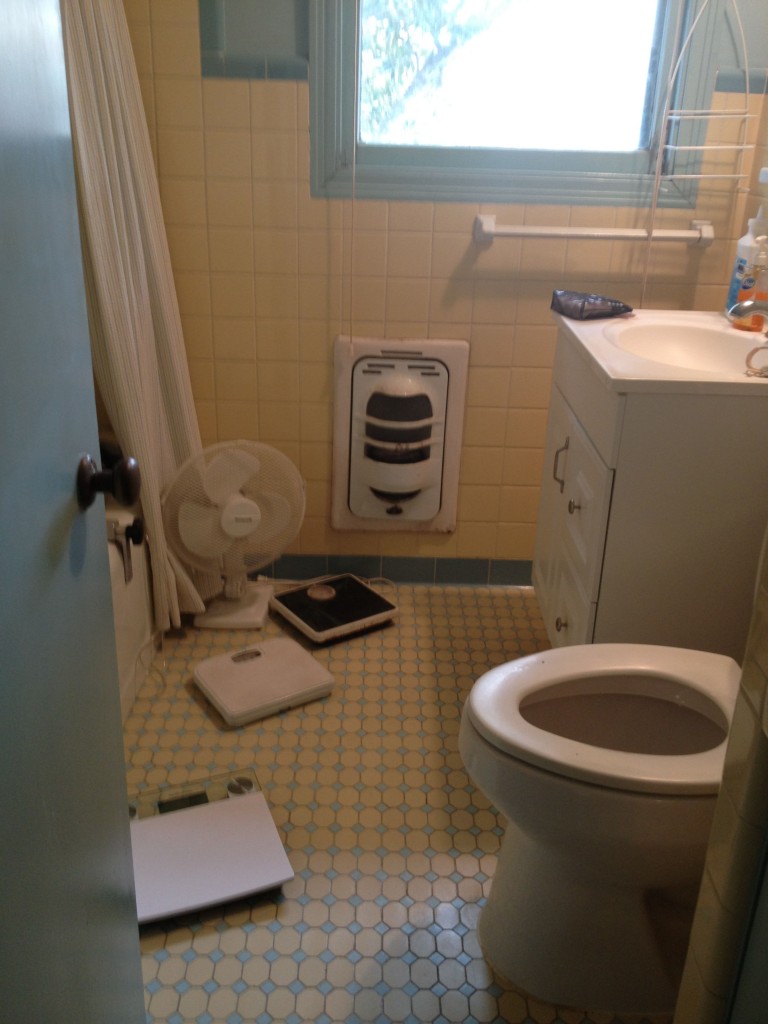 And a really stunning pink and grey one: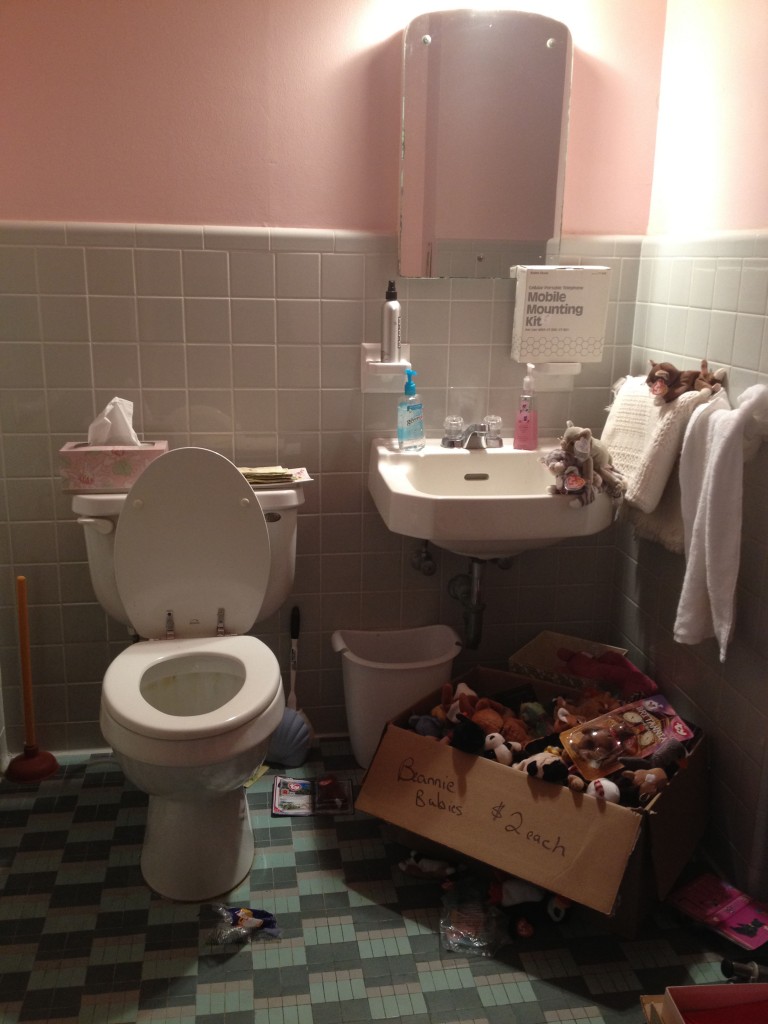 They were all beautiful, except for the unfortunate vanities in the green and yellow bathrooms.  All the floors were incredible, but I especially love the green, pink, and grey floor in the pink bathroom.  However, I would like you to take this opportunity to note the "Mobile Mounting Kit" strategically placed right above the humping beanie babies on the sink.  Methinks this is no accidental placement.
There were more oddities to be seen in this house as well, such as several "art" pieces for sale like this one: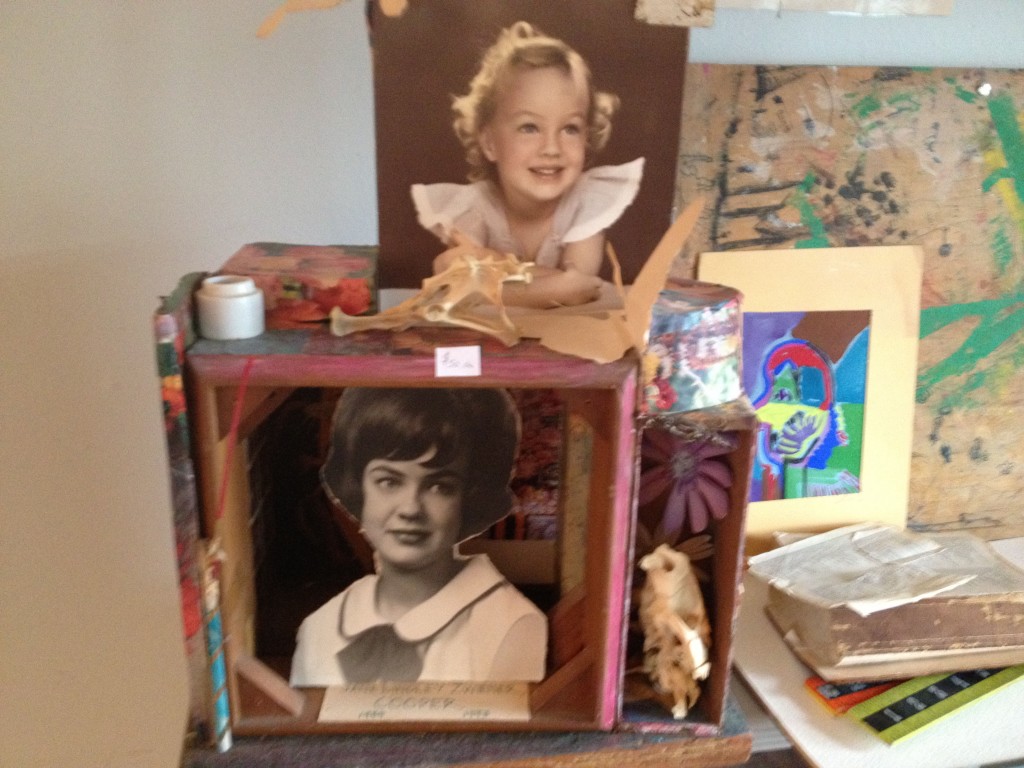 You can't read the price here but it's $50.  And it seems to be in memorial of someone as there is a name and life dates.
There was also this "customized" wallpaper: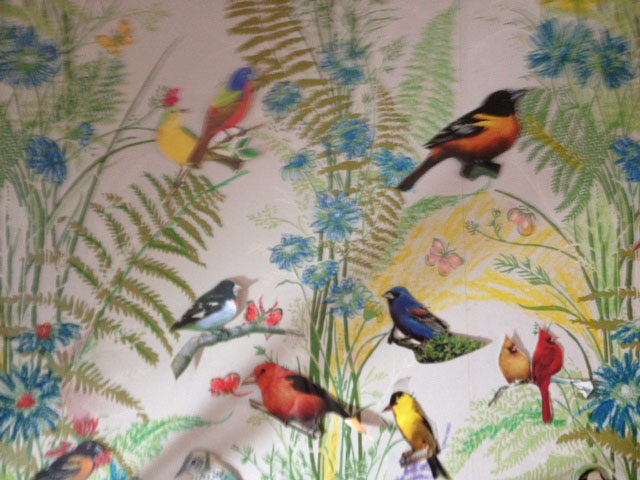 Just in case you can't tell due to my crappy iphone picture, those flowers are drawn on with crayons and the birds have been cut out of a magazine.  Yes.  It's true.
The front room of this house was really beautiful with expensive antiques and art, but the rest of the house was a hot mess of randomness.  I did walk away with a few things here – some old cameras, a hand painted sign, and a kitchen wall clock.  And I will always have my memories of the mounting beanie babies.
The other sales I went to I really scored big!  I couldn't bear to part with this sweet needlepoint, so it's now hanging in our bedroom: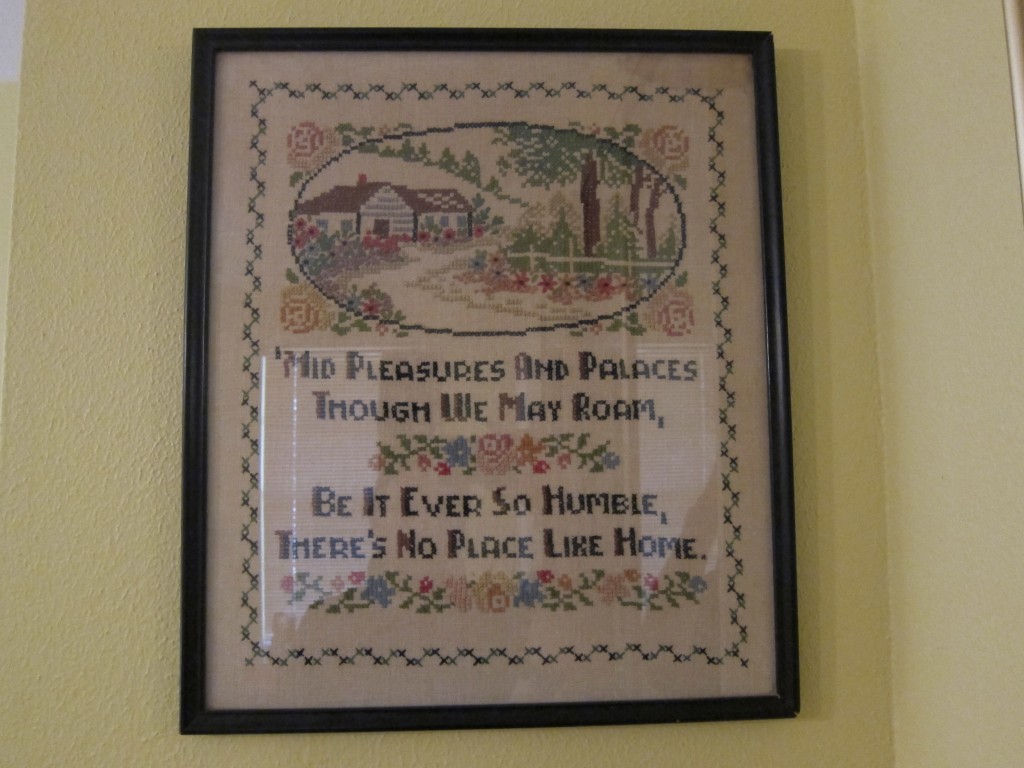 I'm really excited about this landscape of a chalet in the mountains: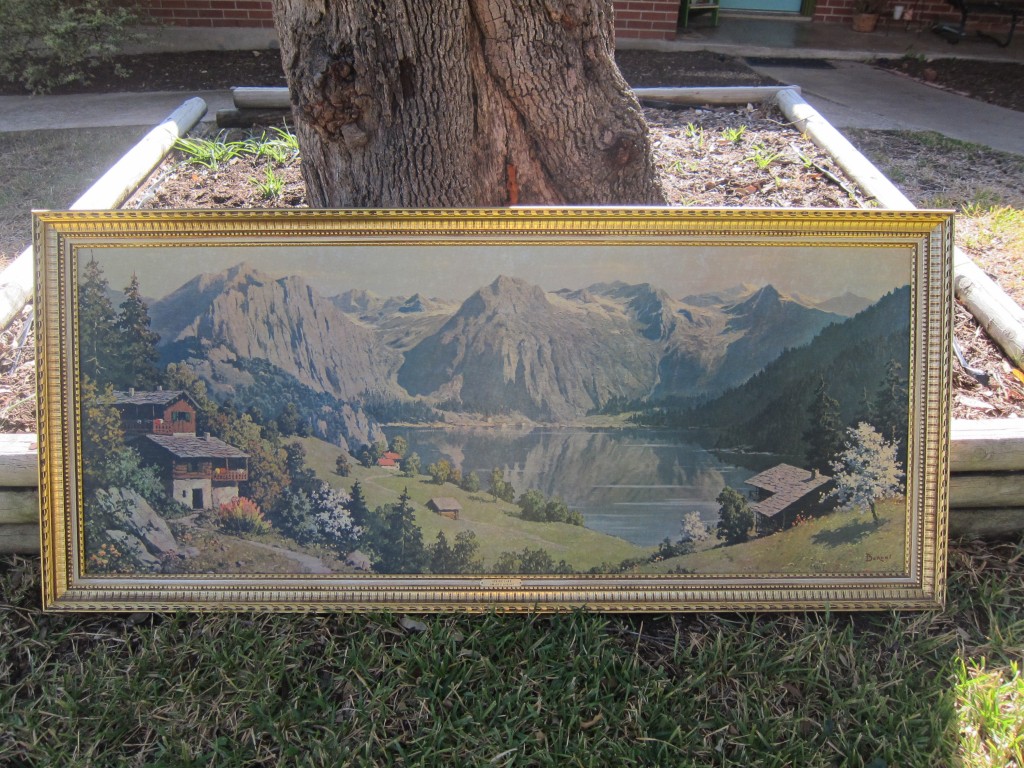 I want to keep it so bad, but this thing is MASSIVE and I have no idea where I could fit it.  I'm kicking some ideas around, but I may have to take it to the shop if I can't figure out anything else.
But the thing I'm most excited about is not anything I scored at estate sales this weekend.  It's an ebay score.  Ever since I was turned on to Vladmir Tretchikoff by the fabulous Jennifer Perkins I've been pining for a Tretchikoff of my very own.  He is the recognized "King of Kitch" and is known for his paintings of green faced ladies.  I've been following leads of Tretchikoff sightings, stalking ebay and etsy, and holding out for one to come along.  And boy howdy did it ever!  I finally won one on ebay for a mere $25!  These babies can go for hundreds!  I was stoked, to say the least.  And it arrived this weekend!  Here is my Chinese Girl by Vladmir Tretchikoff, hanging over my bedroom vanity.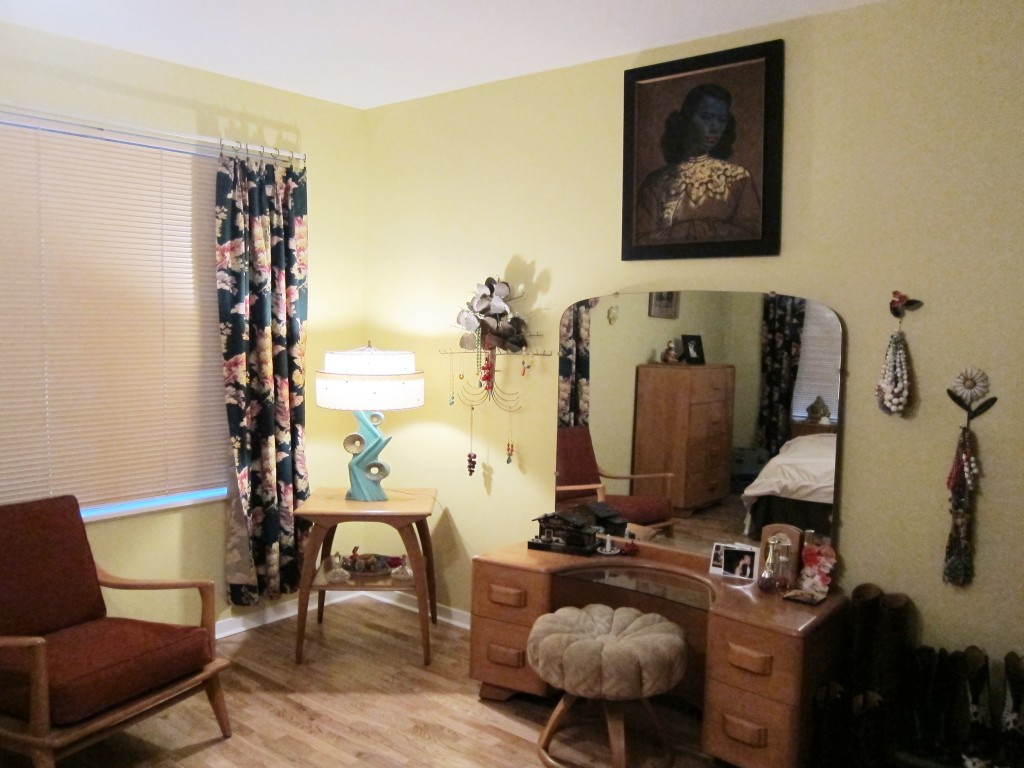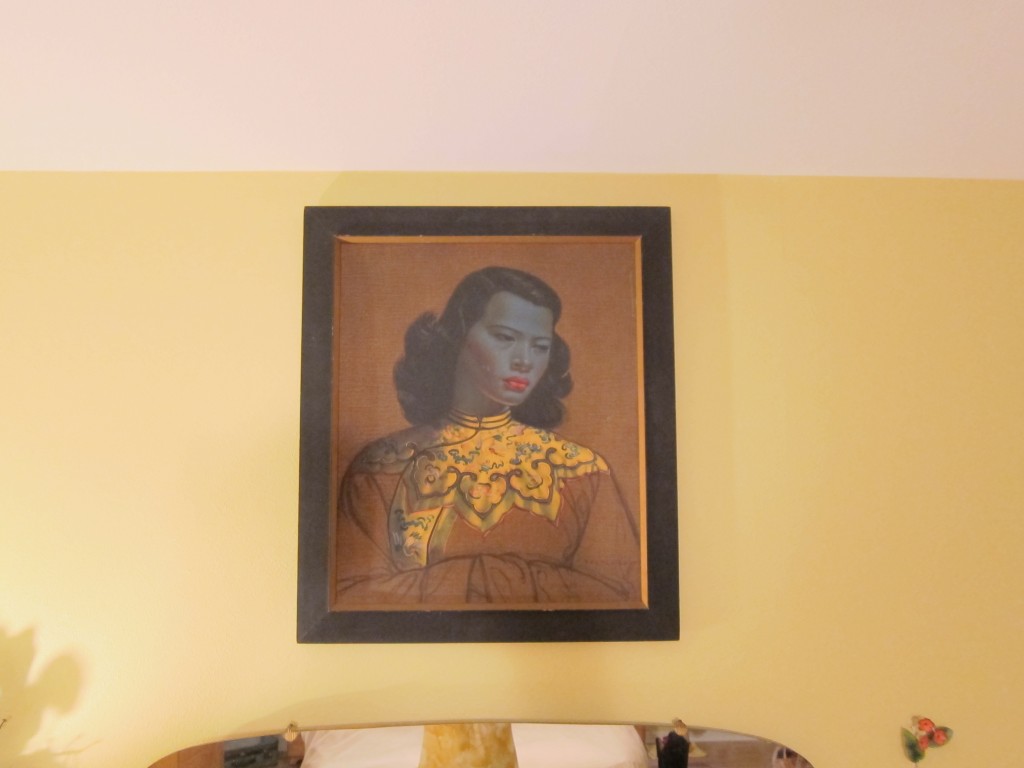 I think I got this so cheap because it has a couple scratches to the print.  But brave and resourceful gal that I am, I just took some of Little Betty's crayons and touched them up lightly and now it's hardly noticeable.  I am beyond tickled with this new addition – even Mr. Crafter likes it!
Did you score anything great this weekend?