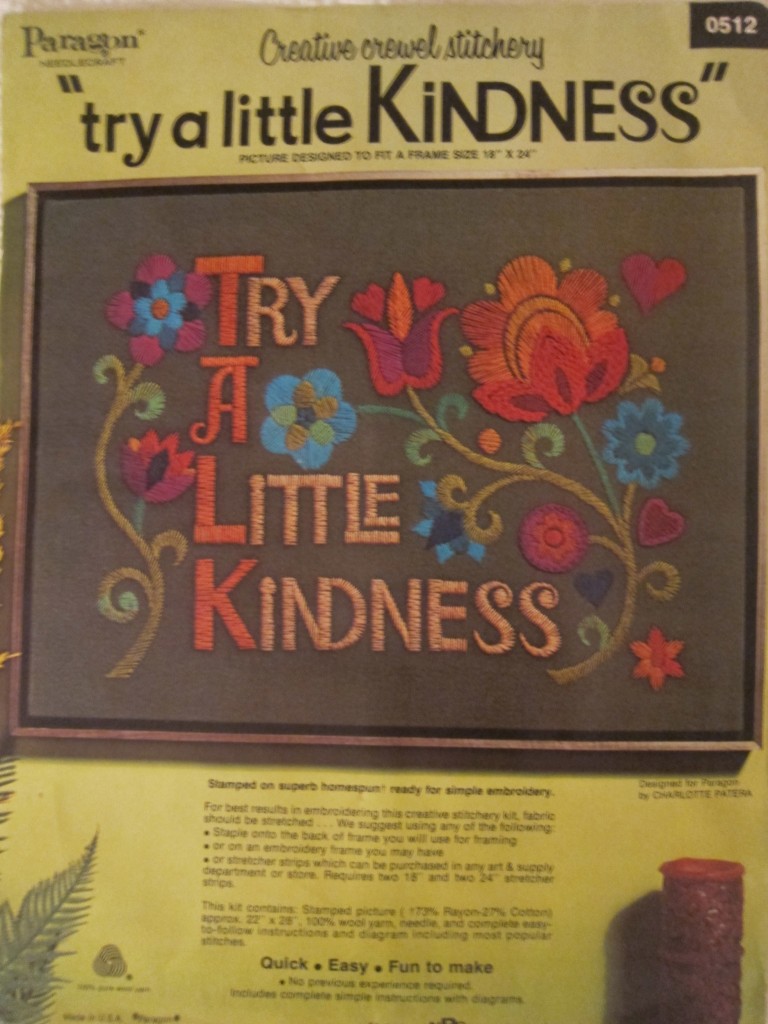 All right, y'all – the time has come to liberate this beauty from the depths of my stash and give it the shining glory it deserves in my collection!  If you don't have a vintage Try A Little Kindness kit, don't worry!  Use any crewel kit you have laying around.  Or, if you dare, search "vintage crewel kit" on ebay and get yourself one!
Today, we're just setting up.  First of all, obviously, open the bag and remove all the contents.  Iron the fabric to get it as smooth as possible, and put the needle in a safe place.  Don't put it in the fabric as a storage solution quite yet – we have some work to do first!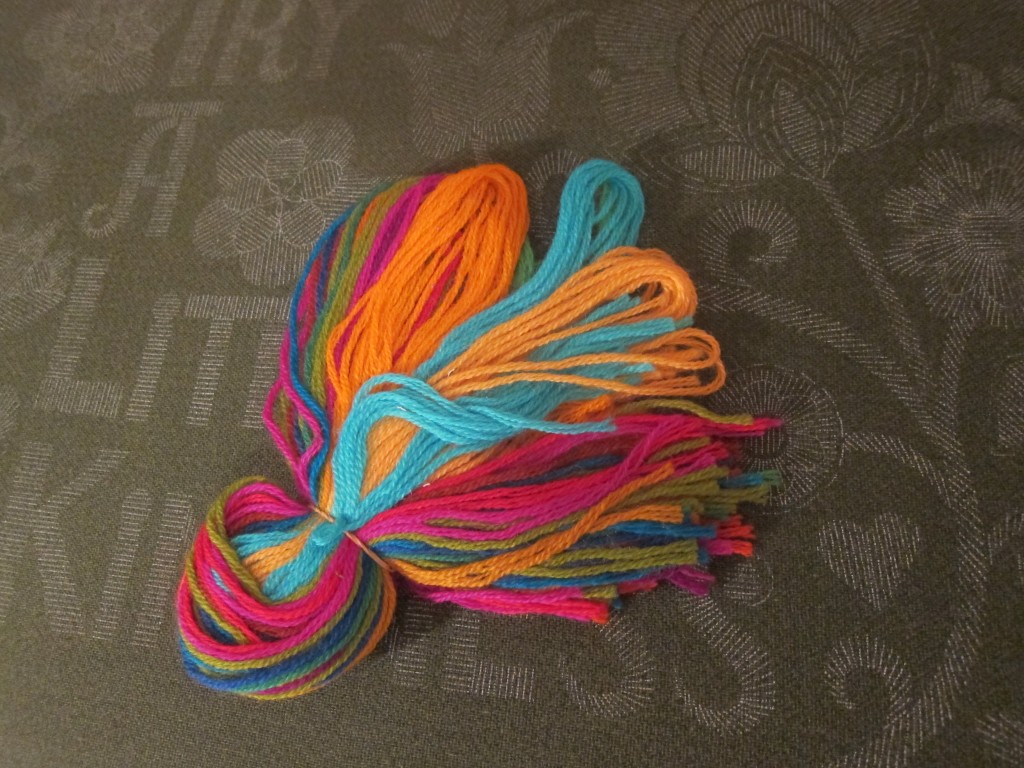 There are several ways you can do this.  First, you can opt for the traditional method and use an embroidery hoop.  You will want to use this method if you're making a pillow.  Second, you can mount it right in the frame you're going to use.  Or, the method I'm using and will demonstrate here today, is using artist stretcher bars.  You can get these at any artist supply store.  I'm choosing this method because it will already be pulled taught – no wrinkled fabric from moving the hoop around countless times, and no need for blocking at the end.  Plus, it will enable me to hang the piece right on my wall as is while I look for the perfect vintage frame.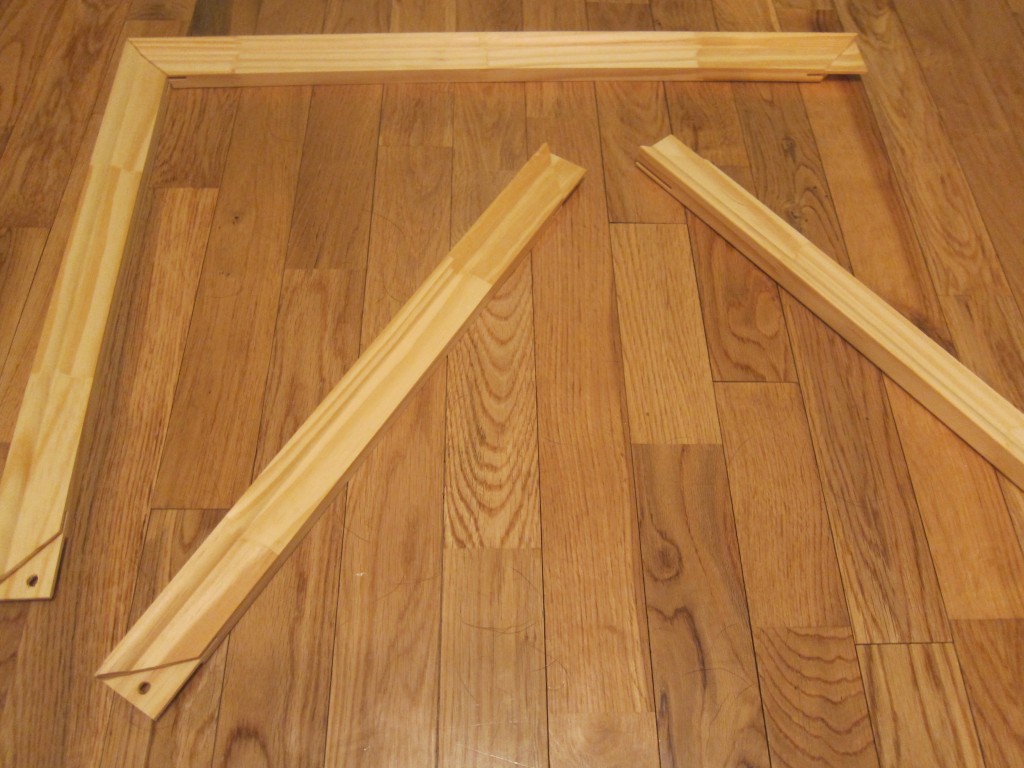 This project calls for 2 18 inch stretcher bars and 2 24 inch.  18×24 is the size of the finished piece, so if you're using another kit, you'll want stretcher bars that match the size of the finished product, not the size of the fabric.  Just fit the corners together and use a rubber mallet to make sure they're snug if necessary.  I found I didn't need one.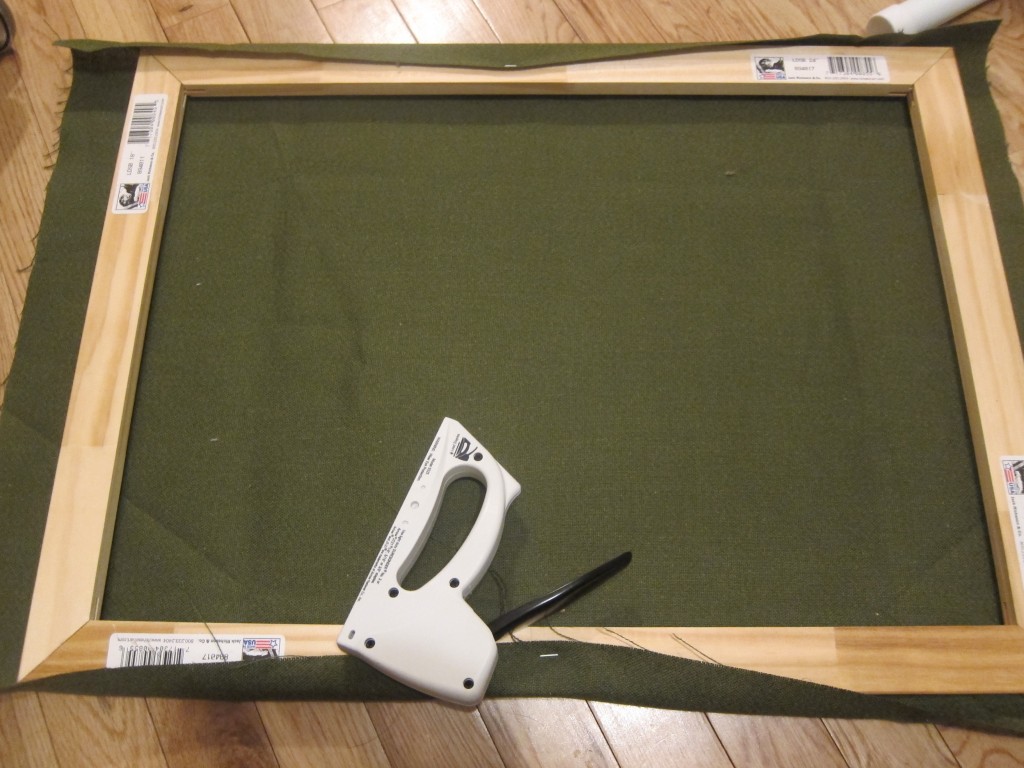 Next, start attaching your fabric to the stretcher bars with your trusty old staple gun.  It's basically just like upholstering furniture.  Start by stapling the center of each side and slowly work your way out to the sides, rotating sides so everything is done evenly.  Space your staples about one inch apart.  Pull taut, but not too tightly – you don't want to distort your image!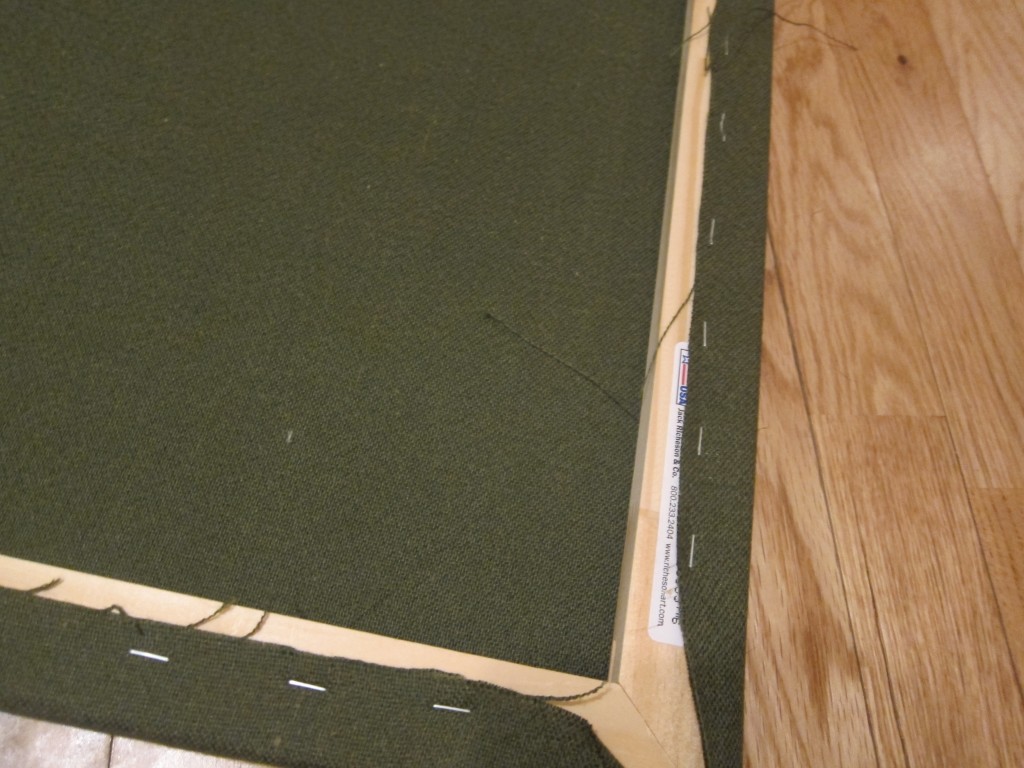 You'll find that any wrinkles that remained in your fabric will be pulled out.  Yay!  No wet blocking!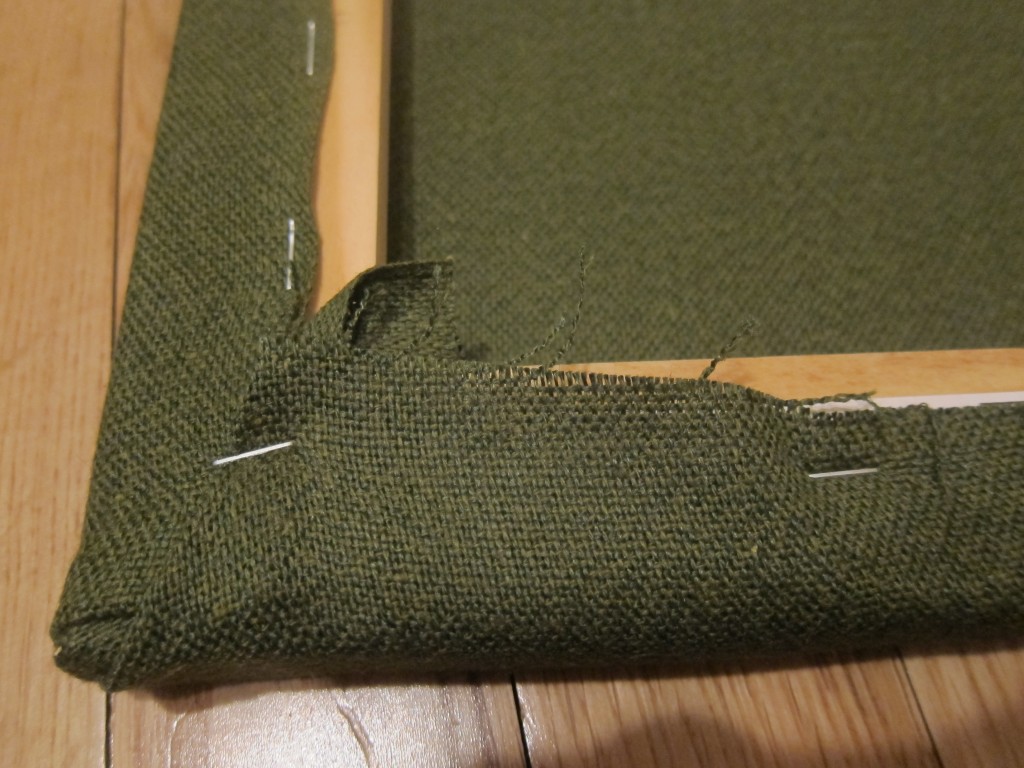 When you get to the corners, fold the fabric in whatever way makes it look smoothest from the front.  I've never found a sure-fire way to do this, but what usually works is folding the corner piece back across the bars and then bring the sides up.  Make sure to check from the front before you staple anything to ensure you like the way it looks!  Also, after finishing one corner, then do the one opposite.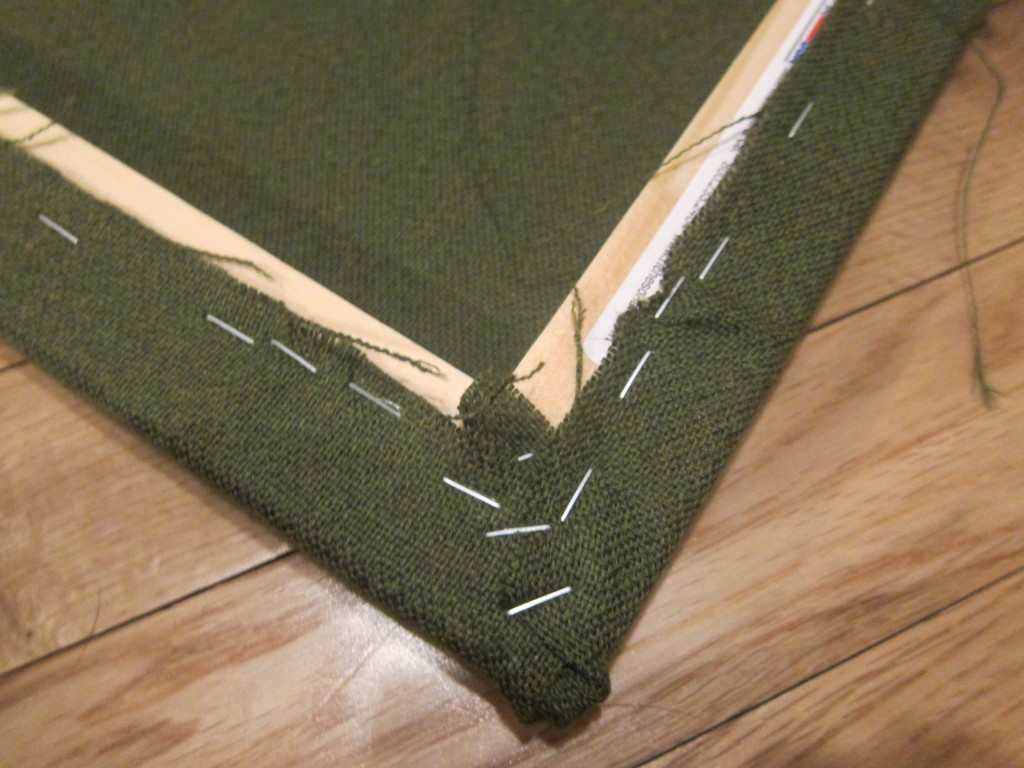 After getting the corner folded and stapled you'll probably want a bunch more staples on either side of the corner to get everything nice and smooth.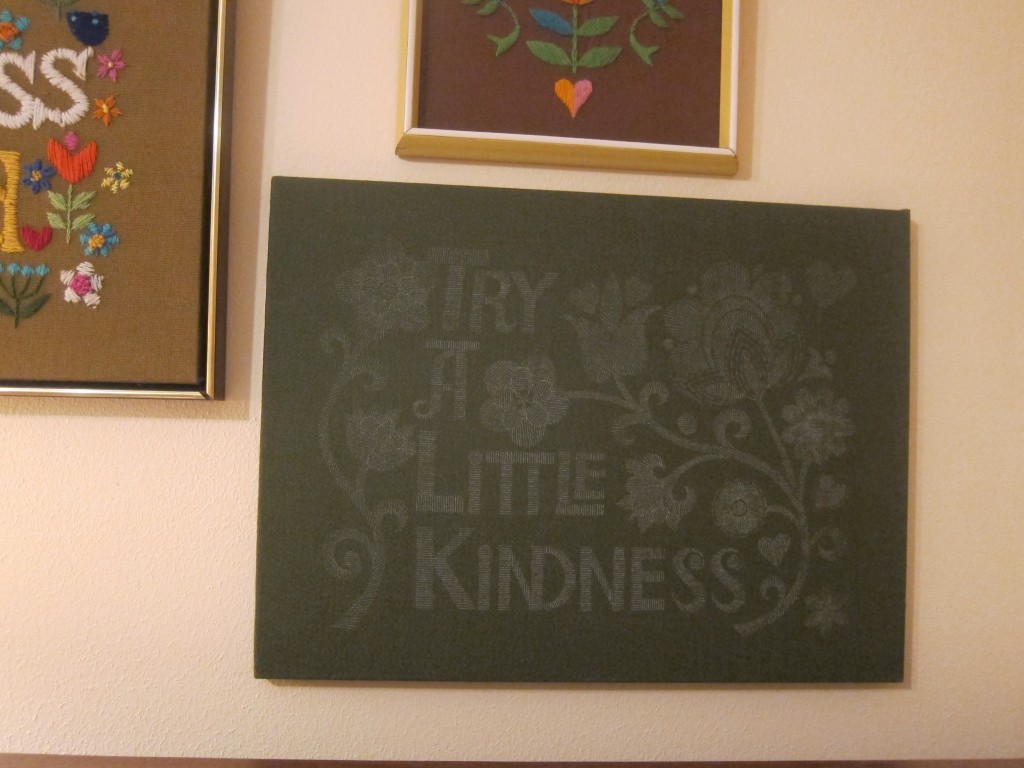 And voila!  Your piece is ready to stitch!  And hang on the wall, as you can see!  I've seen a lot of vintage crewel pieces unframed, hanging just on the stretcher bars.  Who knows – that may be the destiny of this one as well.  We shall see.
So get stitching friends, and we'll meet back and check our progress!  If you are stitching along, send me photos of your progress and I'll feature them here on the blog!