Believe me, I know Mr. Crafter is a catch.  He's cute, funny, sweet, and best of all, he likes junking!  Yipee!  Due to his crazy work schedule though, I do most of my junking with my trusty junking gal pals or solo.  But I always keep an eye out for things my sweetie would like.  Mr. Crafter has taken over the a couple shelves in the dining room buffet to display his little prizes that I pick up for him at estate sales and flea markets.  Nothing big here, just little trinkets I think he'd dig.  He loves seeing what I bring home for him and enjoys setting them up in little vignettes on his shelf.  Here's a few shots from his "prize shelf!"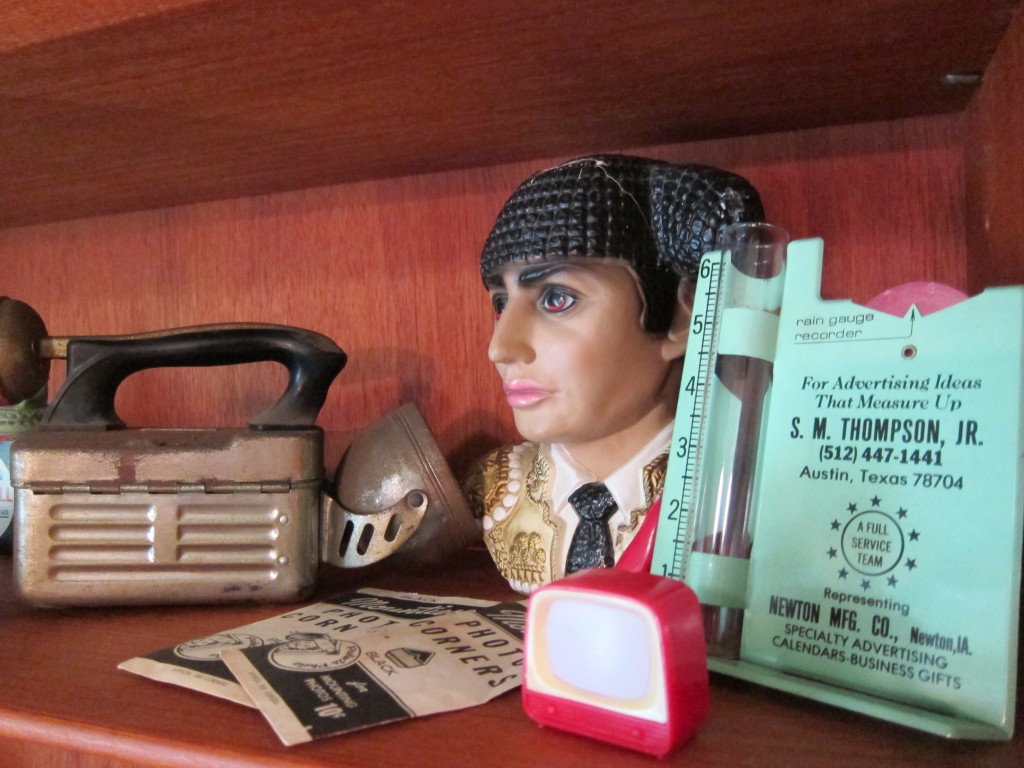 I especially love this rainfall measuring advertising piece.  My shopping partner in crime (the one that found the shortie inlay boots – I declare her to be called Shortie from here on out since I talk about her so much!)  was actually jealous of me for once when I found this!  It looks like it's never been used – it's totally pristine.   Not like the fully rusted out but still incredibly awesome 50s flashlight you can see here.  I also picked up these old packets of photo corners for Mr. Crafter at an estate sale.  Not only might they be useful (he loves to take pictures and collect old ones) but the graphics on the packaging are pretty great.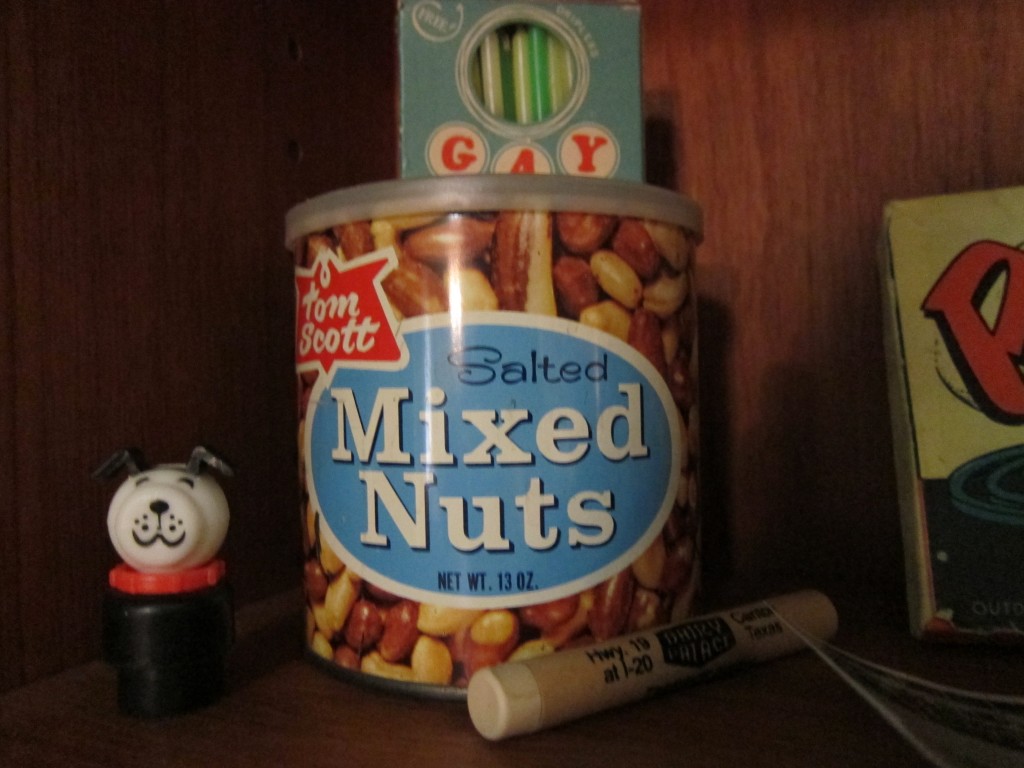 You may remember those gay birthday candles from an estate sale early in the summer.  The mixed nuts can is full of old nails.  So perfectly grandpa.  Also grandpa is the toothpick holder that Shortie and I picked up for our respective "grandpas" at the Dairy Palace on a recent shopping trip out of town.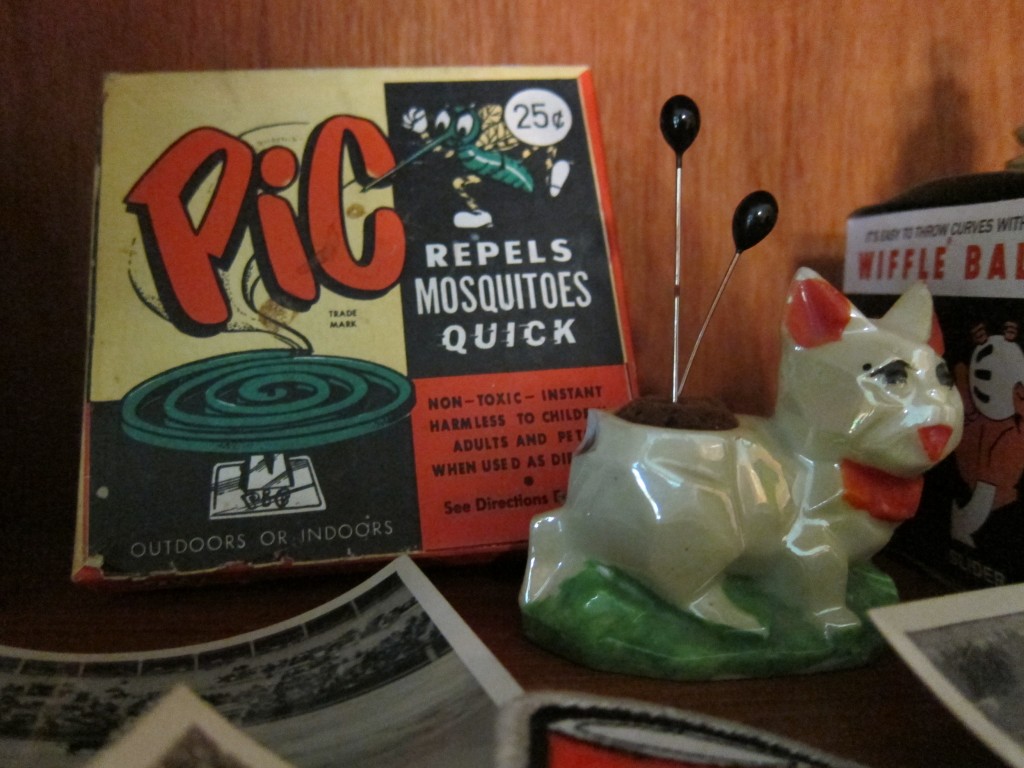 This mosquito repellent I picked up solely because of the awesome graphics.  I knew Mr. Crafter would love it, and I was right.  The pin cushion I bought for the shop but was quickly adopted by Mr. Crafter.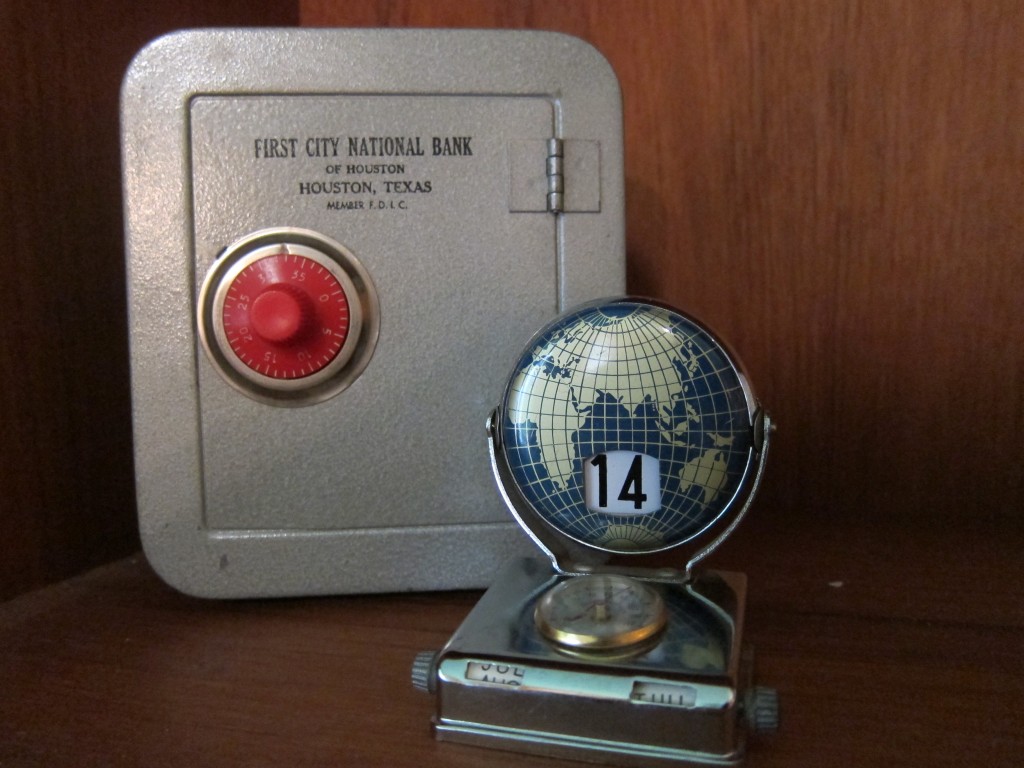 I'm super in love with this globe perpetual calendar.  I think it's one of the coolest things ever.  And the bank behind it, although totally unusable bc I don't have the combination, made Mr. Crafter very happy.
I get Mr. Crafter a lot of stuff that won't fit on the shelves too – this is just his little "shrine" to vintage knick knacks I pick up thinking of him.  Mr. Crafter also has lots of cool collections of his own that I'll feature someday.
Do any of you have significant others who like old stuff as much as you do?  What do you keep an eye out for when shopping for them?