I showed you some of the great places I've been shopping, but I have yet to show you the things I've been buying!  Although 90% of it is for the store, I have definitely found a few things that are too good to let go of.  Today I want to show you a complete picture of what a big buying trip looks like for me.  First, the un-staged reality shots.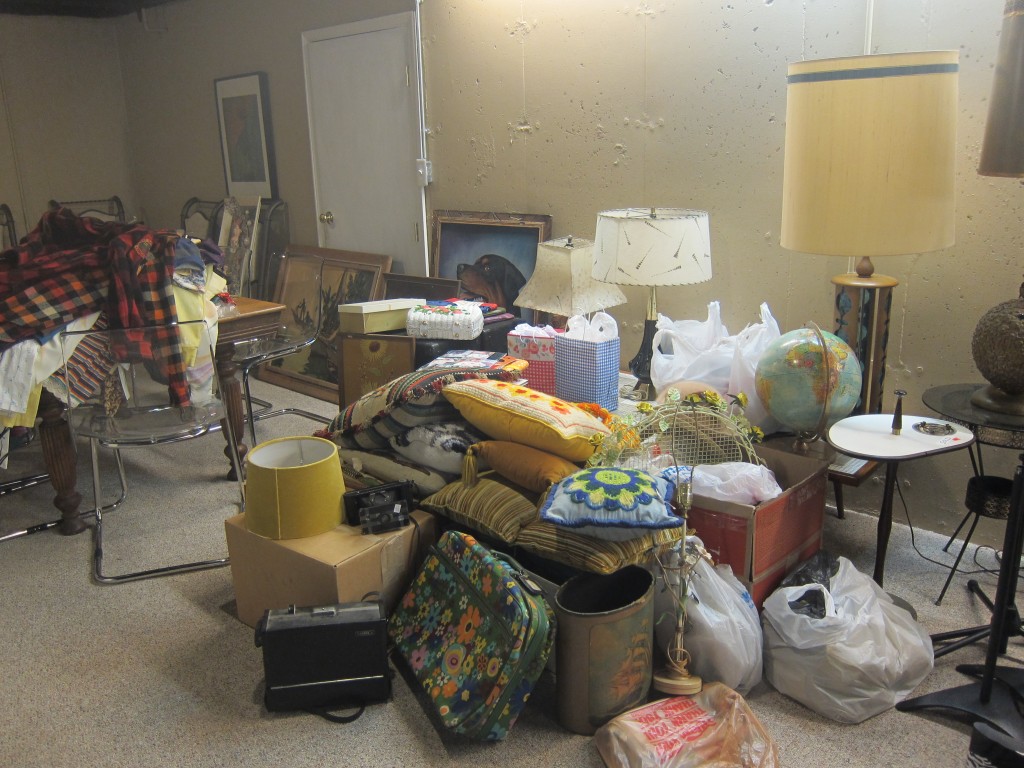 These are all the smalls and clothes clogging up my parent's basement. One thing you can't see here is the danish modern mosaic coffee table under the lamps.  I wish you could see all the awesomeness contained in those boxes and bags.  Fawn bookends, a 50s napkin and tablecloth set, a Shriner decanter, General Motors Gentlemen's Club glassware, and a gorgeous 40s rayon patterned suit with bakelite buttons are some examples of such hidden treasures.  But at least you can see the huge velvet painting of a Rottweiler.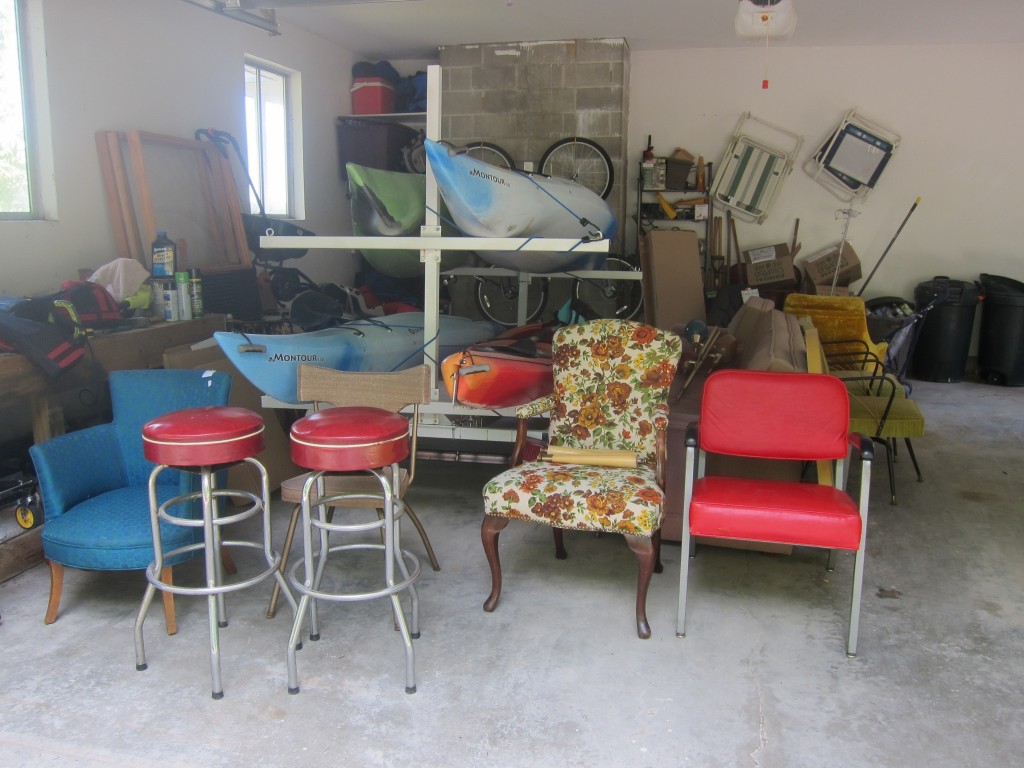 Here's the furniture clogging up my paren's garage.  Some highlights: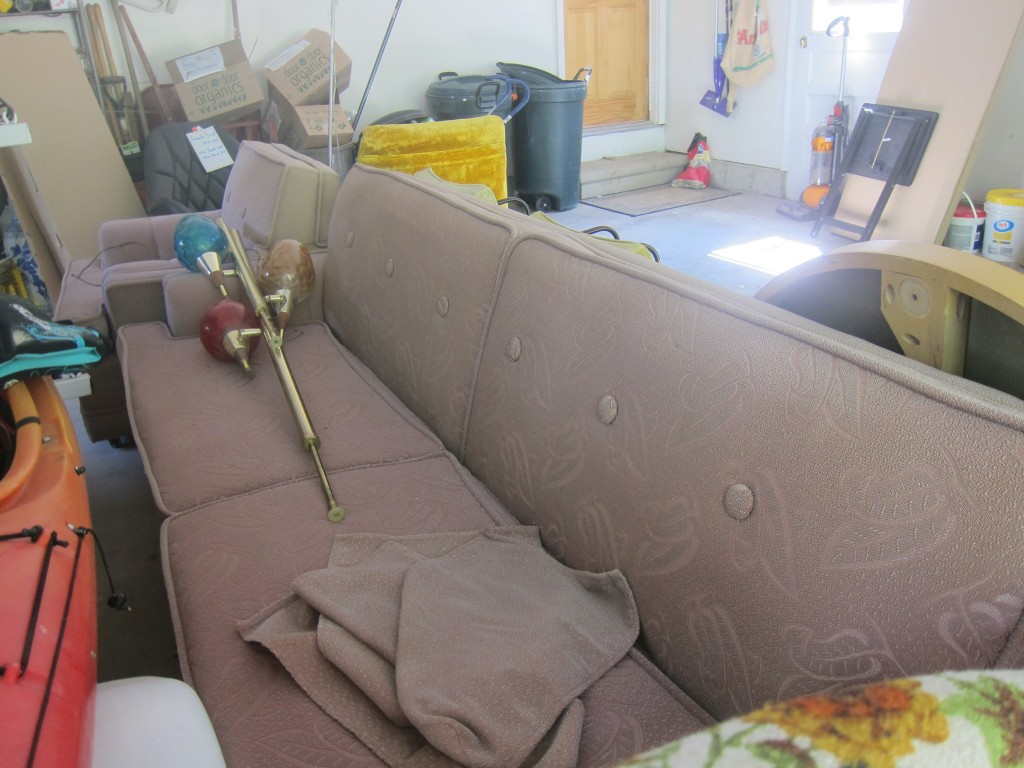 A 40s rose colored frisee couch and chair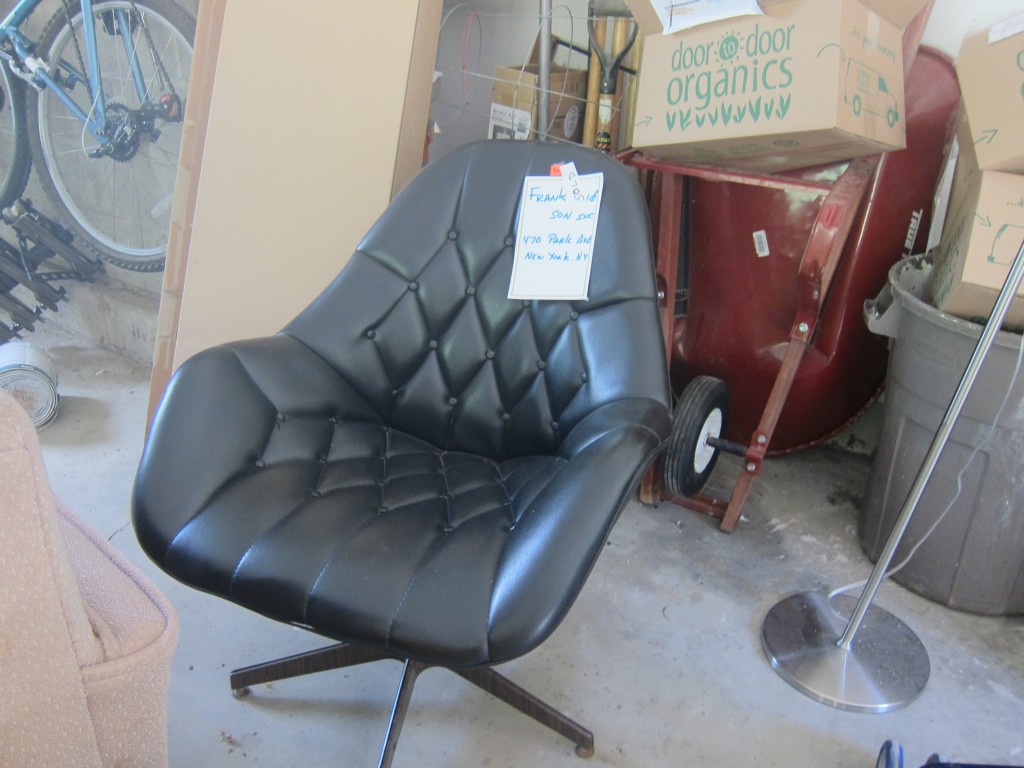 Mid Century tufted side chair marked Frank & Sons Park Avenue.
Now for some of my favorite scores of the trip!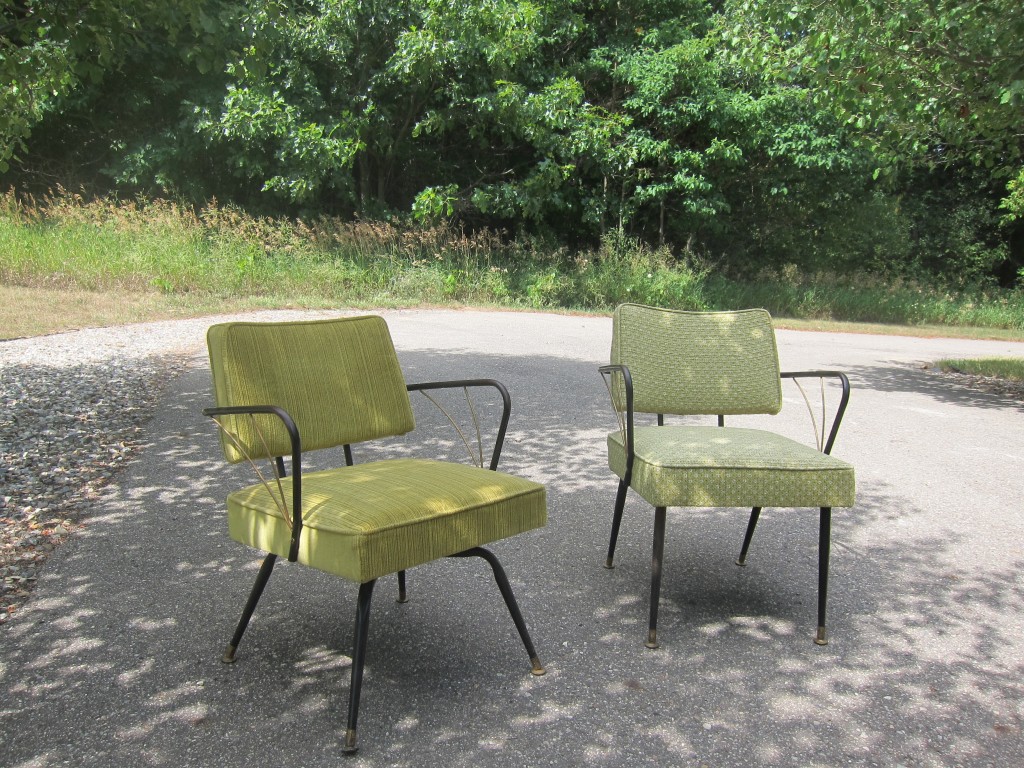 I love these chairs.  Although the upholstery isn't original, it's old enough (60s I think) to where I don't think it matters.  The chair on the left swivels!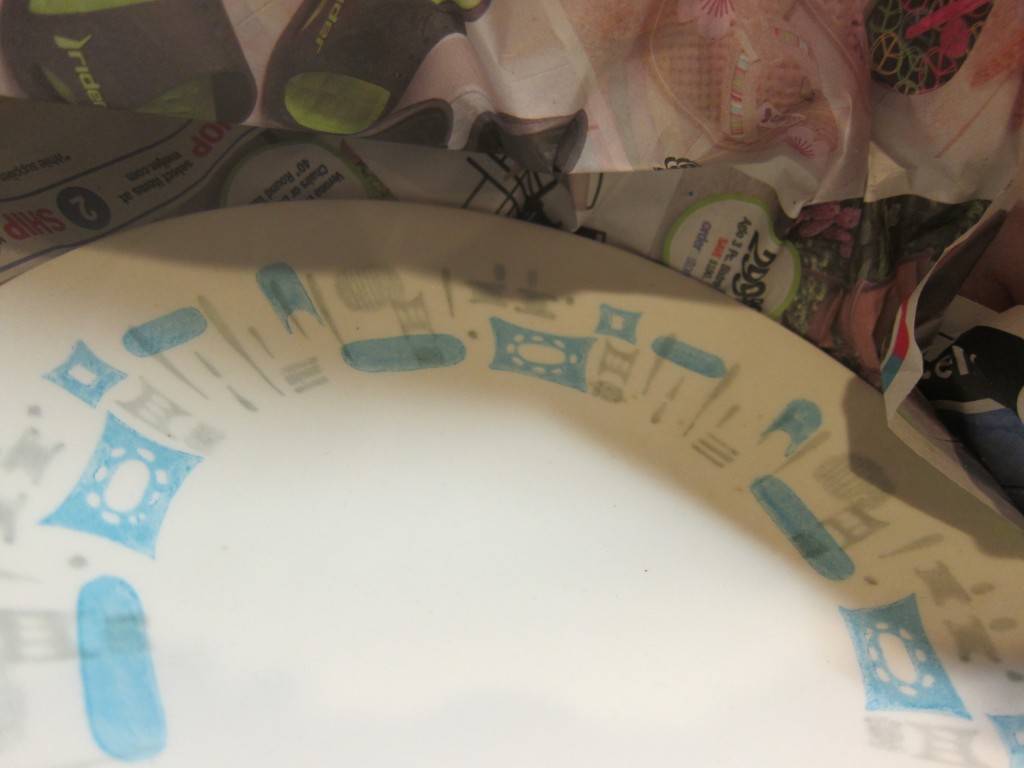 I found 27 pieces of mint condition Blue Heaven at a thrift store!  Dinner and salad plates, bowls, and 2 big serving pieces.  I was giddy with excitement.  The jury is still out on whether I will put this in the shop or keep it.  I generally like to have mismatched dinnerware in several patterns I like but this is tempting.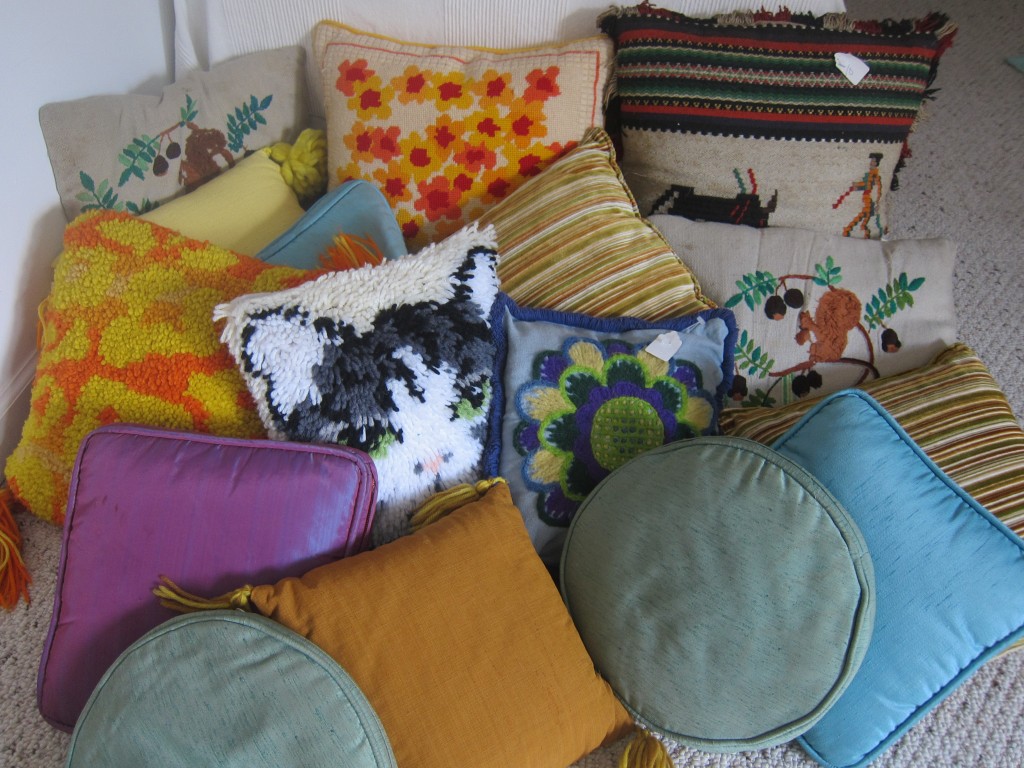 Some strange force overcame me and compelled me to buy every throw pillow in a 3 state radius.  I couldn't stop!  In my defense, I rarely find them at a price that is good for resale and they really dress up the couches in the store.  Please note the rad bullfighting pillow, set of squirrel crewel pillows, and hooked cat face pillow.  Any guesses which pillow will be making its permanent home with me?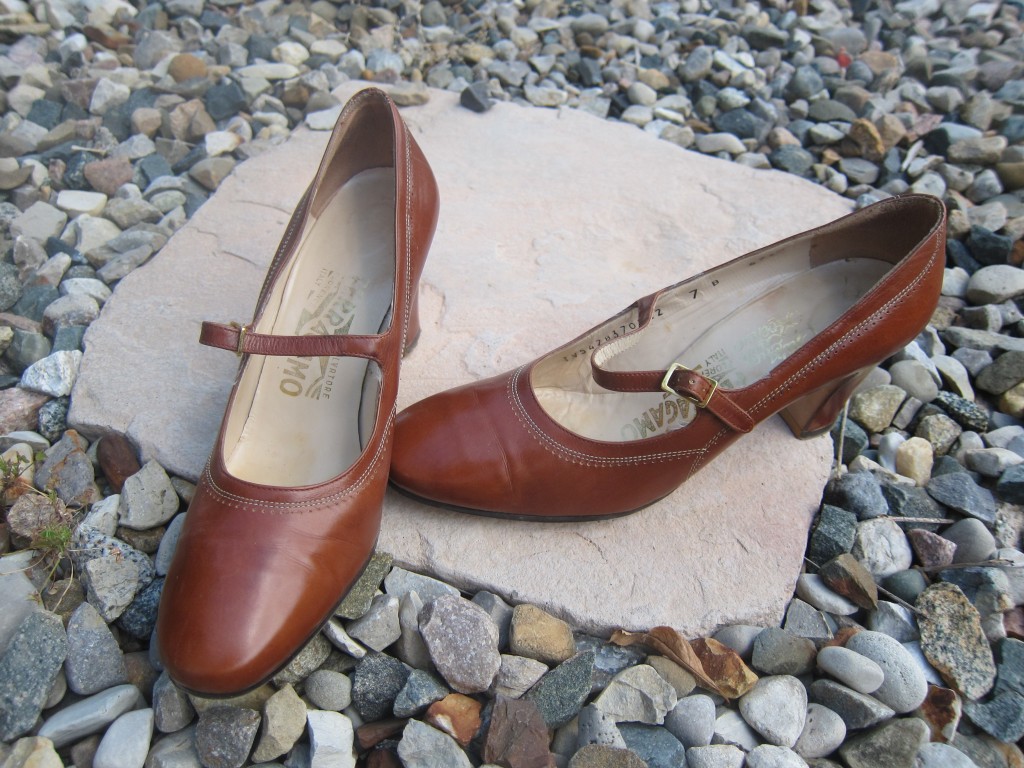 Vintage Ferragamo shoes that just so happen to fit me perfectly!  I think it's a testament to my eye for quality that I had no idea these were designer til I got them home.  (Excuse my modesty!)
The mister and I love vintage hunting jackets.  The incredible patches on this one make it really special.   Good thing Mr. Crafter already has a great one because this one is too small for him.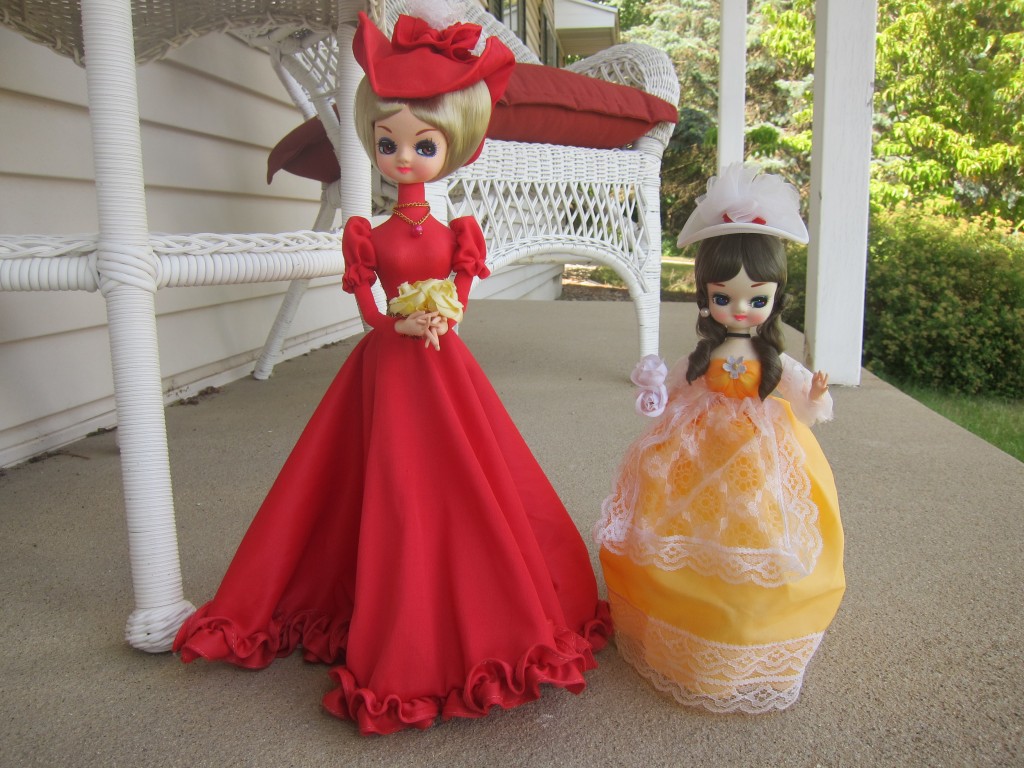 Little Betty and I share a strange obsession with these dolls we got at the thrift.  I am not a doll person.  They tend to give me the creeps.  But there is something about these two I just love.  We both especially love the one in red.  She's so Morgan Fairchild a la Red Headed Stranger, no?
And now, friends, for the creme de la creme.  The star of the haul.  The thing I paid way too much for but just couldn't live without: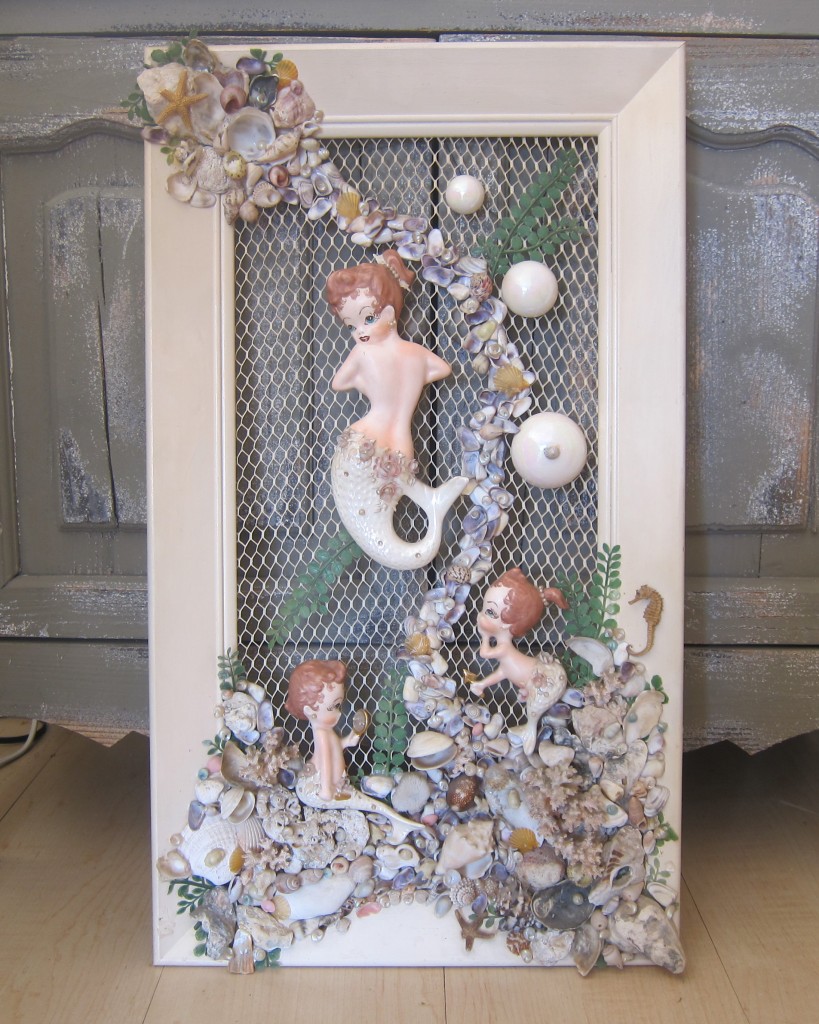 Isn't it glorious?  I'm insane for it.  I've never seen anything like it.  I've seen chalkware mermaids similar to these but not with the detail these have like the jewelry and accessories.  Do you think it's homemade by someone or mass produced?  I can't wait to put it up in my bathroom.