I hit up an estate sale in a mid century house and spotted a rad pink bathroom!  Please excuse the crappy iphone picture.  I believe her rosy beauty will shine through anyway: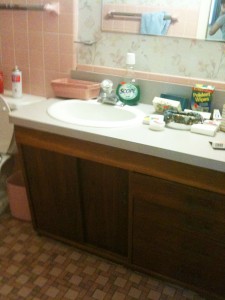 Let's point out all it's awesomeness.  I adore the slanted wood vanity!  I saw a story on Retro Renovation where someone had one of these built.  And the pink mosaic tile floors were dreamy!  Everything was in fabulous condition and it was a great example of a mid century modern pink bathroom.  Love!  Unfortunately I'm visiting family in a part of the country that hasn't quite gotten hip to the mid century thing, so my hopes for the preservation of this bathroom are dim.
You will be surprised to hear that I did not take home the Polident Wipes in the picture, even thought they were for sale.  Maybe I was sidetracked by the awesome half used bottle of Scope for the bargain price of $.50.  But I did come home with some treasures, never you fear.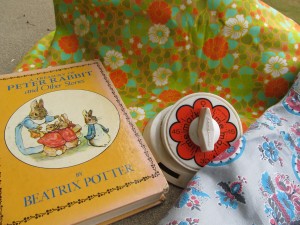 Like this groovy kitchen timer, vintage fabric, and Beatrix Potter book for Little Betty.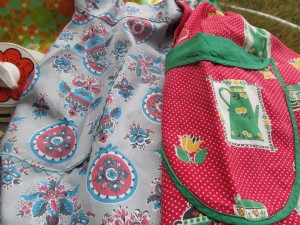 And these downright delicious aprons.  You don't know this about me yet, but I really love 50's Pennsylvania Dutch motifs.  These 2 aprons fit the bill perfectly.  Even though one thing I do NOT need are aprons.
Ok.  I'm kind of stalling here because I'm actually embarrassed to admit the amount of vintage Christmas stuff I landed at this sale, especially after my monster haul yesterday.  Y'all are going to think I'm some kind of Santa fetishist!  But who could resist this serene iridescent turquoise angel with wings that have fallen off?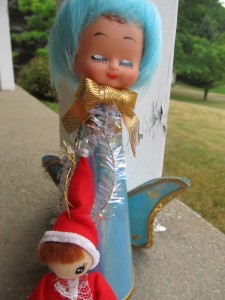 I know.  It had to be done.  Which only opened up the door for mounds of ornaments like this: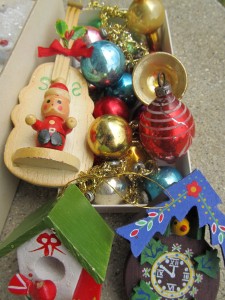 And these:
I have a real soft spot for those little wooden people as well as open ornaments that have little vignettes in them, and this sale did not disappoint.  So really, I can't be blamed for loading up, right?  And no, I absolutely did not stop at 2 garage sales on the way home and come home with 3 additional bags of vintage Christmas swag.