Mr. Crafter and I have been co-sleeping with Little Betty since her birth, which has been really awesome.  She's such a little cuddle bug and I've loved being close to her at night so I could easily check on her and thus, sleep better.  But Mr. Crafter and I have missed cuddling with each other, too, and have slowly started to come around to the idea that maybe it was time for Little Betty to start sleeping in her own room.  But alas, she was not at all interested in doing that.  So we devised an evil plan.  We decided to get her a bed so awesome she'd be jumping at the chance to sleep in it.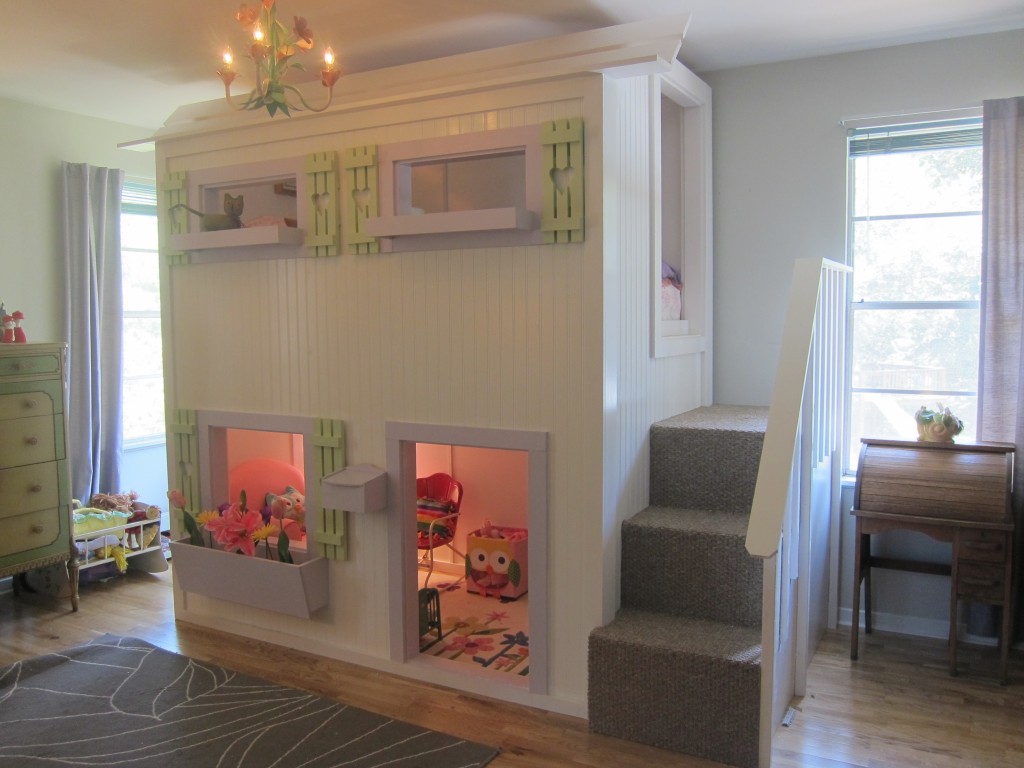 Misson = success!
I don't even know what to call this thing.  A playhouse loft bed I guess?   I really fell down a rabbit hole on this project.  I started off looking at loft beds, thinking it would be cool to free up play space in her room and that she'd enjoy sleeping in a loft.  Then I realized you could buy curtains to put on the bottom to make a little playhouse like this, then found this Pottery Barn Kids bed…
At that point I decided to call my contractor because I had really fallen off the edge of sanity over the whole bed issue.  I was a little nervous about the height and steep ladder on the Pottery Barn bed and thought we might be able to make something up on our own.    We finally decided to loosely base our ideas on two bed plans that are free online – this bed and this one.  I'm warning you now, do NOT start browsing the kids' bed ideas on this site.  Especially loft beds.
In the end, I got everything I wanted and more!  A loft bed that she absolutely cannot fall out of, safe stairs instead of a ladder, and a playhouse underneath.   So, basically Little Betty has a little two story house inside her bedroom now!  We are all officially nuts over here.  My contractor definitely agrees.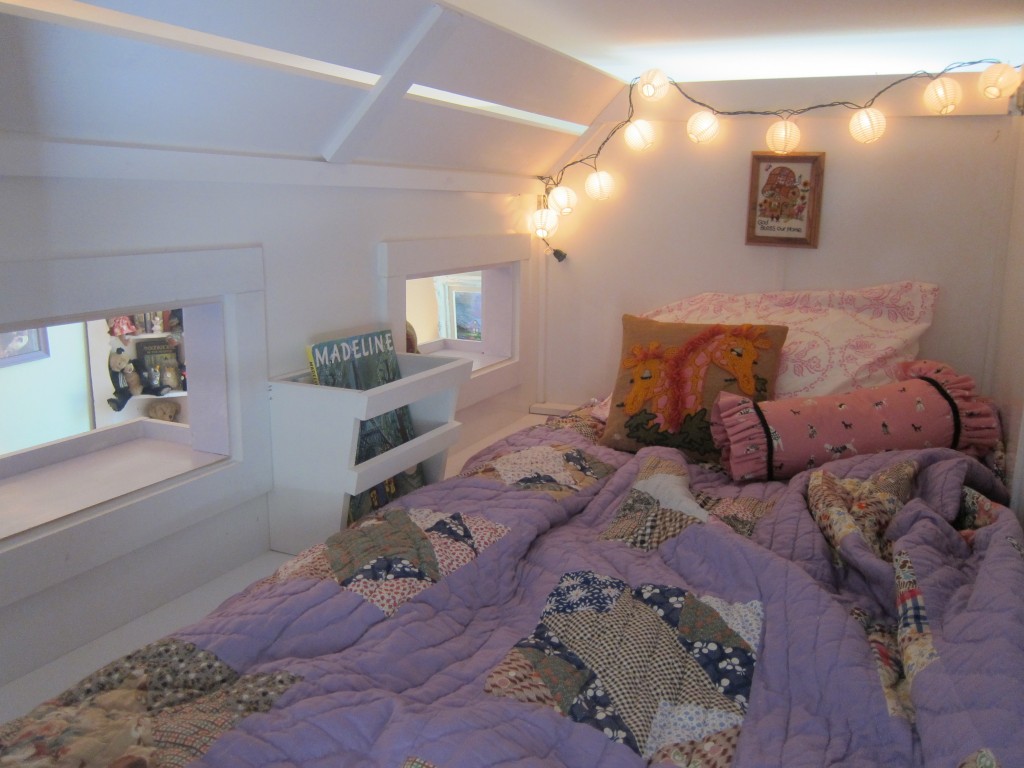 One drawback of this bed is that it's pretty much impossible to make the bed neatly.  Oh well.  We're going for the comfy camping look I guess.  I love the book rack and the wide windowsills for putting her cup.  We even put a lip on the edge so things wouldn't fall off. And as you can see I also finally gave in and let Little Betty have that framed crewel she's been wanting of mine.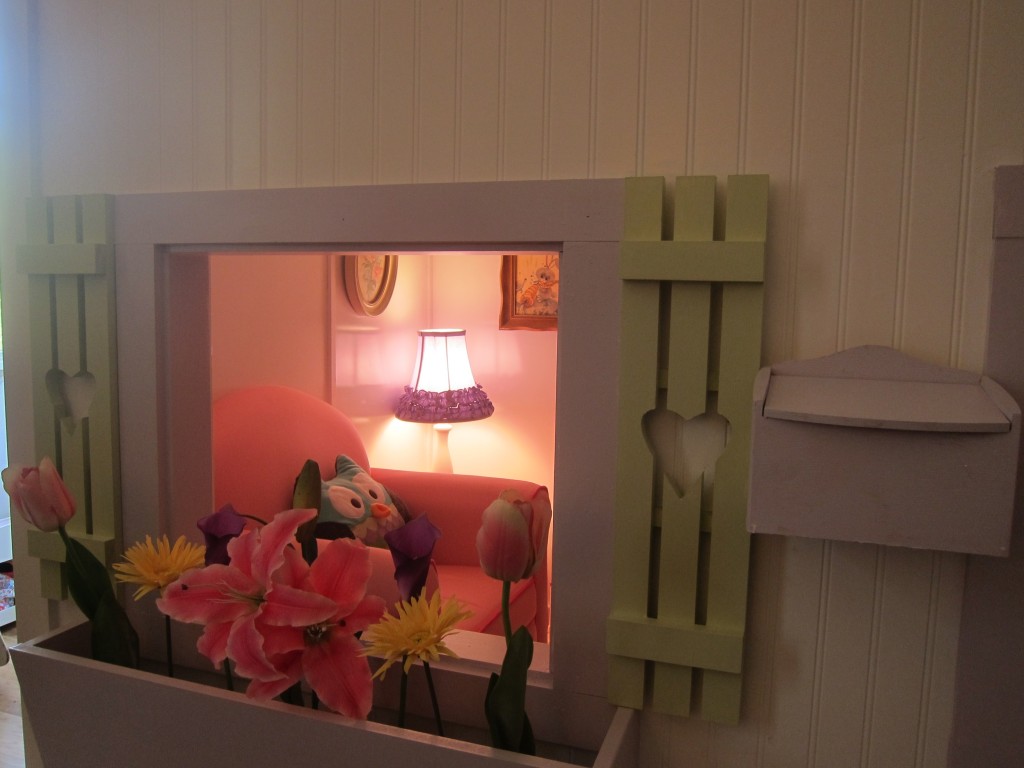 One of Little Betty's favorite features of her new little playhouse-bed (bed-playhouse?) is the mailbox.  We've already spent hours playing mailman.  One of my favorite features is the flower box!  I love how it turned out and now I'm tempted to put fake flowers in the flower boxes in her outside playhouse.  I'm also pretty pleased with the little heart shutters.  My poor contractor was not thrilled about spending hours building those and cutting out the little hearts but in the end even he agreed they were adorable.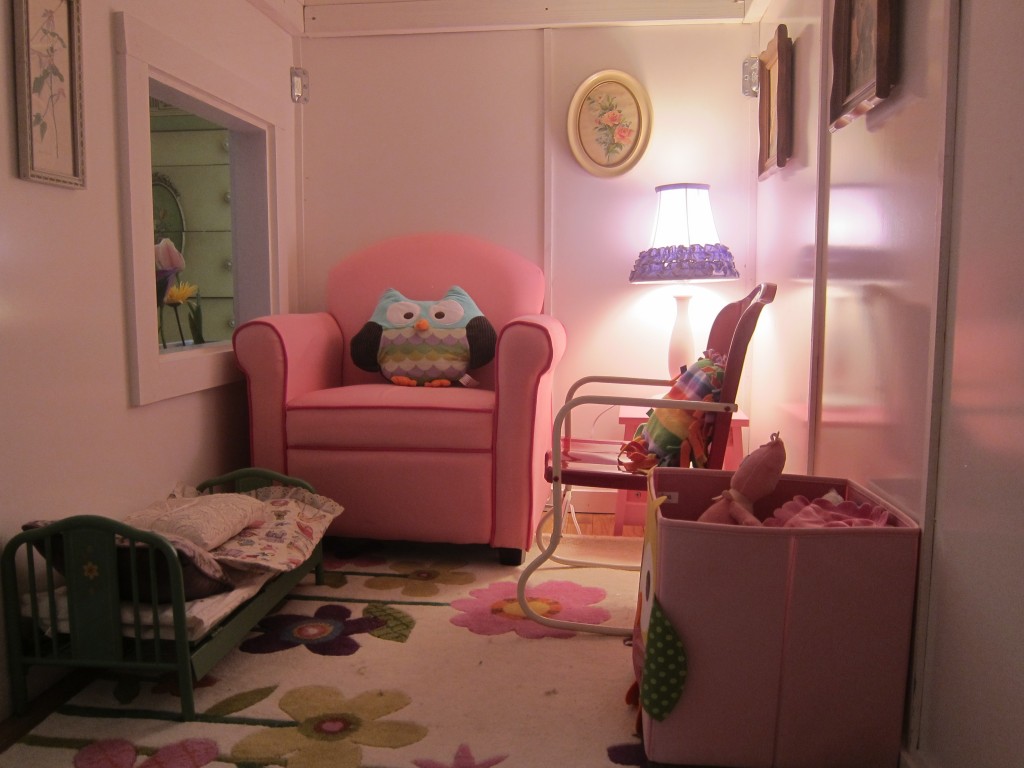 Little Betty did most of the decorating in this playhouse (SO glad I did the outside playhouse before she had design opinions!) but even though it's not quite what I would pick it still looks pretty good I think!  For example, I really wanted a vintage Irmi lamp, but she had her heart set on this purple one.  And I must say, we had SO much fun doing it together.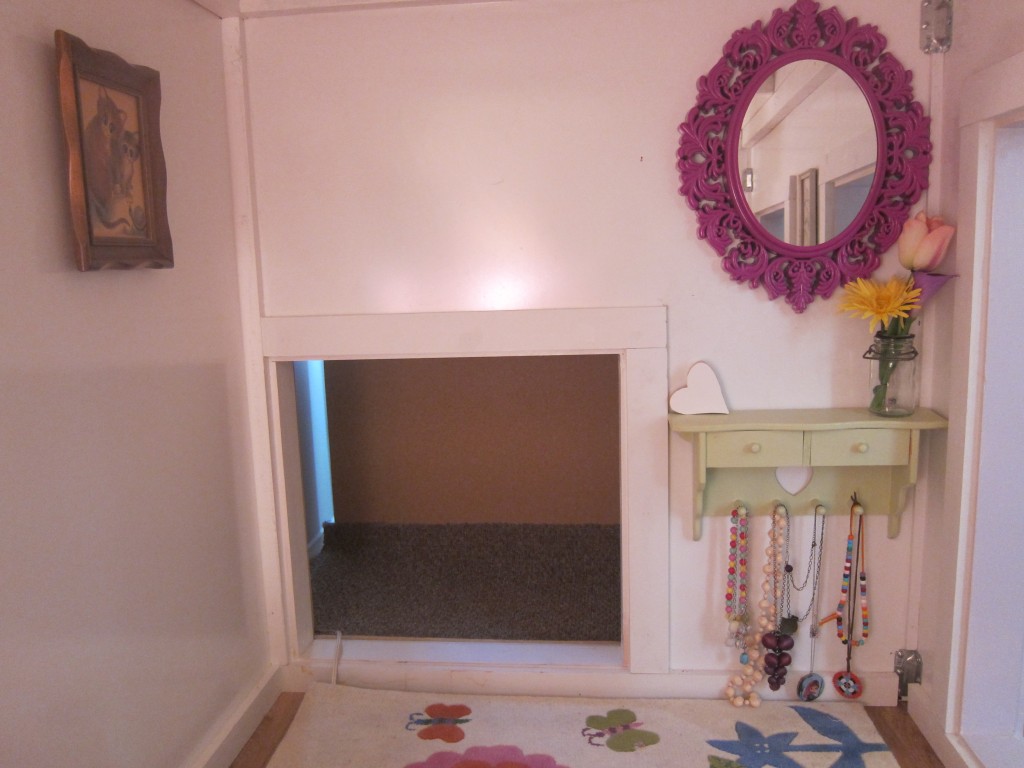 She also refused to leave Hobby Lobby without this purple mirror.  You may have guessed her favorite color by now!  We haven't decorated the secret space under the stairs yet, but I think we're going to put pillows and stuffed animals under there to make it a comfy spot to hide in.  Maybe I'll use the fabric I bought to make the curtains because I don't think the curtains are needed after all.  I also bought a Pennsylvania Dutch hex sign to put on the outside that I don't think I'm going to use.  The house looks cute enough already.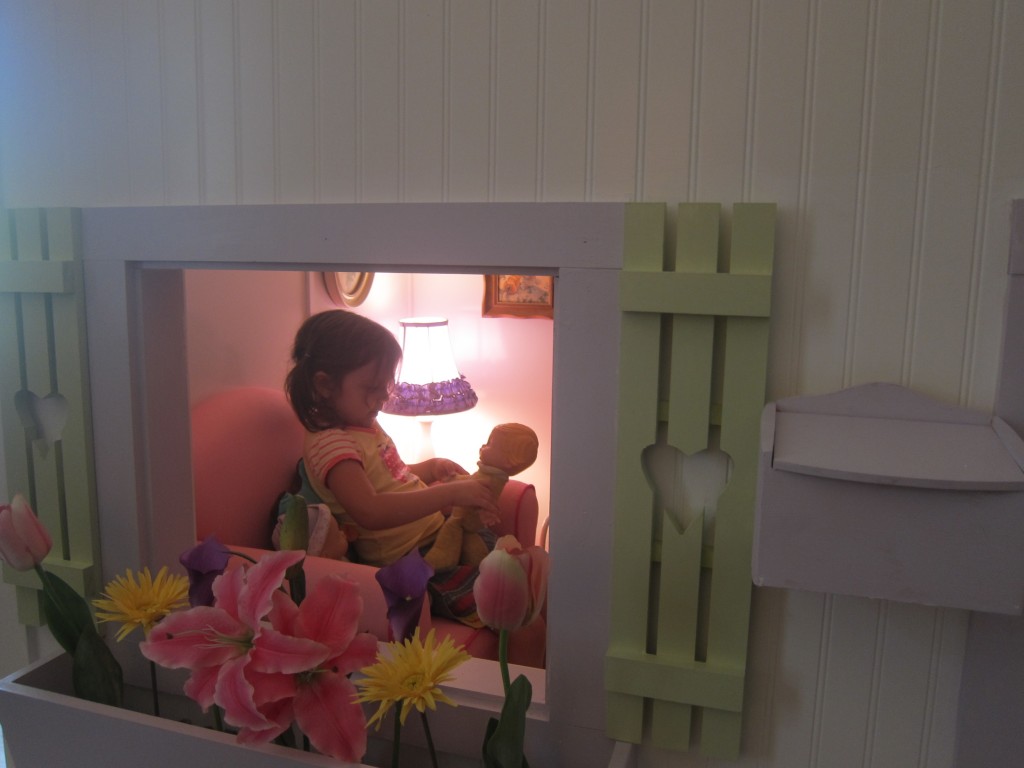 In the end, Little Betty is over the moon about her new bed and is sleeping in it right now.  And I'm now embarrassed to have any of her friends over to see it because it's so insanely over the top that she's totally going to be "that-spoiled-only-child."  But it's worth it because this is what I kissed goodnight tonight: