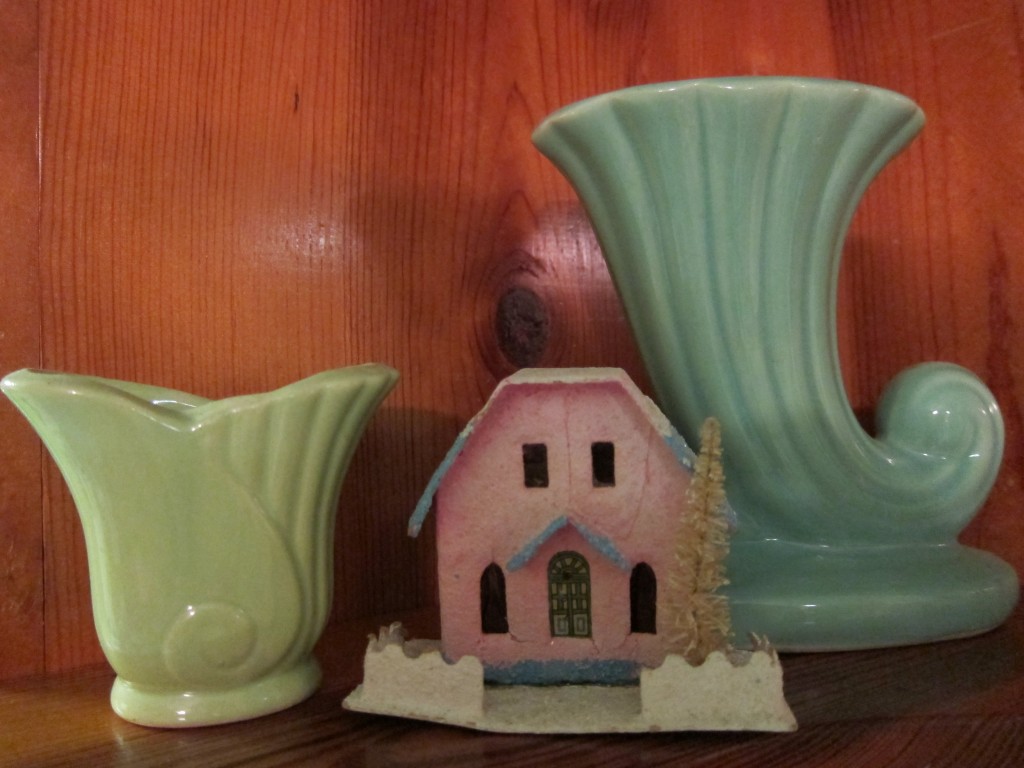 These vintage made in Japan Putz style houses are all the rage right now.  Back in the day they were often put on the tree as ornaments or displayed as a village on a table.  They have holes in the back to put over a light on the Christmas tree so the light would shine through the tissue paper doors and windows.  They are super cute, but often time has not been kind to them.  You will find them with drooping eaves, chipped paint, falling down fences, busted windows, and generally looking like a run down tenement on the wrong side of the tracks.  So why not do some simple home improvement projects to fix up this old house into a winter wonderland any granny would be proud to live in?
All you need is some Snow Tex, glue (I used Alene's Tacky Glue), coarse clear glass glitter, beads (I used vintage mercury glass) and whatever miniatures you want to add.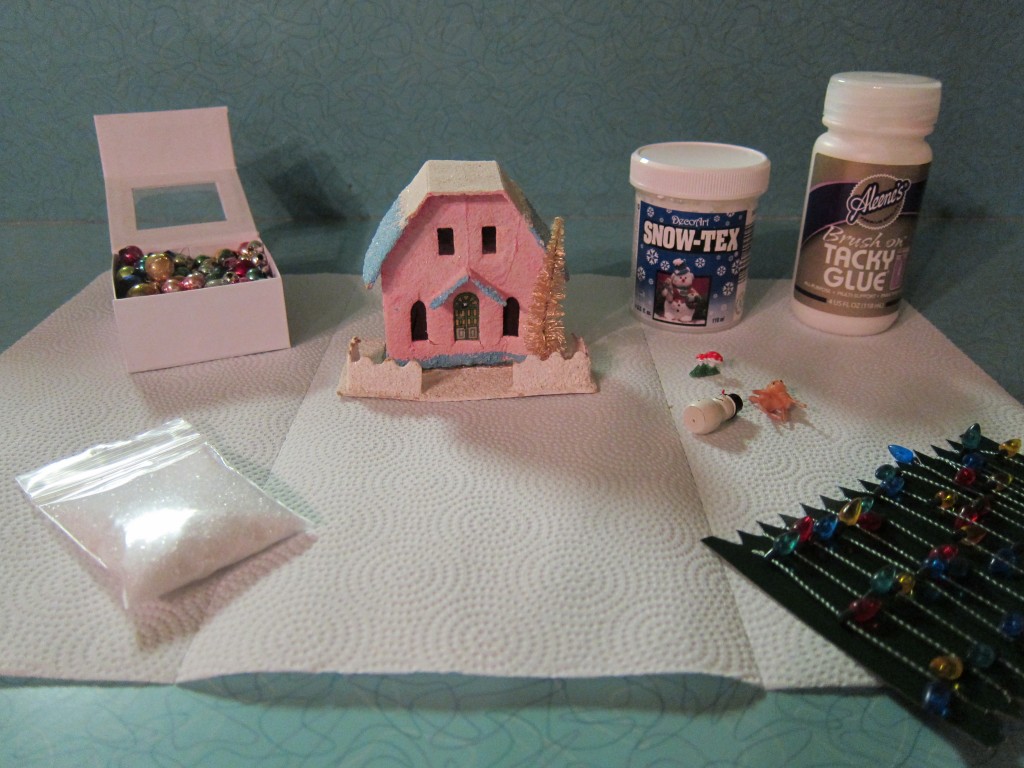 First replace any tissue paper in the windows and door that's busted.  Now is also the time to do any repainting that needs to be done.   This house didn't need any of that.  Glue your miniatures in place with the tacky glue.  If the glue isn't holding things in place (the problem I had with my string of lights) you can use the Snow Tex instead.   I used the glue to add beads to my tree and glue down my mushrooms, fawn, and snowman.  For past houses I've also added beads around the house like shrubs, which looks really cute.  You can also use the tacky glue to re-glue any falling down eaves or fences.  You can use cardboard from a cracker box or something if you need to make them from scratch.   After everything's glued down, add your snow with a small palette knife or paintbrush.  Be generous with the snow – add it along the roofline, top of the fence, on the tree, ground, eaves – anywhere snow would normally accumulate.  Take some time to make sure the snow has a nice snow like texture – dab it on instead of smearing.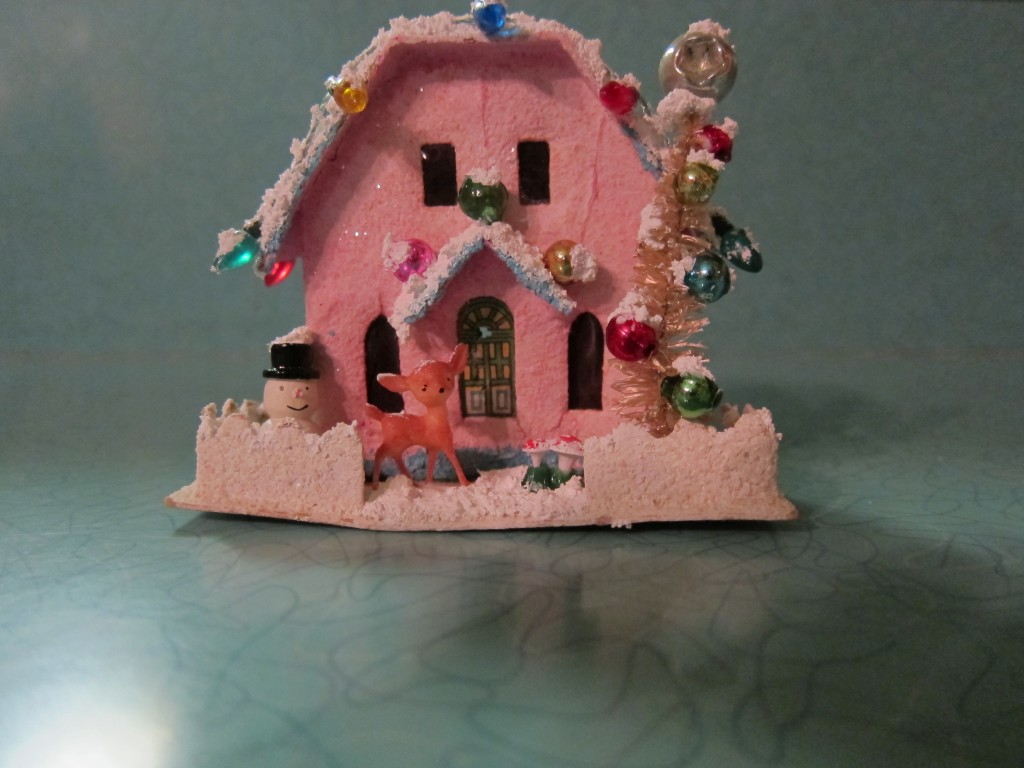 Let it dry for a few hours until the snow is hardened.  Then you can brush tacky glue over the entire house, miniatures and everything.  Work quickly, and sprinkle your glass glitter over everything.  You now have a winter wonderland!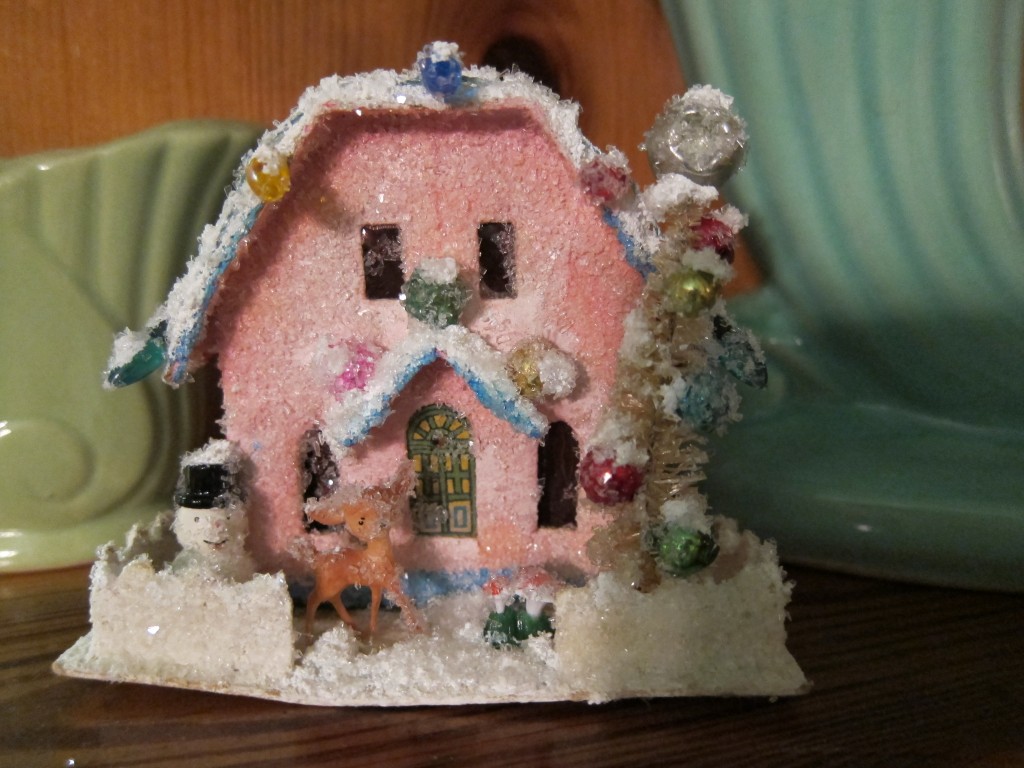 I did not make this idea up – you can find other people who have done this all over the internet.  This is just my personal process which I thought you might find interesting.  If you make one or have already made one, I'd love to see it, so send me a pic!  And stay tuned for my wreath making process very soon!