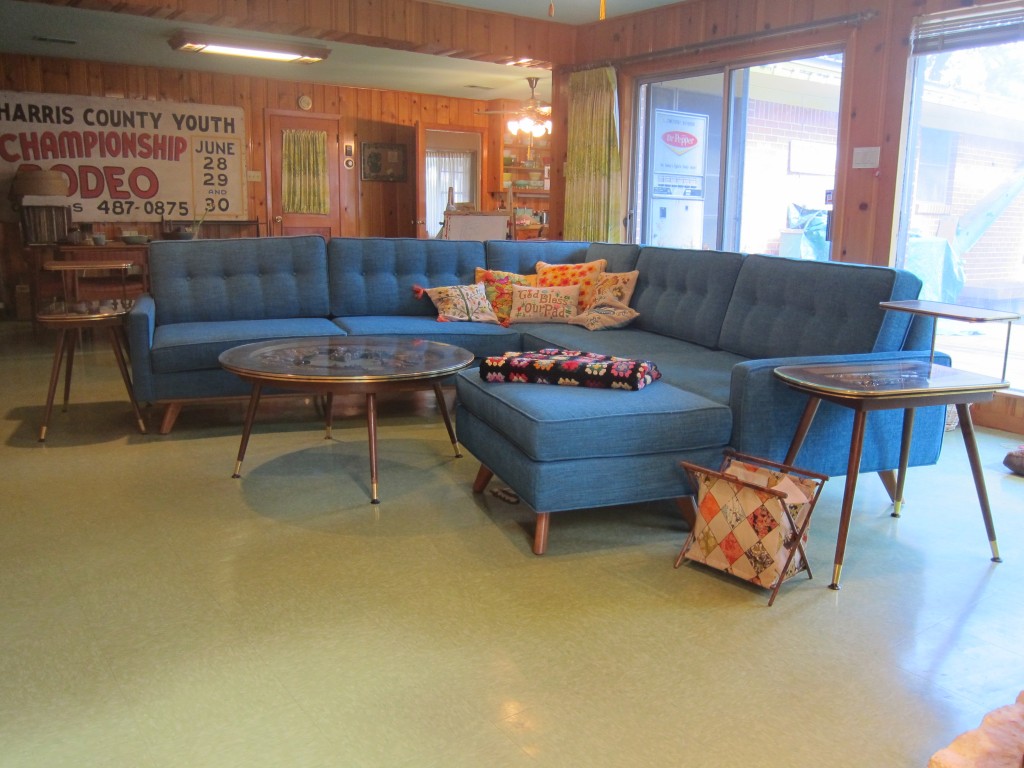 So, one of the great benefits of being a vintage dealer for a living is that I can trade out furniture and we've been doing a lot of that lately.  Today I'm going to show you what is happening in our living room.  First, we got our first ever real adult couch!  Meaning, non vintage, brand-new, costing more than our mortgage.  Although we loved the other set, especially that peacock blue color, we found we really needed more seating space in this room, and thought a proper sectional would fit the bill perfectly.  Thanks to Thrive Furniture and their Taylor L shaped sectional we got something we feel fits into our vintage home perfectly and gives us the space and comfort we wanted.  Plus, their Lucky Turquoise color was almost the same color as our old set!  Now our living room is such a cozy nest, perfect for curling up in front of the fireplace and watching movies.
But the real story of today is the totally amaze-balls coffee table set we picked up today.  Mr. Crafter went to the vintage store across the street from mine while I was restocking and spied something he knew I'd love.  He dragged me over there and it was ours in less than 10 minutes.  I've never seen anything like it – it's 2 coffee tables and 2 end tables with German Black Forest carved scenes under glass, just like my Alpine Chalet collection!  It's super hard to photograph because of the glass, so excuse the terrible pictures and try to see past the glare to the amazing beauty of these pieces.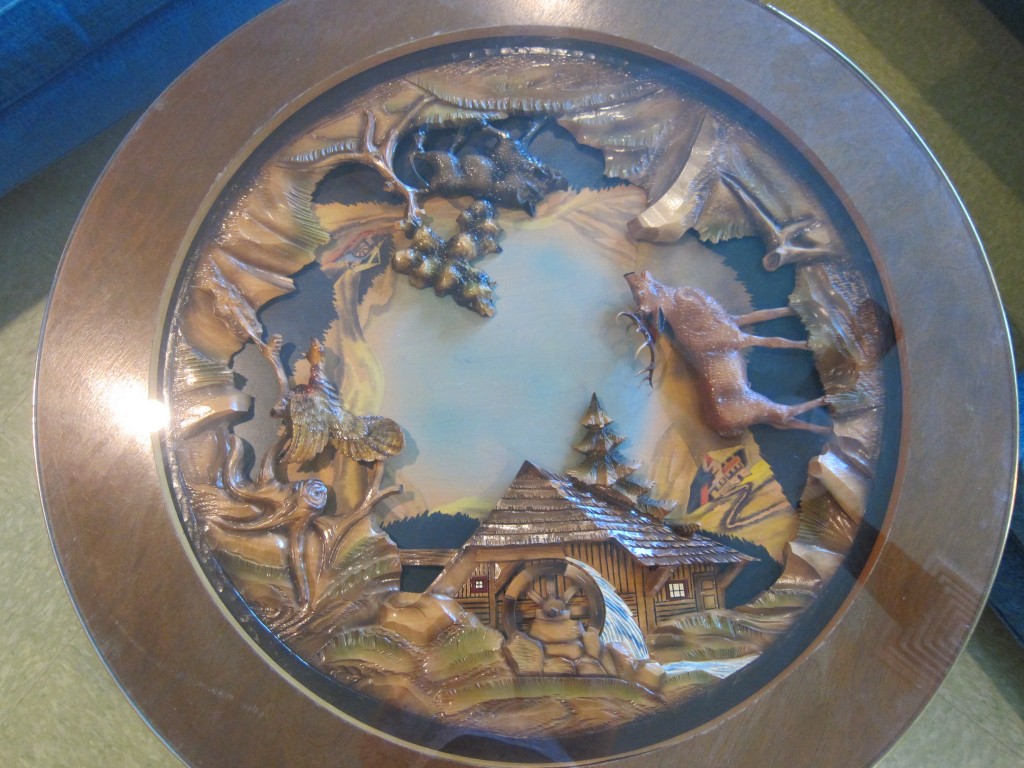 This is the round coffee table.  There is a string underneath that if you pull it plays a song and the water wheel turns.  That part needs a little work – I'm hoping my local clock shop can get it working correctly.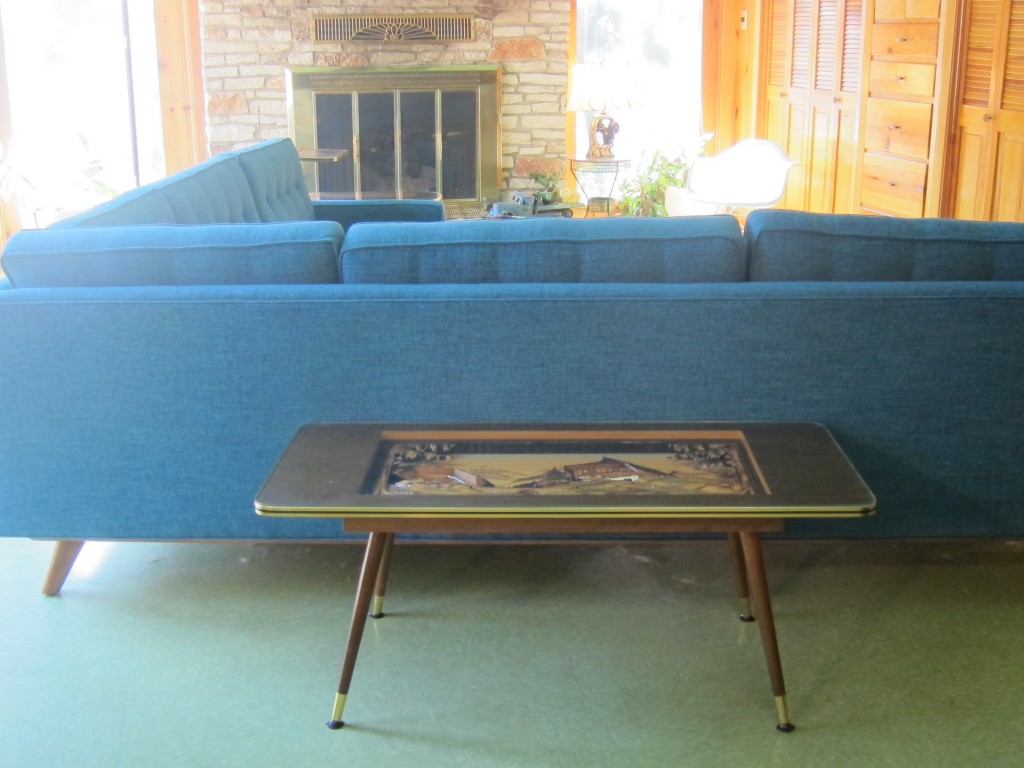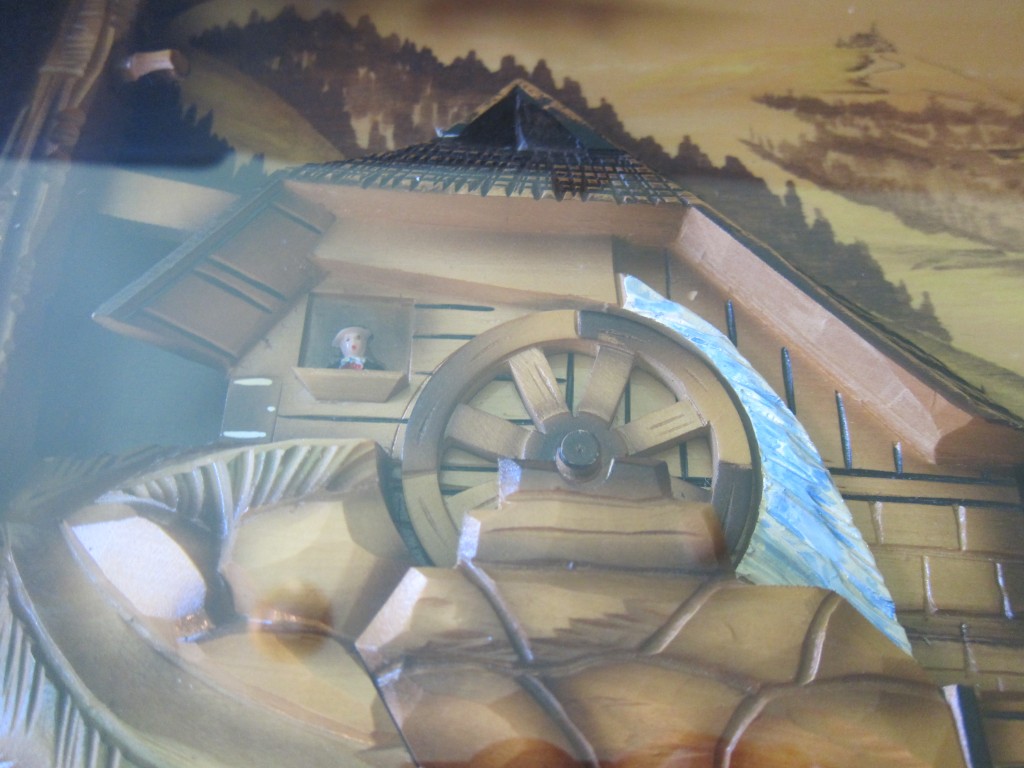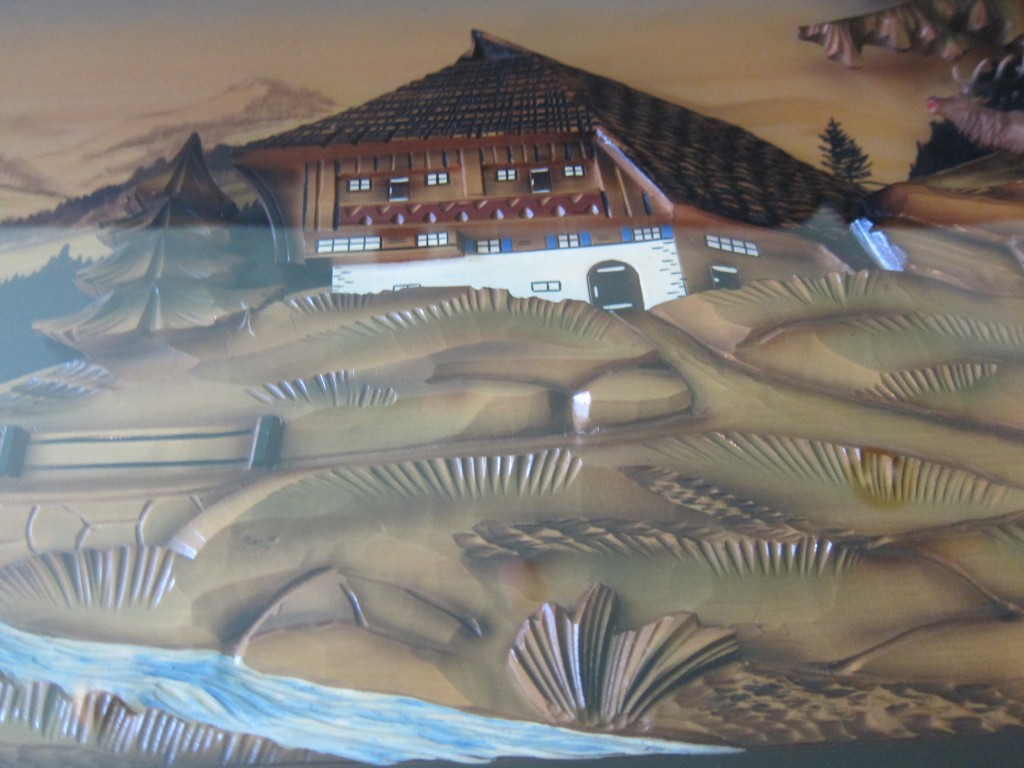 This is the rectangular coffee table.  It's hard to appreciate the depth and intricacy because of the glare unfortunately.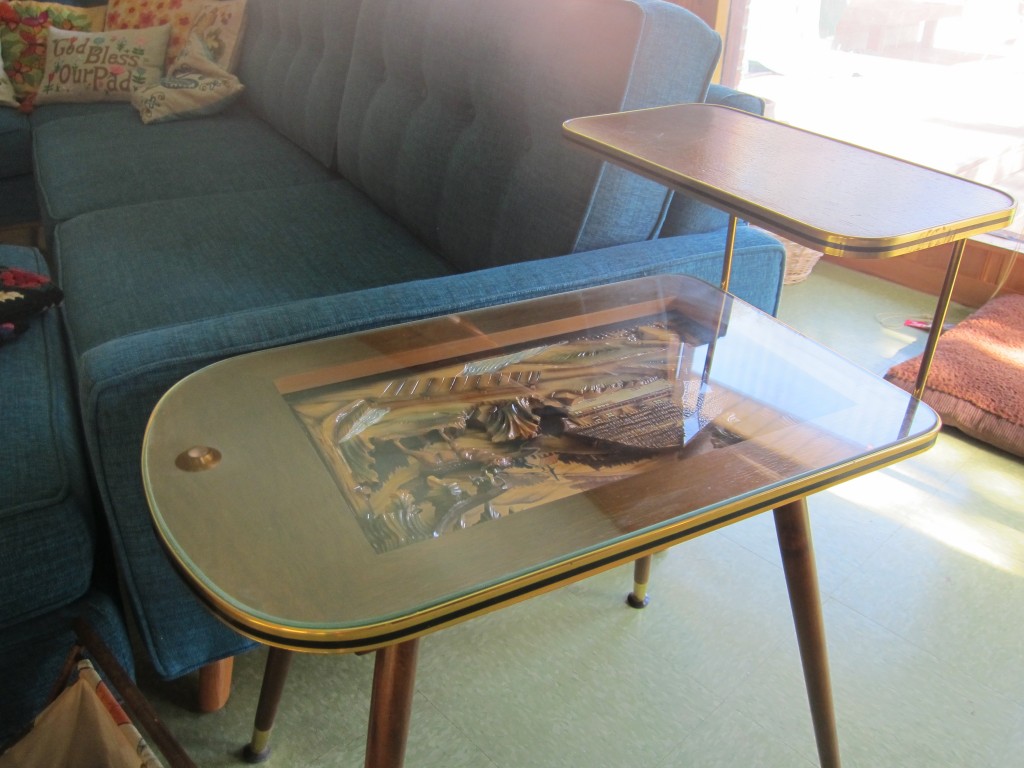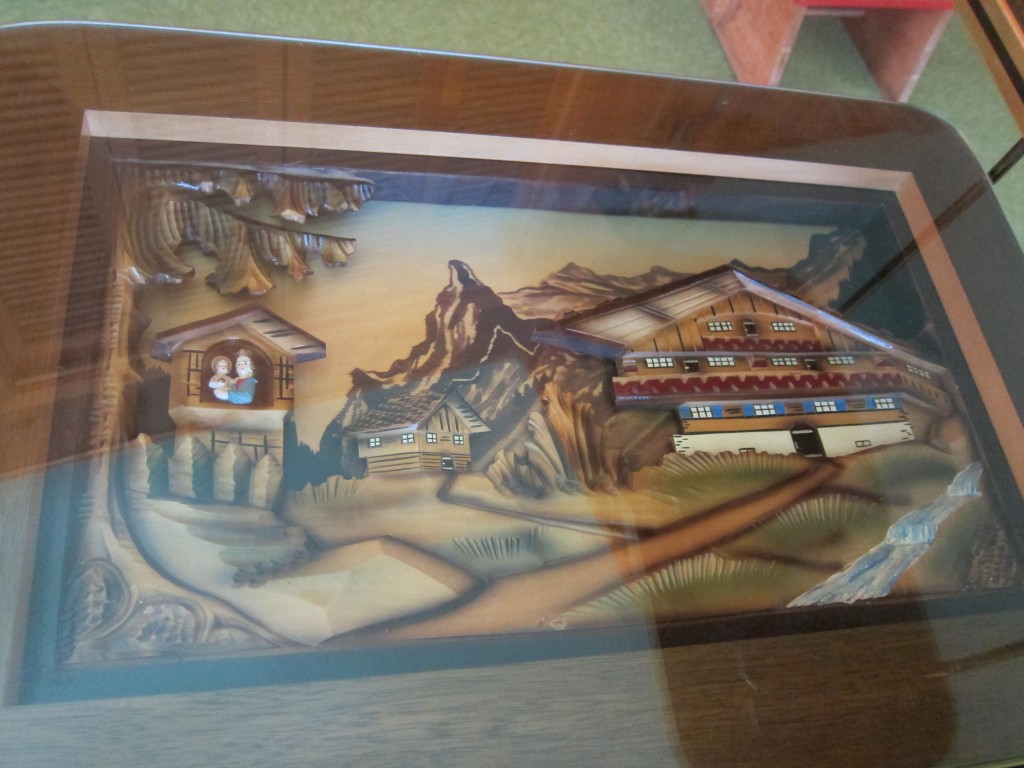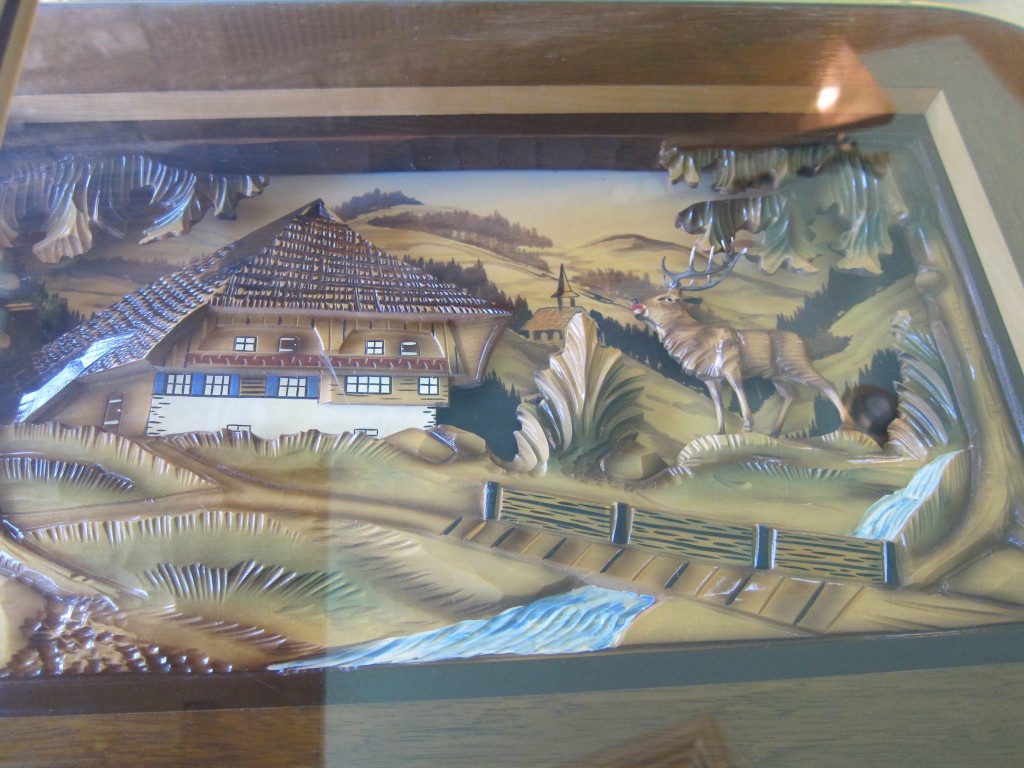 Then there are 2 bi-level end tables too.  Aren't they amazing?  Seriously, I've never seen anything like them.  I love them so much.  Yes, they are kitschy as heck, but that's totally my bag!  We'll never have a stereotypically perfect mid century home, but being surrounded by crewel pillows, Alpine chalets, and Mr. Crafter's found art pieces makes me indescribably happy and comfortable.  And that's what home is supposed to feel like, right?