Betties, I can not begin to tell you how insanely happy I was to come home from my 2 week vacation to my new hardwood floors being installed!  We had been living in the house for a month with most of our furniture stored in the garage, waiting for our floors to come in.  Not easy.  Poor Little Betty thought her toys were permanently lost!  But now we can finally, FINALLY move into our new house for real!  I have been spending the last couple days gleefully hanging pictures and arranging furniture.  We are all so happy to have this place beginning to feel like home!  So, want to see some progress?  Our front living room is pretty much complete, so that's what I'll show you today.
When we bought the house, it looked like this:
Mauve-ish beige sculpted carpet, paint of a decidedly "aged" colorway, and a valance that perfectly matched the unattractive paint color and sported dangling pom-poms.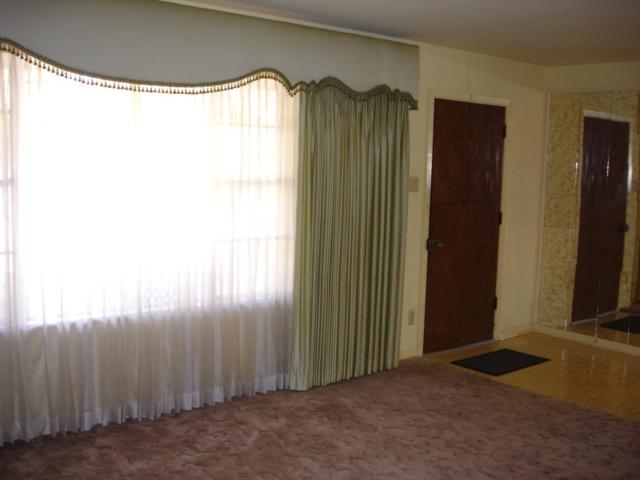 Here you can see the entry linoleum and old front door.  And check out that wall of gold-veined mirror tile!
Here's a shot of the work in progress: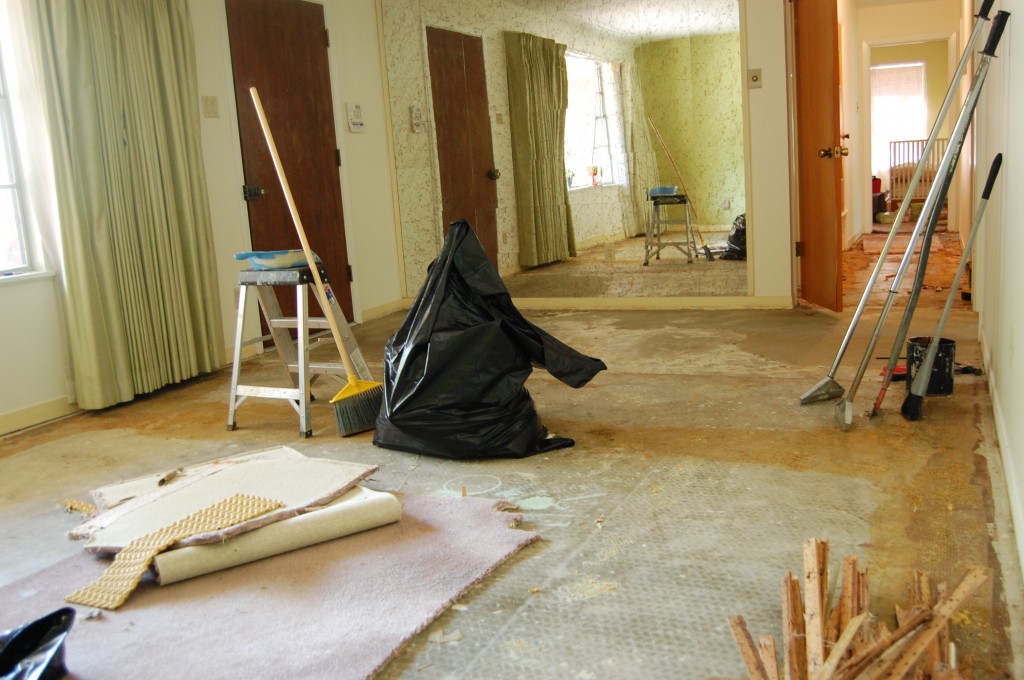 And…..drum roll please……here is the finished product!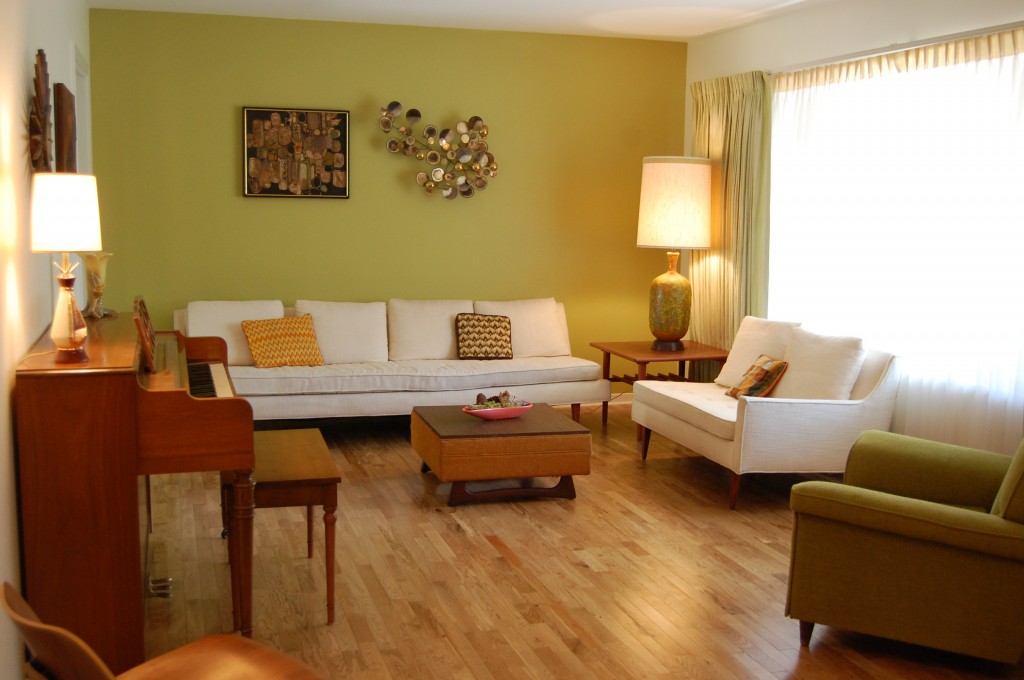 Fresh white paint with an avocado green accent wall and new oak floors!  What a difference, right?  I think we kept the vintage integrity of the room while just "polishing" it up a little.  As you can see the valance is gone, but we did keep the lovely green silk pinch pleat curtains and sheers.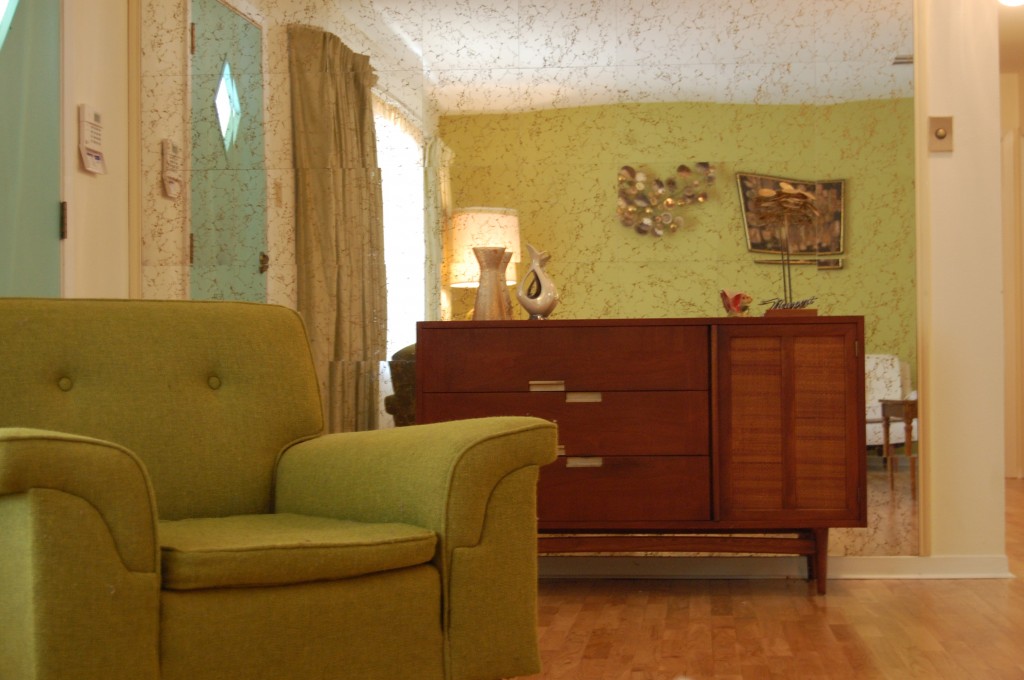 And yes, of course we kept that amazing mirrored tile!  I quite love it.  You can also get a peek of our new Crestview Door here.  I'll show it in more detail soon.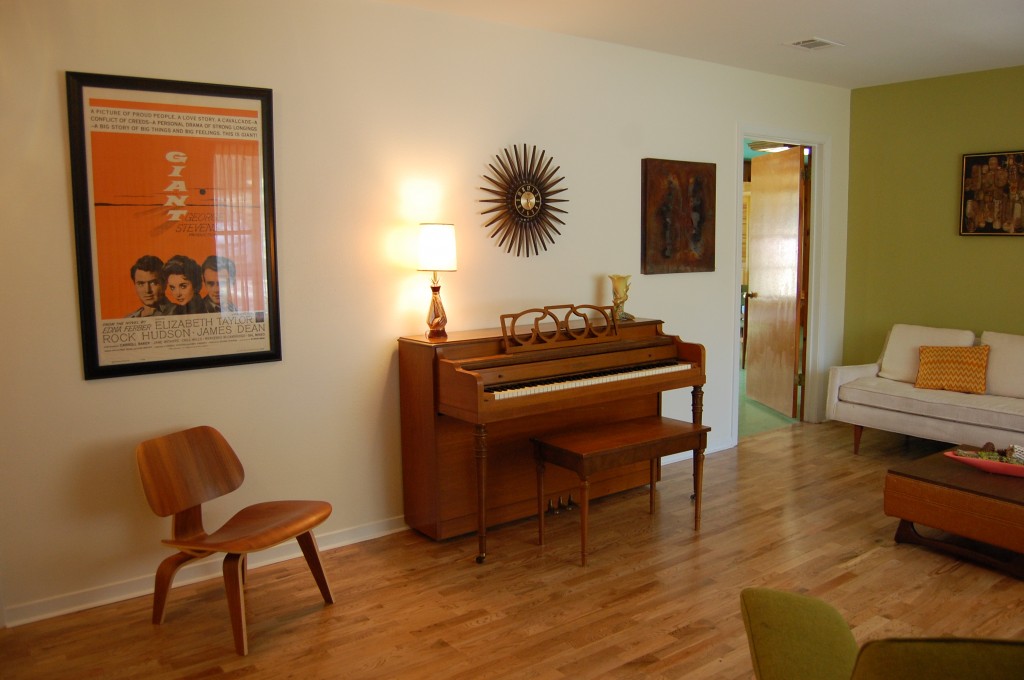 All in all I could not be more pleased with how it turned out.   The oak flooring looks great next to the green VCT in the back of the house.  It all has a cohesive flow to my eye.  In this shot you can also get a glimpse of the rad turquoise ceilings in the back of the house.   Now I just need to get cracking on the bedrooms and then I can officially call us moved in!
Update:
Thanks to Catherine Vo for her flattering post about my renovations!  Be sure to check out her blog to follow her musings on food, design, and crafting!