I recently mentioned the creative, inventive spaces my incredible husband has created in our homes over the years and you asked to see pictures.  I finally dug some up (with help from friends – thanks Lisa!) and am excited to show you his biggest projects!
I guess I'll do this chronologically.  About a year before we got married we bought a cute little 1960 starter home.  We were attracted to the fact that it was clean, cheap, and in original condition.  We did a lot to this house and it was totally adorable by the time we left.  It was even on HGTV!  But the real gem of this house was the backyard.  It had been neglected over the years, but the large lot was a patchwork of flowerbeds and paths with no lawn whatsoever.  We couldn't wait to get back there and start bringing it back to life!  Mr. Crafter's very first brainstorm came when we tore the clothesline out.  It was in a narrow space created by the garden shed, the privacy fence, and a boxwood.  He decided it was a perfect space for an astroturf outdoor bowling alley, which it definitely turned out to be!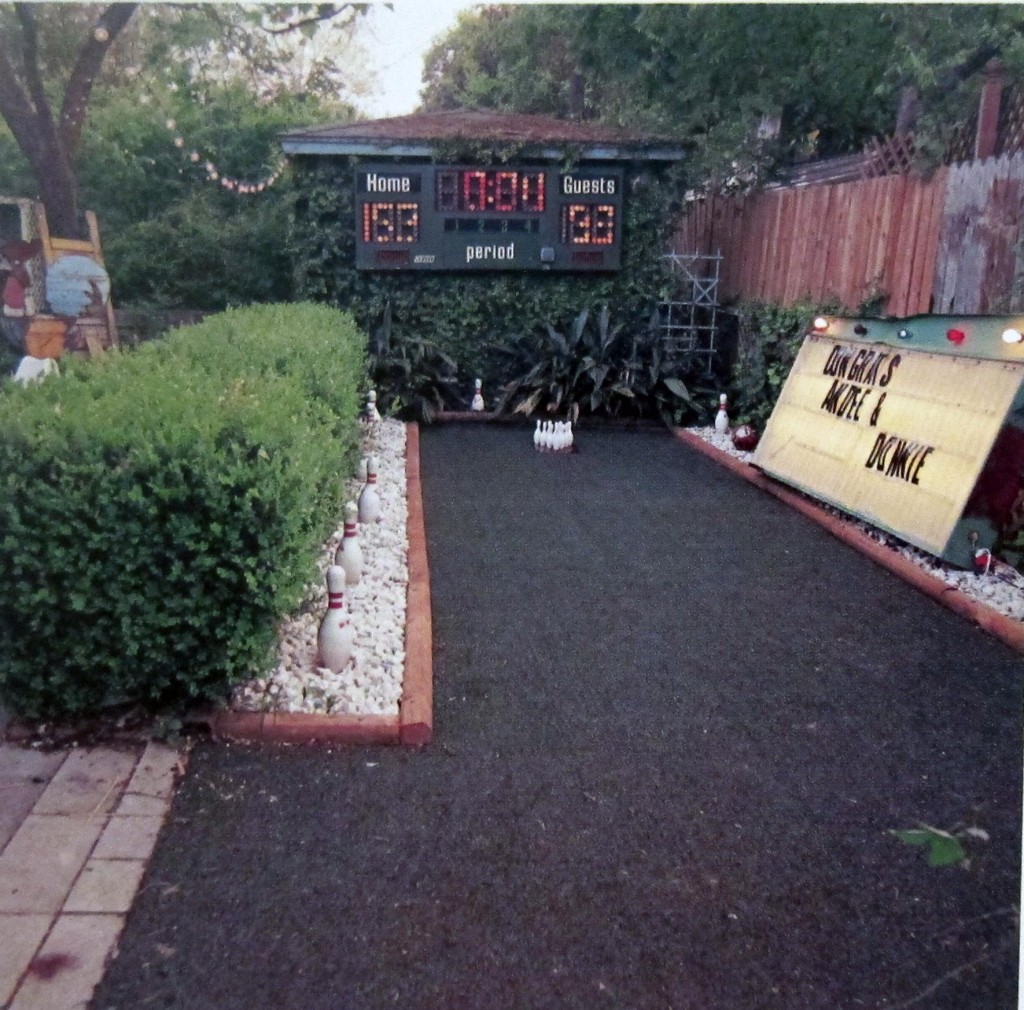 He scored that old high school gymnasium scoreboard while scouting props for a production company he was working for at the time.  The best part was the loud buzzer.  Luckily our neighbor had as crazy a backyard as we did and loved it!  This picture was taken right after we got married 7 years ago – our arrow sign is congratulating us.
The bowling alley ended up in a book called ManSpace (amazon link here) and is a great gift idea for anyone who wants to encourage or inspire their men to follow their design ideas.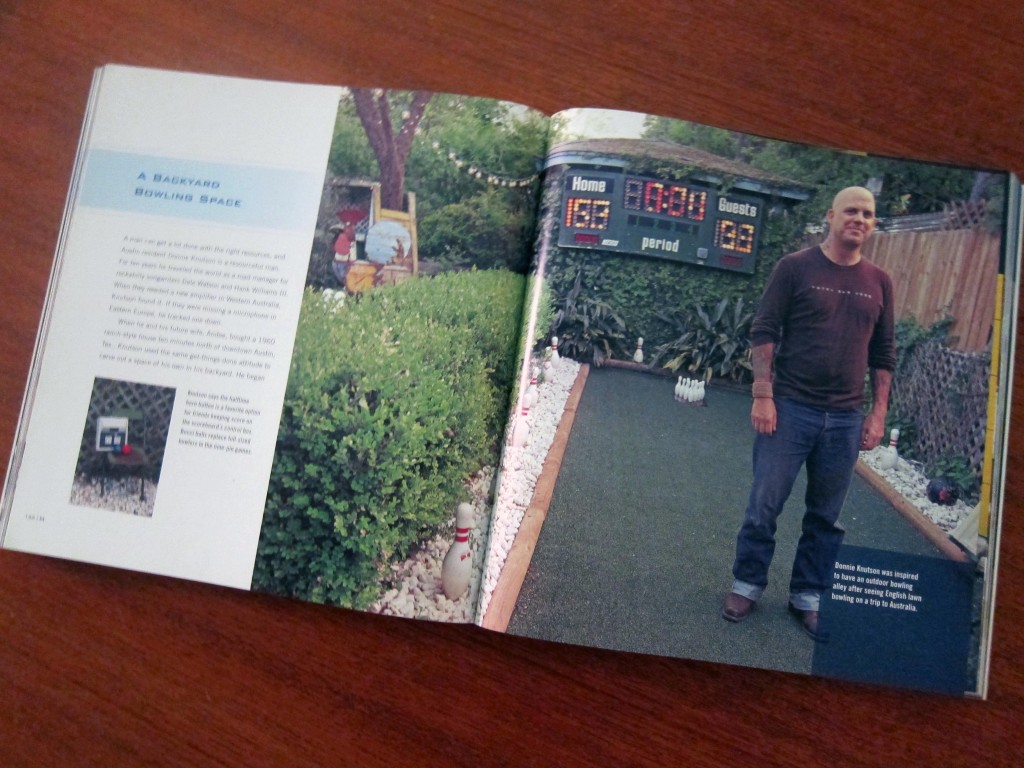 After the bowling alley, I fully embraced Mr. Crafter's wild ideas.  For example, soon after that we bought a 1960s Shasta Airflyte and decided to rip out the large raised beds on the opposite side of the yard to create a sweet little yard for our trailer.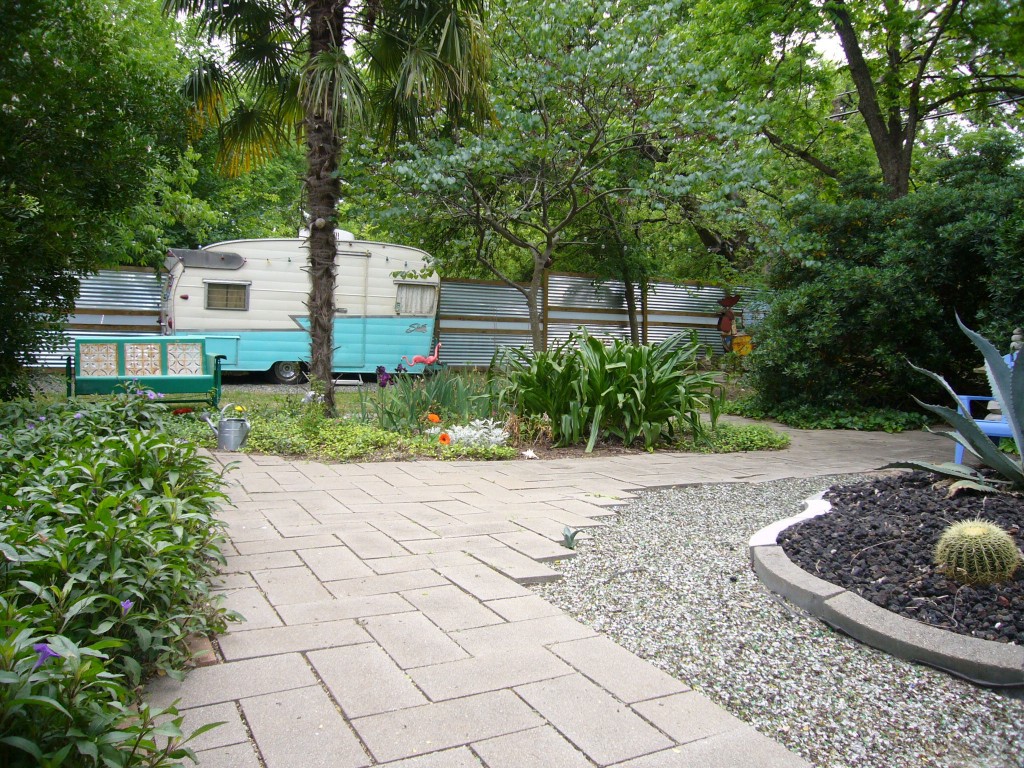 What we didn't expect was that ripping out the raised beds would create LOTS of excess soil.  No problem!  Mr. Crafter had the brilliant idea of using that soil to sculpt an octopus rising out of the lawn that we would plant sod on.  You can't see it in this picture because it's behind the lilies.  This is the only existing picture of Dr. Octopus, sadly: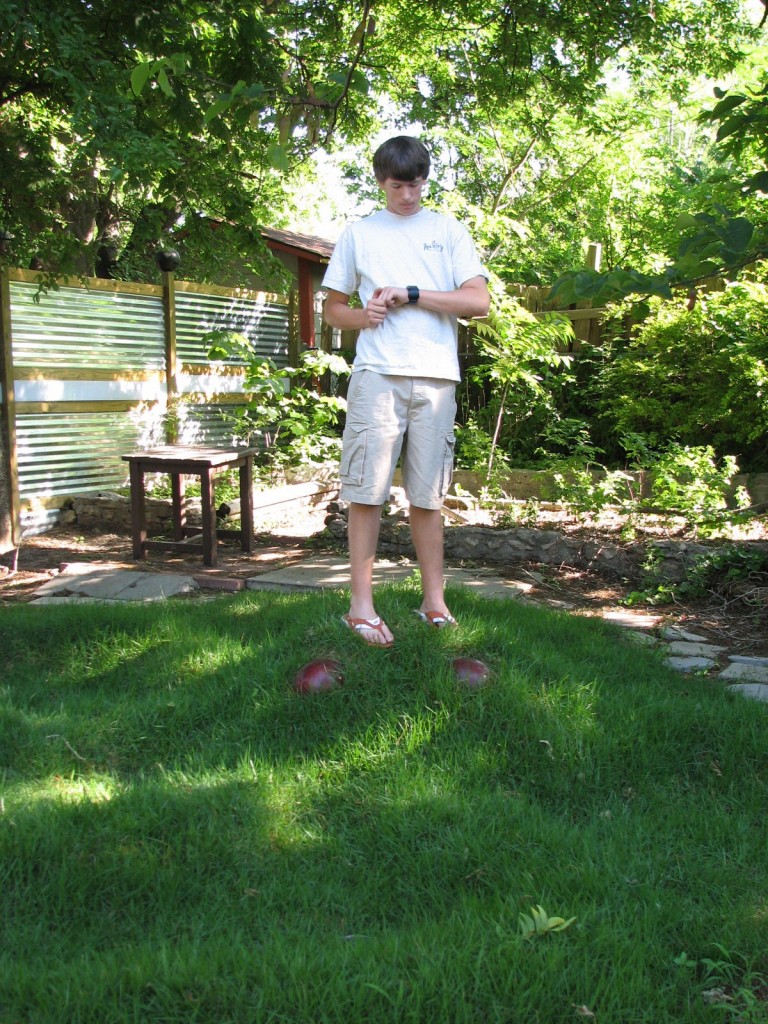 Thanks Lisa for finding it and thanks Alex for modeling it!  You can't see his long winding tentacles here unfortunately.  There were more than a few parties that wound down with a handful of people passed out relaxing in his grassy embrace.  His bowling ball eyes, however, were the best part, I think.  They matched the bowling ball finials on the fence, another Mr. Crafter contribution to our yard design.
It was sad to leave this house, and the yard especially, but we did.  The next house was during the time I was pregnant and Little Betty was an infant, so not much got done to that house.  But of course Mr. Crafter had to leave his mark in some way!  Now, you should know that Mr. Crafter is, no joke, one of the top 3 James Dean nerds in existence.  Little Betty's middle name is even Rebel (and no, her real first name is not Betty.)  In this house Mr. Crafter created a to-scale replica of James Dean's 1955 New York City apartment in our guest room.  For years he had been pouring over photos of it with a magnifying glass, trying to identify every book and knick-knack on the shelves and buying what he could identify on ebay.  And finally he had enough to build it.  Here is the real room: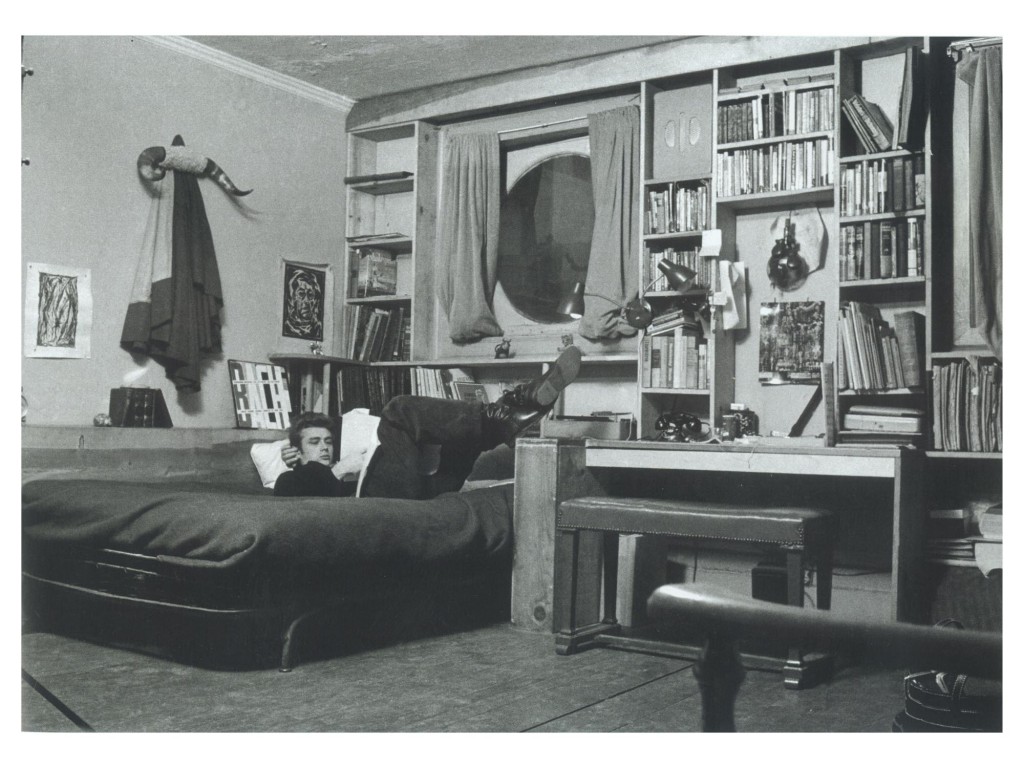 And here is Mr. Crafter's room: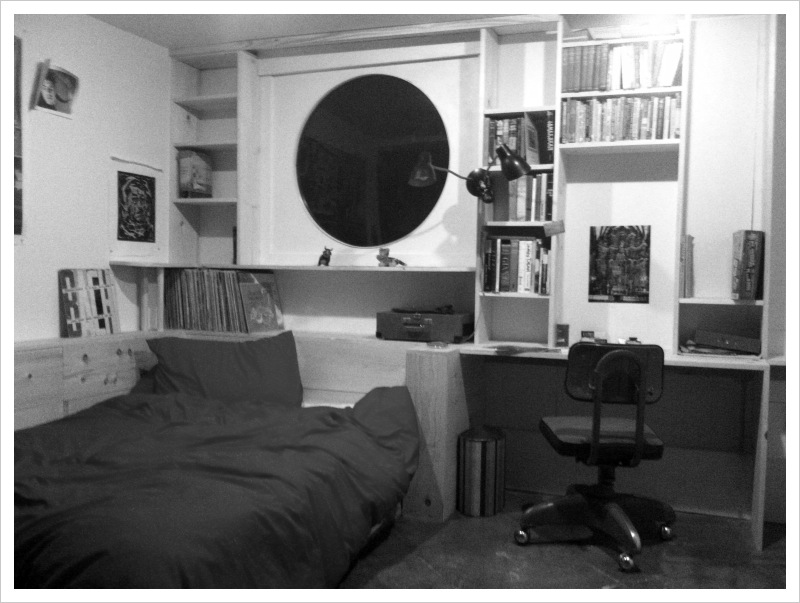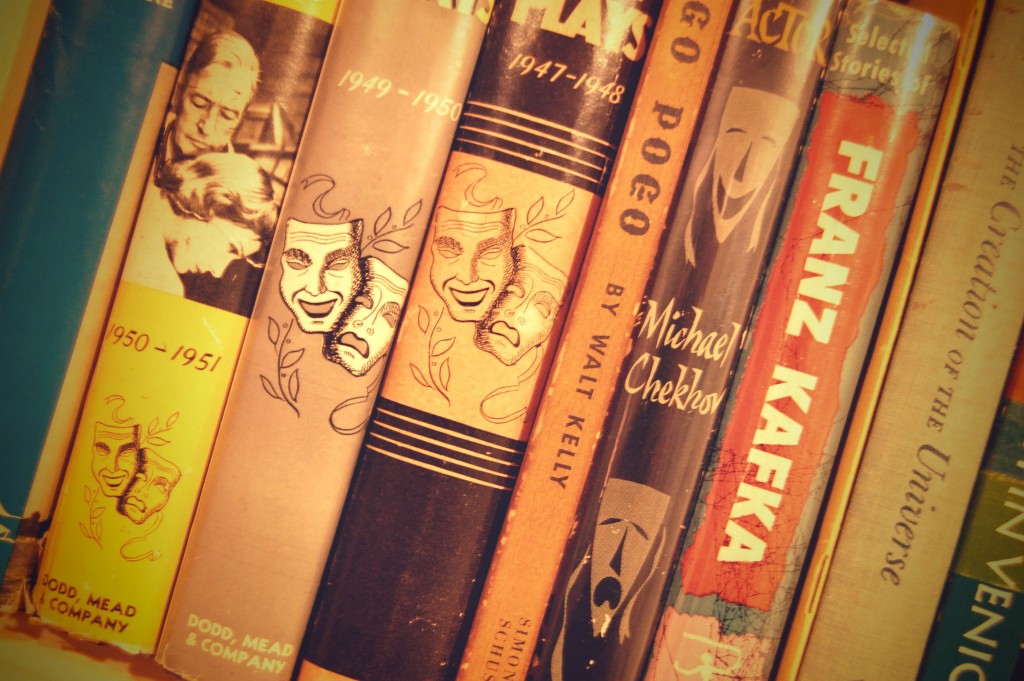 Mr. Crafter was so meticulous he even made sure the knots in the pine were in the same places as the real room.  He has plans to re-create this project in the upstairs of the barn.
And now, here we are in our dream house and even though he's been busier with work than he ever has been in his entire life, he has made time to leave his mark on our new home with his project of turning our barn/his office into a 1955 Mobil gas station.  It's really coming together, but just you wait!  A year from now I'm sure it will be even more insane.  We have plans to turn this into a proper guesthouse with the James Dean room upstairs and an outdoor bathroom off the back.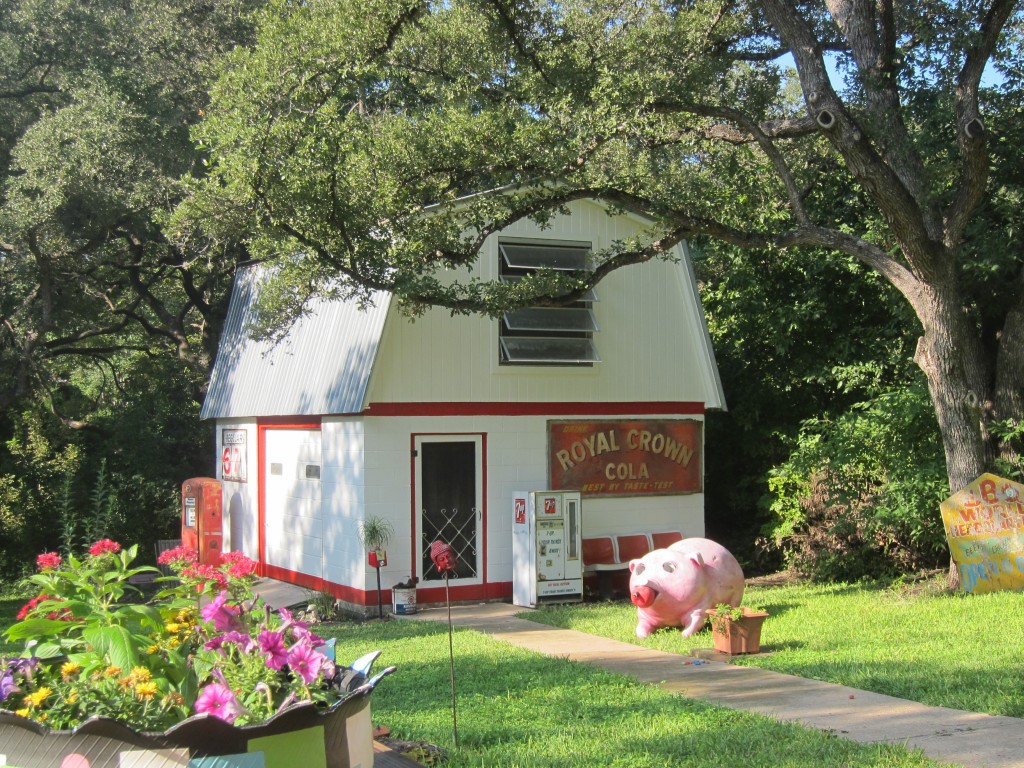 I am a lucky, lucky girl to be married to such an amazing man!