So, the Mister and I want to add a patio and garden.  We feel pretty confident that a patio is much more period correct than a deck, and less maintenance down the road.  But what kind?  Flagstone doesn't feel very mid century to me.  My initial thoughts are square pavers.  I especially like the random varied color of the pavers in this example:
Um, and the furniture too please!  The furniture is from Plain Air – I'll find out pricing and keep you posted.
I also love grass between the pavers and the idea of continuing a decreasing random paver pattern into the yard as suggested here:
Although I wonder if the space between the pavers would make it a pain to place furniture without chair legs being uneven and make it difficult for Little Betty to ride her bikes.
And then there's the question of furniture.  Dinette or sofa/chairs/coffee table?  Vintage or repro?  We have these Russell Woodard Sculptura chairs on our front porch:
Those I managed to score CHEAP from an elderly lady who was downsizing (I got SO much great danish modern stuff from her!) A whole patio set, though, would be super expensive and hard to find which makes it out of the question, no matter how slick it would look:
Maybe some chairs and a low table would be a good compromise:
Good for eating and just hanging, and could look great mismatched with whatever great vintage chairs I find here and there.
Or there's this dinette with built-in cup holders at the antique mall that's calling my name: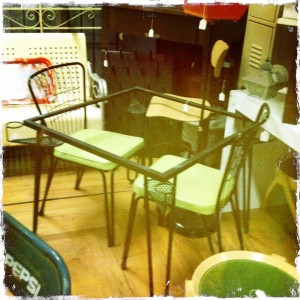 What are your thoughts about mid century patios and furniture?  What's most aesthetically appropriate, family friendly, and comfortable?  Are there certain plants you feel are especially good for mid century landscaping?