Mr. Crafter and I have decided to enter the adult world and actually buy a REAL bed for the first time in our lives.  A mattress that's not the cheapest one at the discount retailer, a headboard and footboard, and bedding with thread count over 150.
When we moved into this house last year we splurged on the Heywood Wakefield bedroom set we've always wanted.  We actually got a huge bunch of furniture – a full size bed, vanity, pouffe stool, highboy, 2 nightstands, bookcase, lamp table, 2 Aristocraft chairs, and another side chair.  We love it, but have never used the bed because there is no way we're all fitting in a full size bed.  So….a year later we decided to take the plunge and order this: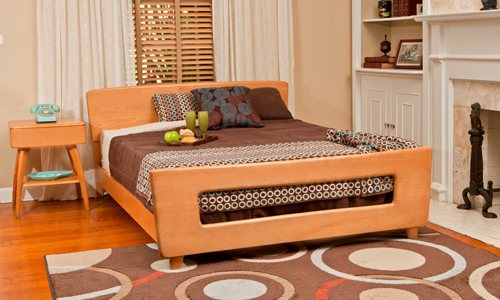 credit: Heywood Wakefield
Did you know Heywood Wakefield is still producing furniture?  Their biggest seller is this dogbone bed in a Queen or King size, for all those folks like the Mister and I who have vintage bedroom sets but don't want to squeeze into a full size bed.  We got the King size and are so excited for it to get delivered, along with the new fancy latex mattress we bought.  The problem is bedding.  It seems that all the bedding sets nowadays are poufy and boldly patterned, not at all appropriate for a mid century bedroom.  Mid century bedrooms were very minimalist in their bedding, like this drool-worthy example: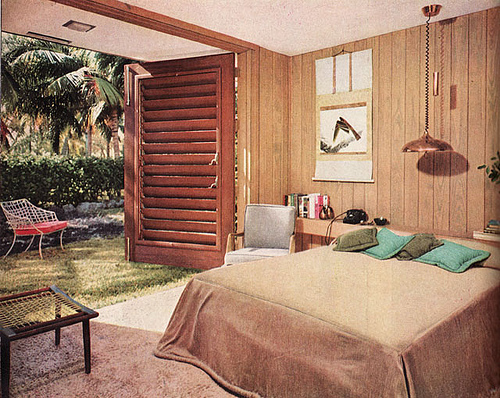 credit: Modern Home Designs
However, I'm not looking to go a purist route (partly because I don't think that kind of bedding looks comfortable at ALL).
I really like the layered yet simple bedding style in this amazing room: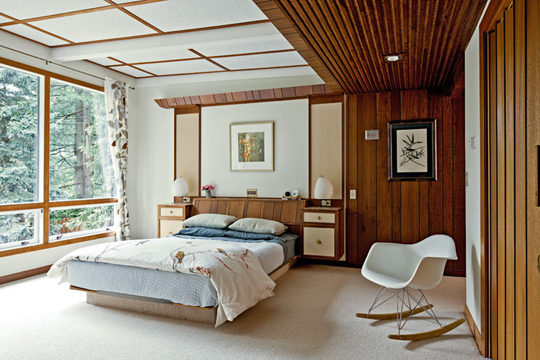 credit: Apartment Therapy
I'm also having a hard time deciding on a color palette.  I already know I don't want pattern, but I also don't think I want a monochromatic bed either.  Here are the colors and textures I'm working with: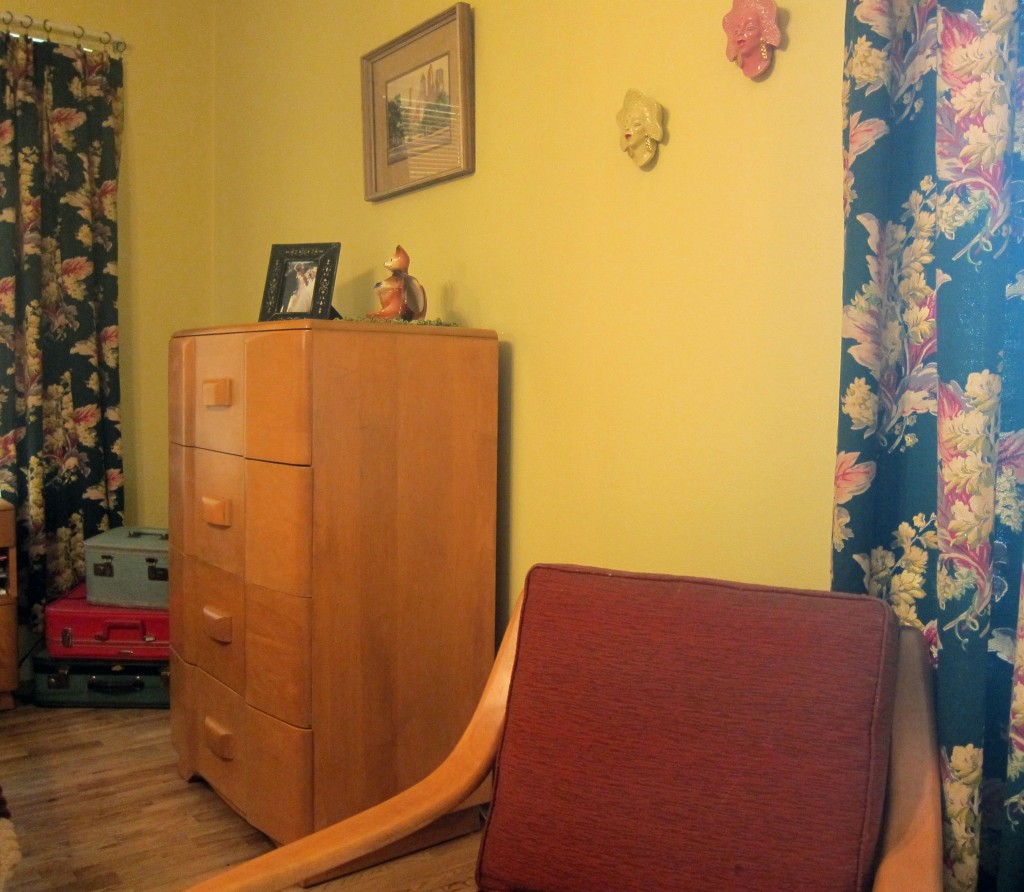 The barkcloth curtains are the focal point here and a big reason why I don't want pattern on the bedding.  I want the bedding to be a complimentary blend of colors.  I'm considering white sheets, coral quilt, and the aqua Hudson Bay blanket I got a couple of months ago at Warrenton folded at the bottom.   You can't see it here but I have a turquoise lamp in the room so that would tie together.  We do have a drop dead gorgeous yellow peacock chenille bedspread that we have used in the past but alas, it's too small for a king size bed.  And not comfortable for every day.
What do you think?  Do you have other color or style suggestions?  Should I stick with a 40s/50s purist style or the modern boutique hotel twist?  What kind of bedding do you have in your vintage bedrooms?