Today I headed out of town at the crack of dawn with Little Betty and a girlfriend to hit some promising looking estate sales.  While the estate sales did not live up to expectations they did turn over some great smalls, and the extended thrifting expedition afterwards saved the day!
First of all, you know how they say you will get back what you put out into the universe?  Well I think the universe has been reading my blog because CREWEL!  And lots of it!  Plus some other needlework pieces.
I think my favorite is the pink flowers behind glass.  I can't wait to create a big crewel display at the shop!  I already have a few really great pieces there.  Those two little pillows were picked out by Little Betty.  She is always scouting things for her baby dolls and apparently they can never have too many pillows.  Santa clearly approves of my selections.
Little Betty scored a whole lot more than those tiny pillows today though.  Feast your eyes on this booty: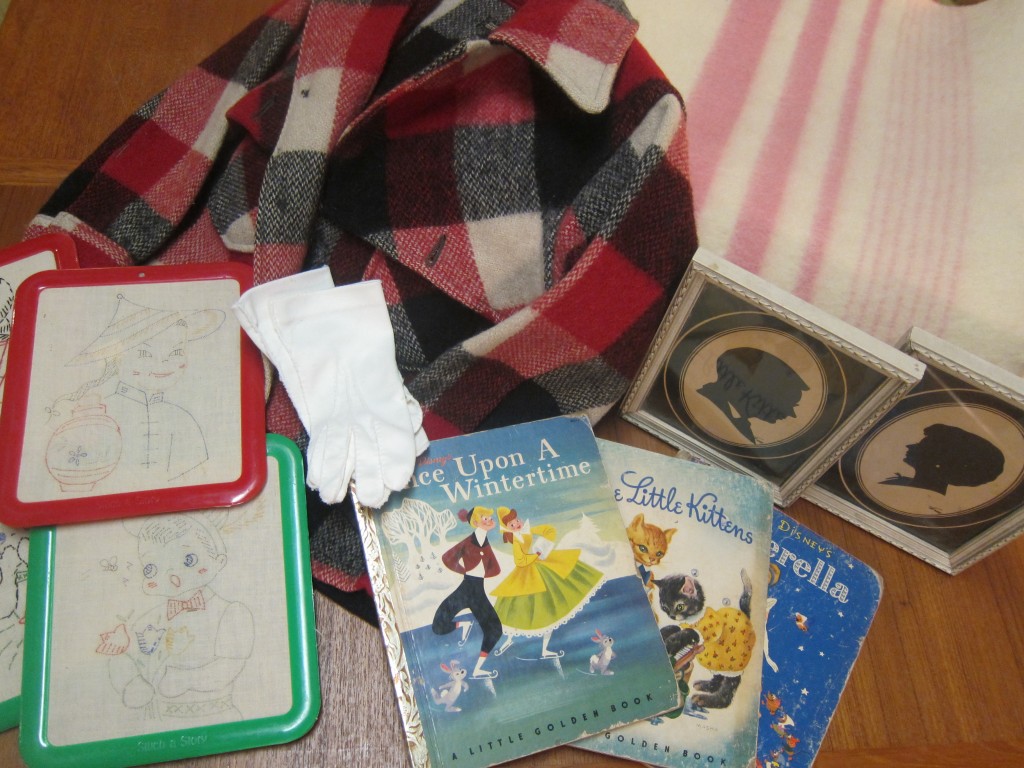 She already has a wool hunting jacket, but this one was too cute to pass up!  Plus it's a size too big so hopefully it will fit after she outgrows the other one.  And how about that blanket?  It will be perfect on her bed during the cold nights we've been having here.  It's wool like a Hudson Bay blanket, and I'm am over the moon for that white and pink.  She's too young for those little embroidery kits still, but they'll be super fun in a year or so.  They're so adorable I'm considering hanging them on the wall as art.
We're not big liquor drinkers around these parts but I could not resist these shot glasses because next Christmas when my visiting family decides to tear though a bottle of bourbon like they did this year, I'll be prepared to serve them in style!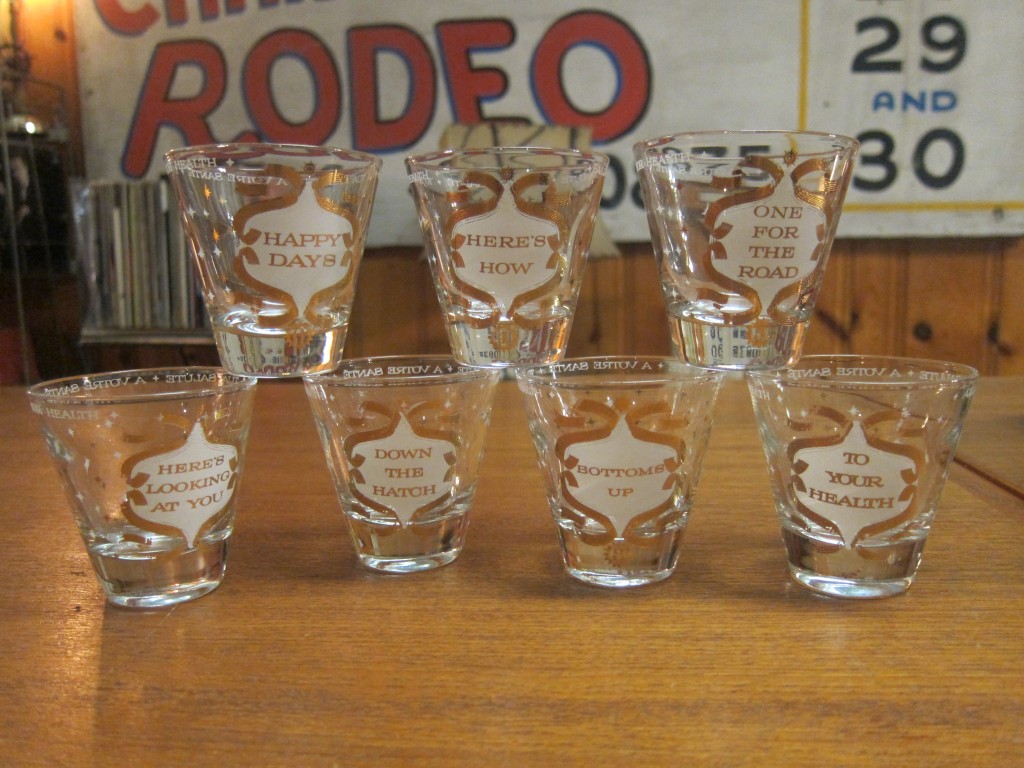 Cute right??
Now, I know Christmas is over.  Really I do.  And I'm ok with it!  I'm actually wanting to take the decorations down but Little Betty and Mr. Crafter are resisting.  I swear!  But do you think I can resist after Christmas sales?  I think you know the answer.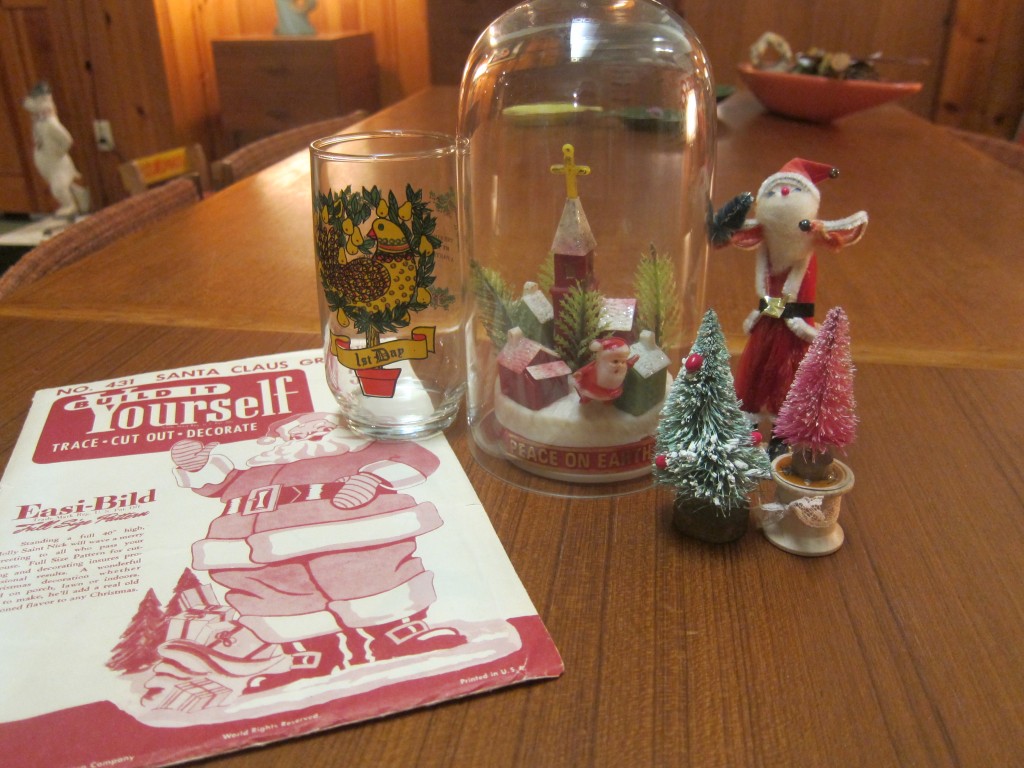 I am head over heels for the little Santa town in a hurricane glass thingie.  Like, I love it bigtime.  The partridge in a pear tree glass is part of a 12 glass set – one for each day of Christmas, each one different.  I was too lazy to unwrap them all to show you though.  You'll just have to trust me that they're awesome.  And I've been super wanting one of those Build-It-Yourself Santa decorations!  Whee!
But my FAVORITE find of the day?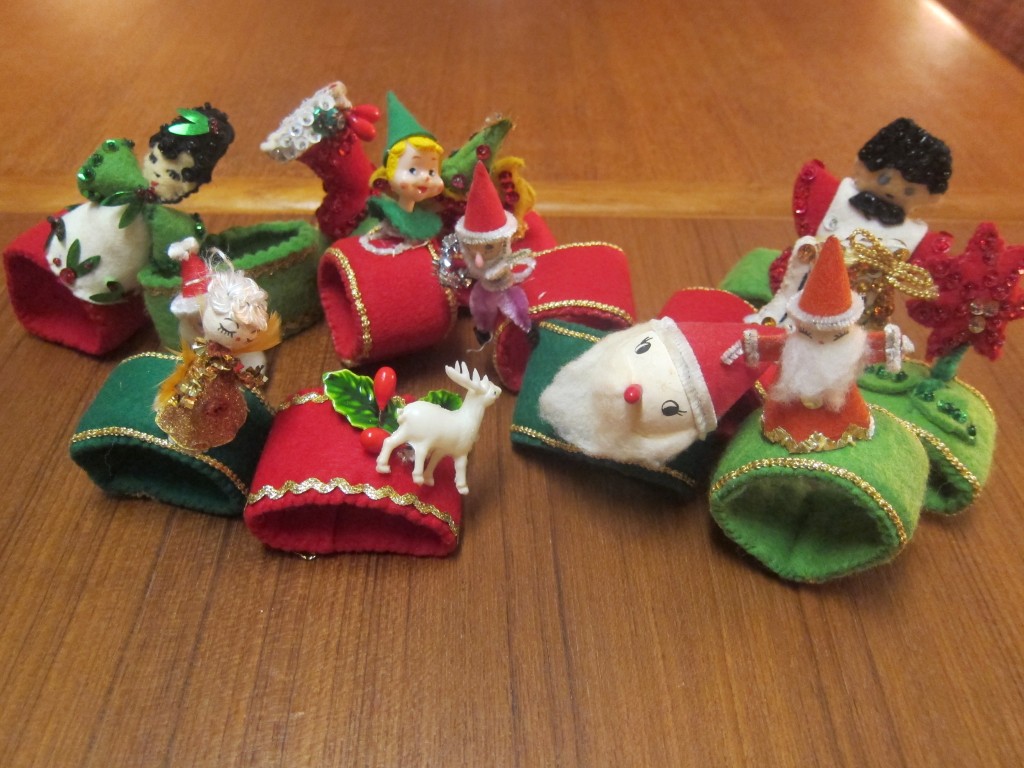 13 Christmas, handmade, felt napkin rings, each one different and kitsch-tastic!  All the necessary elements are present here – elves, Santa, reindeer, angels, sleighs, stockings… I am so excited to use these for every Christmas dinner for like, ever.
Have you been taking advantage of after Christmas sales?  And am I the last one with decorations still up?