Dudes.  Is it possible that the 3d time is the charm?  We had SO much great luck today!  Today I had the pleasure of shopping with my super fun pal Cassie and the fabulous Chelsea from Atomic Summer.  We got there early and stayed late which is a good thing because it was like an avalanche of awesomeness!  We could hardly contain ourselves and were positively giddy for much of the day.  Here are a few things I thought y'all would want to see.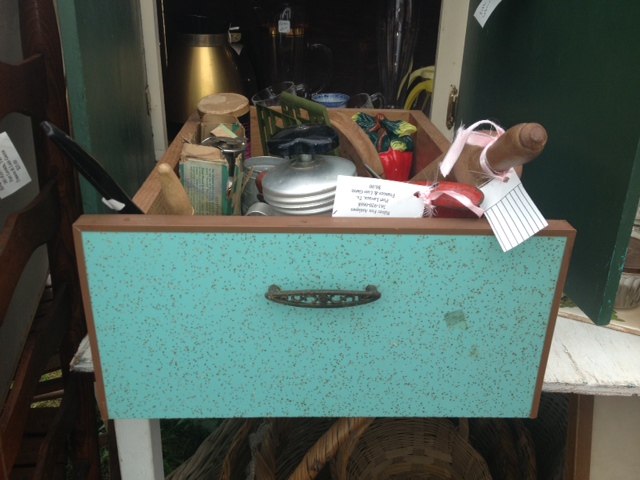 This aqua and gold fleck laminate drawer made me salivate just thinking about the kitchen it must have belonged to.  Oh what I would do for aqua gold fleck laminate….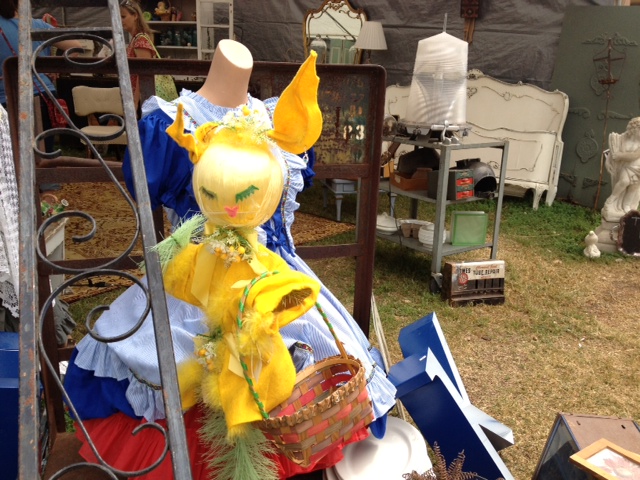 I have absolutely no idea what this is but I found it fascinating.  It has bunny ears, feathers, and a Christmas tree base.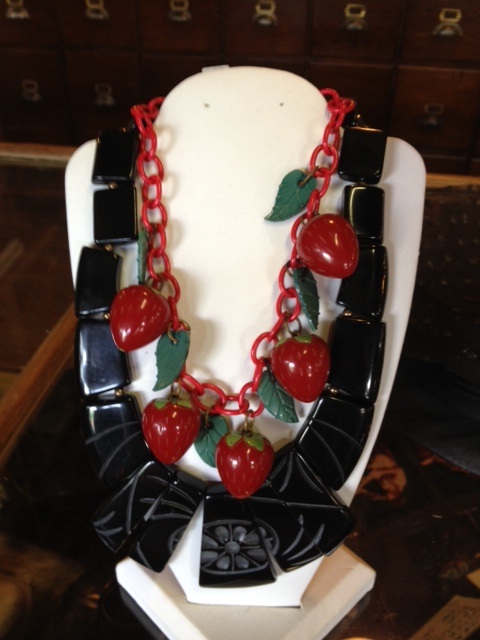 This strawberry bakelite necklace was simply incredible.  I've never seen one before and was about to spring for it until I realized I was misreading the price.  What I thought was $125 was actually $1250.  Oops.  Even though she was willing to drastically cut the price, it was still too much.  However, Cassie did score a very similar bakelite necklace here with oranges instead of strawberries for a far more reasonable price.  Chelsea came away with a bakelite necklace with lemons that was way too cute, and I settled for another great necklace that I'll show you tomorrow.  But the mouth watering bakelite didn't stop there!  Behold: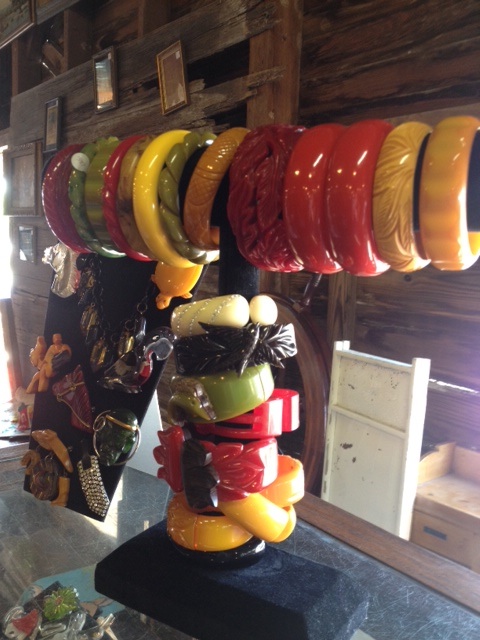 I cannot even tell you how badly I wanted that black clamper with the sparrow.  But it too was WAY out of my price range.  Maybe it will still be there next year…  And don't overlook the green clamper with the swordfish and the wood/red combo clamper!
This vendor had so much jaw dropping bakelite!  This is the vendor I bought my cherry necklace from (which I was wearing today and got a gazillion compliments on!)
Lastly I'd like to show you something I did come home with.  It's for the shop, but I'm pretty excited about it.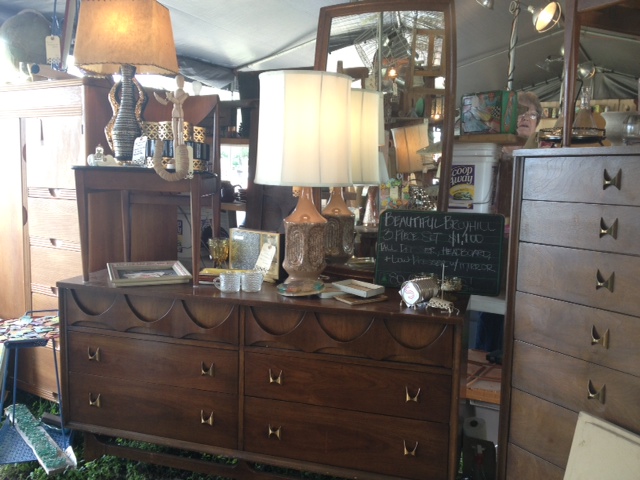 A Brasilia dresser/credenza!  Isn't it insane?  The matching highboy and headboard were not at a good price for resale but I just couldn't leave the dresser behind.  They sell like hotcakes in the shop and this one is very special.
Ok, now for the exciting news! Tomorrow I'll be announcing a giveaway!  It's something I bought today and I can assure you it's cuteness is off the charts.  It's hard for me not to keep it actually.  But I want to share the fun of all my great scores!  So come back tomorrow to see all the great stuff I couldn't leave behind and what will be up for grabs in my very first giveaway!