Any of us who have tried to renovate and restore an old house know how fraught with frustration that process can be.  Trying to preserve what has survived and compliment it with renovations that blend seamlessly can be quite an exercise in trial and error, luck, and unending research.  Well, folks, my friend Chelsea over at Atomic Summer has just bought a house in my neighborhood and god love her, the first thing she did after getting the keys was begin to rip down wallpaper!  And her retro renovation fairy godmother was smiling on her yesterday, because in her mint green tiled bath, she ripped down the 70's wallpaper to reveal 60's wallpaper and that came away to reveal the most beautiful pink and aqua snowflake mid century wallpaper you ever did see.
*photos courtesy of The Atomic Summer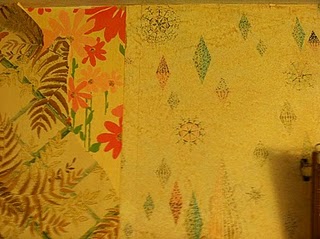 Here you can see the 70's wallpaper with the pink flowered 60's paper under that and then the glorious mid century paper.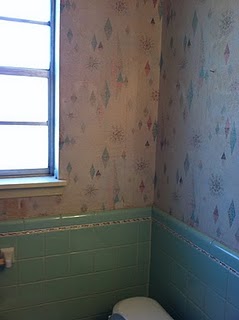 And here you can see how ridiculously and mouth-wateringly awesome her bathroom looks after the other paper is removed.  But friends, this story is not all sunshine and roses.  This beautiful wallpaper has a glue residue left on it from decades of being covered up.  Do any of you have any ideas of how to remove this residue and save the paper?  If so, please head on over to The Atomic Summer and give your two cents!  Our mid century restoration sister needs our help!