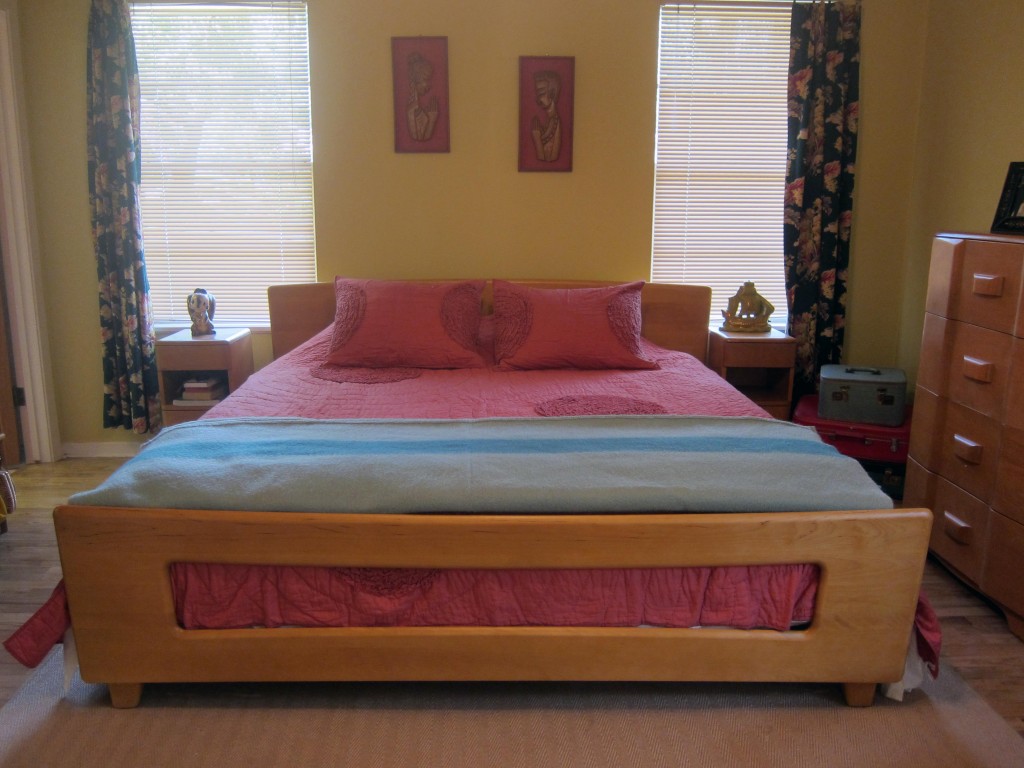 Mama and Papa did too!  Our new Heywood Wakefield bed was finally delivered and we couldn't be happier with it.  They only offer one color and we were nervous it wouldn't match the rest of our vintage set of wheat colored Heywood Wakefield (Rio? I'm not for sure.  Anyone know?)  but it turned out to be an almost perfect match.  I can highly recommend getting this to anyone else who has a vintage Heywood Wakefield bedroom set but doesn't want to squeeze into a full size bed.  We got the king size.  I'm pretty happy with the bedding, but we're still vacillating on whether or not we need king size pillows.  Thoughts on that?  I do, however, really like the bedding.  The quilt and shams are from West Elm and I love the coral color.  I think it pulls the other colors in the room together.  And the aqua vintage Whitney Point blanket echos the turquoise lamp.  I can't decide if I need a larger piece of art over the bed.  What do you think?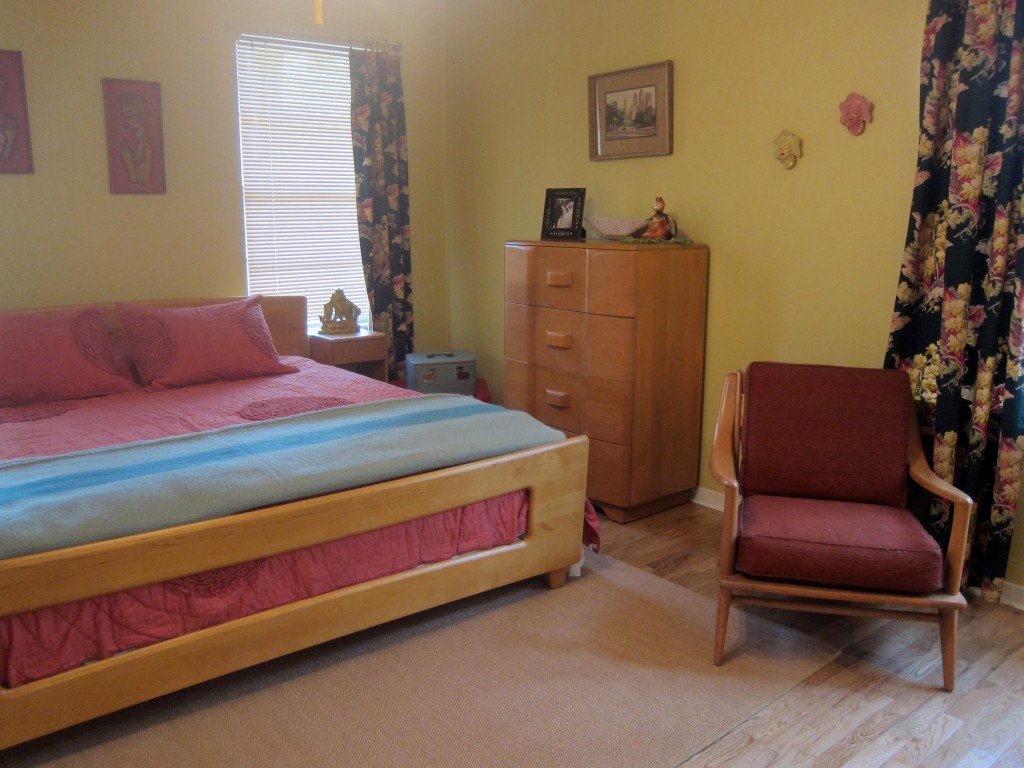 So I figured with the room finally feeling complete it was a good time to give you a tour of the whole bedroom!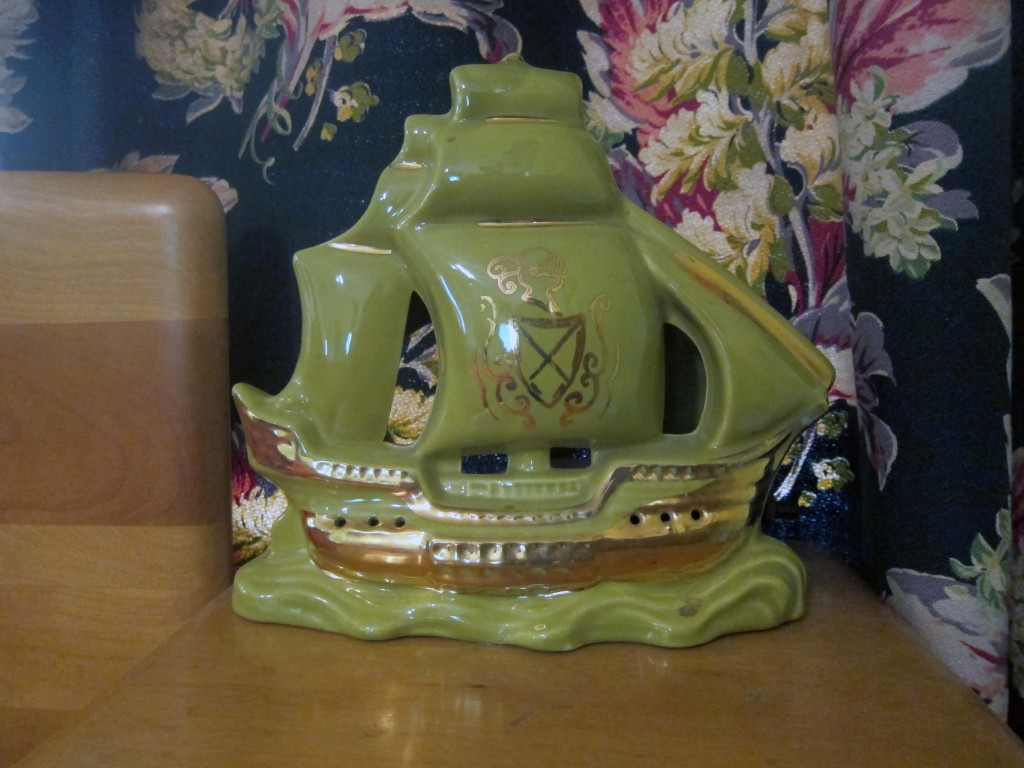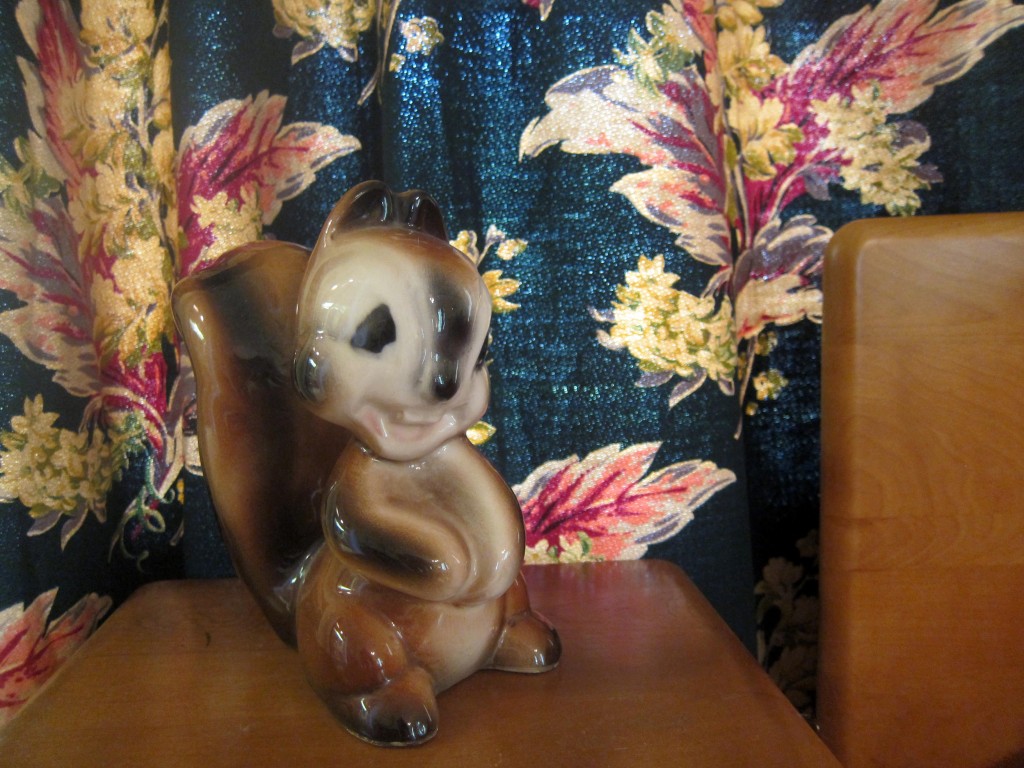 One of my favorite little details in our bedroom is our bedside lamps – 2 50s TV lamps.  A squirrel for me and a ship for the mister.  Quite appropriate as you all know my deep love for squirrels and the mister probably has at least 7 huge ship tattoos.
You can also get a good view of our barkcloth curtains here.  They aren't wide enough to cover the whole window and I wish I had been able to find 2 more panels but finding 4 panels of vintage barkcloth drapes is hard enough!  And these were the exact colors I wanted.  I really love the dark green background and the chartreuse and coral colors echo the chartreuse wall color and the coral/burgundy bedding, wall art, and chair.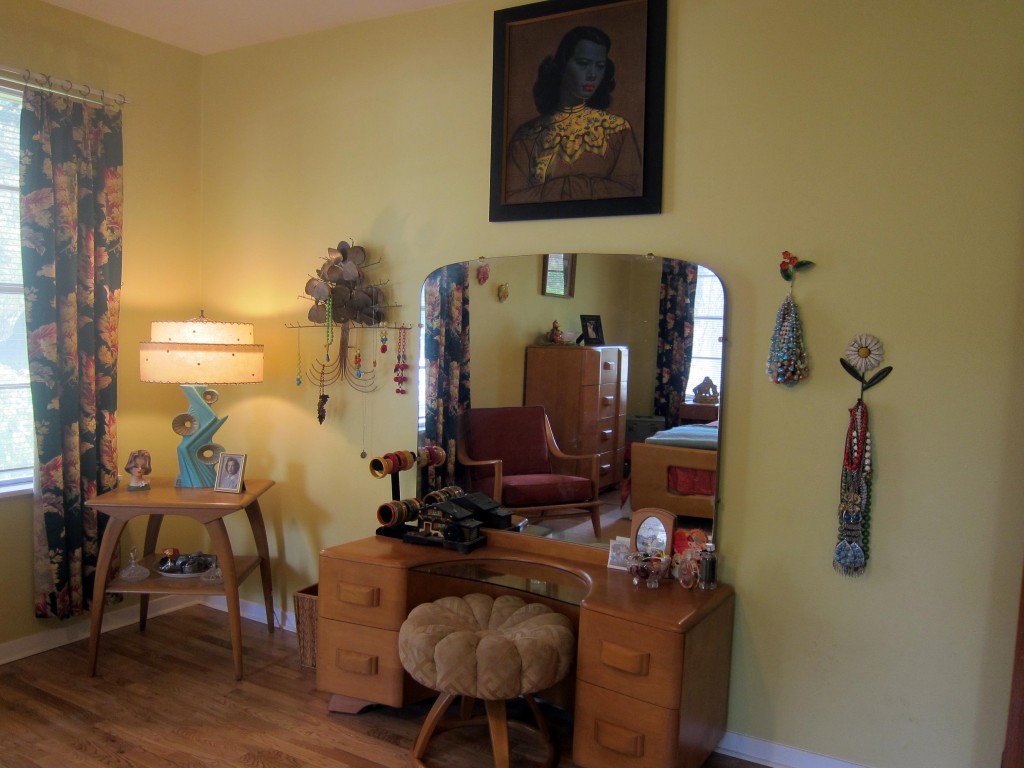 This is one of my favorite spots in the house.  I really enjoy doing all my girly stuff here.  One  constant challenge for me is jewelry storage, as you can see.  I've got it stashed everywhere.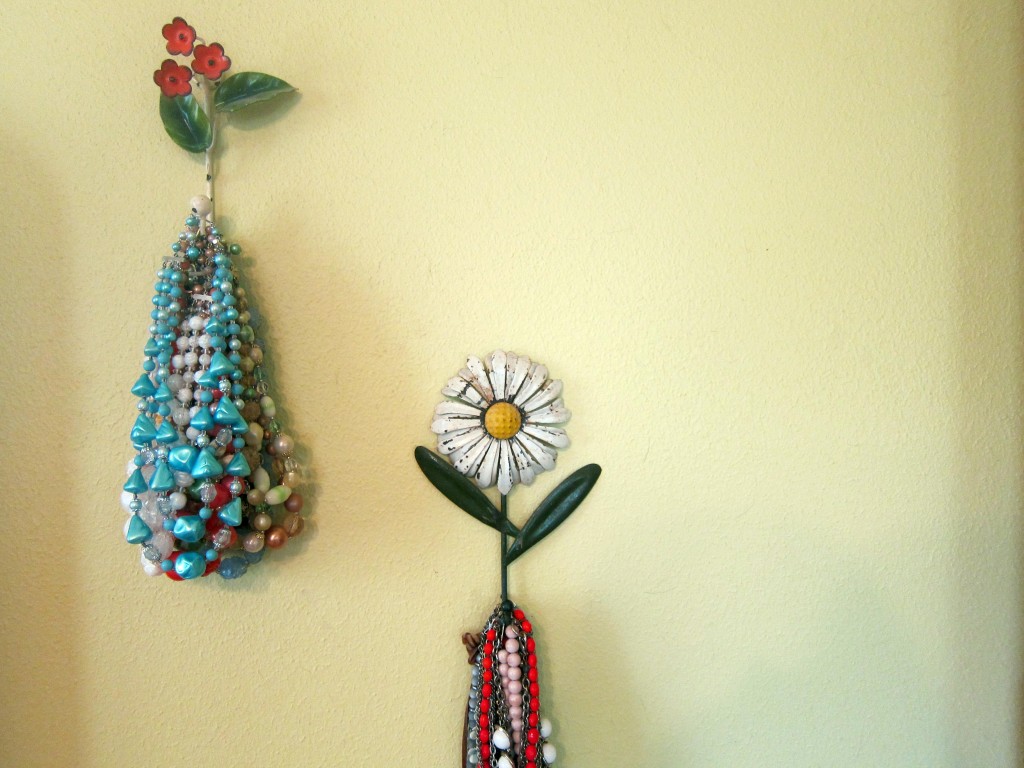 Necklaces on tole hooks…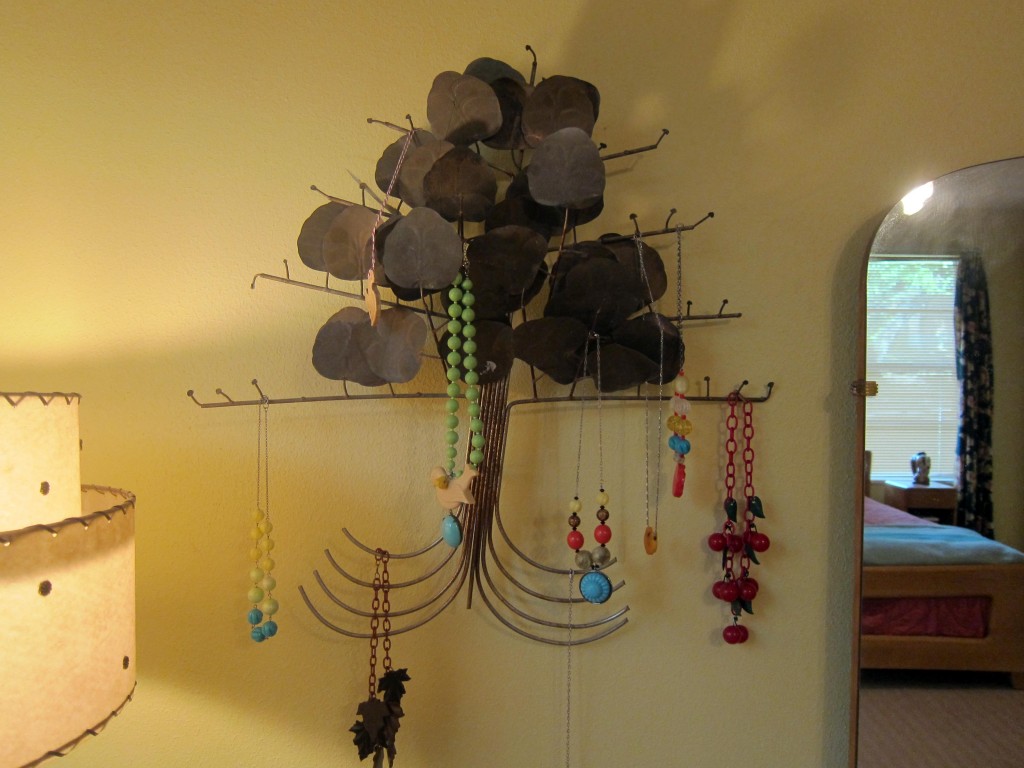 Necklaces on a C Jere wall sculpture (the missing leaves are perfect for hanging them on!)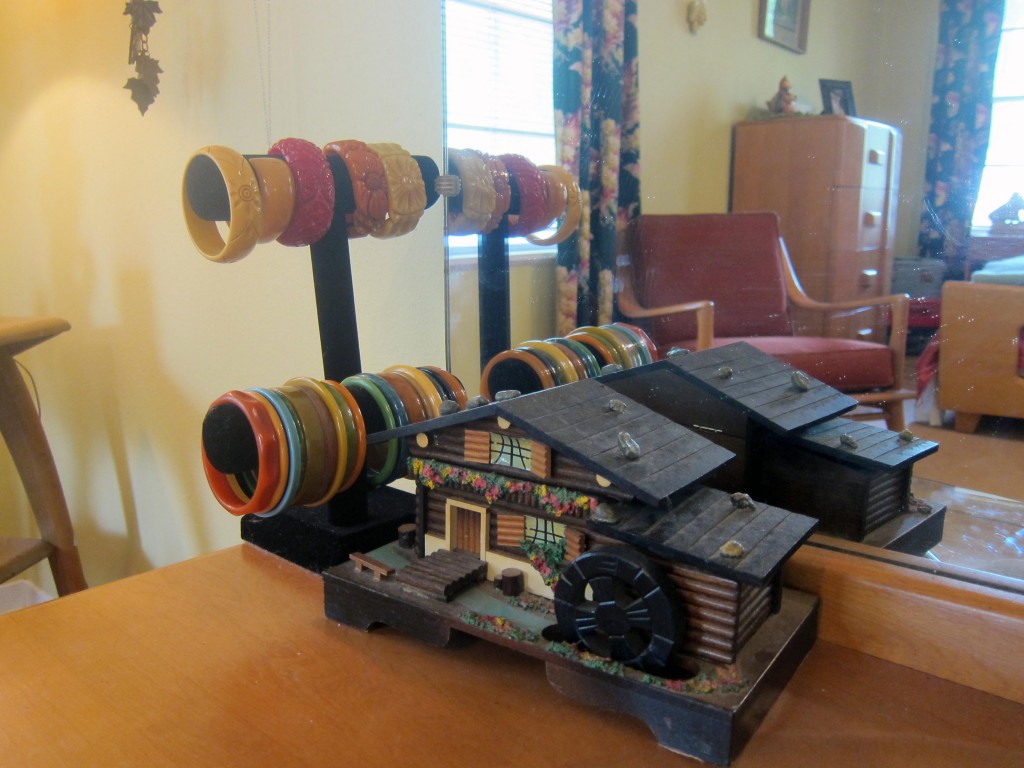 Bakelite bracelets on a bracelet tree, alpine chalet jewelry box for rings and earrings.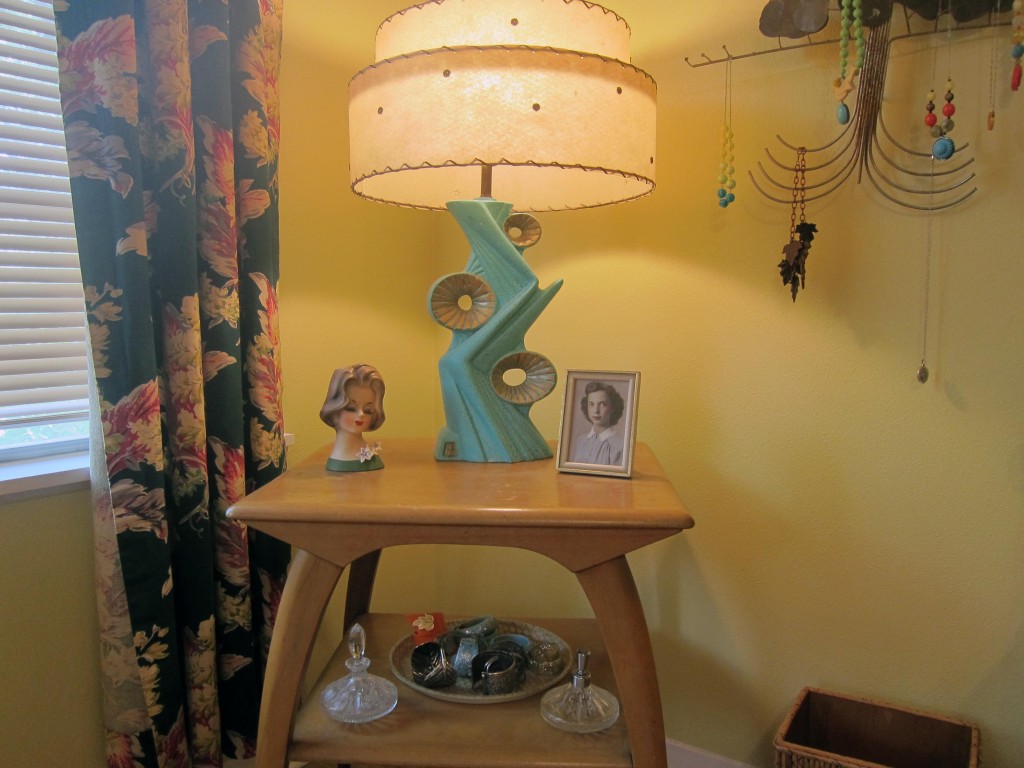 Lucite and silver bracelets on a gold confetti serving plate.  I may have a jewelry problem.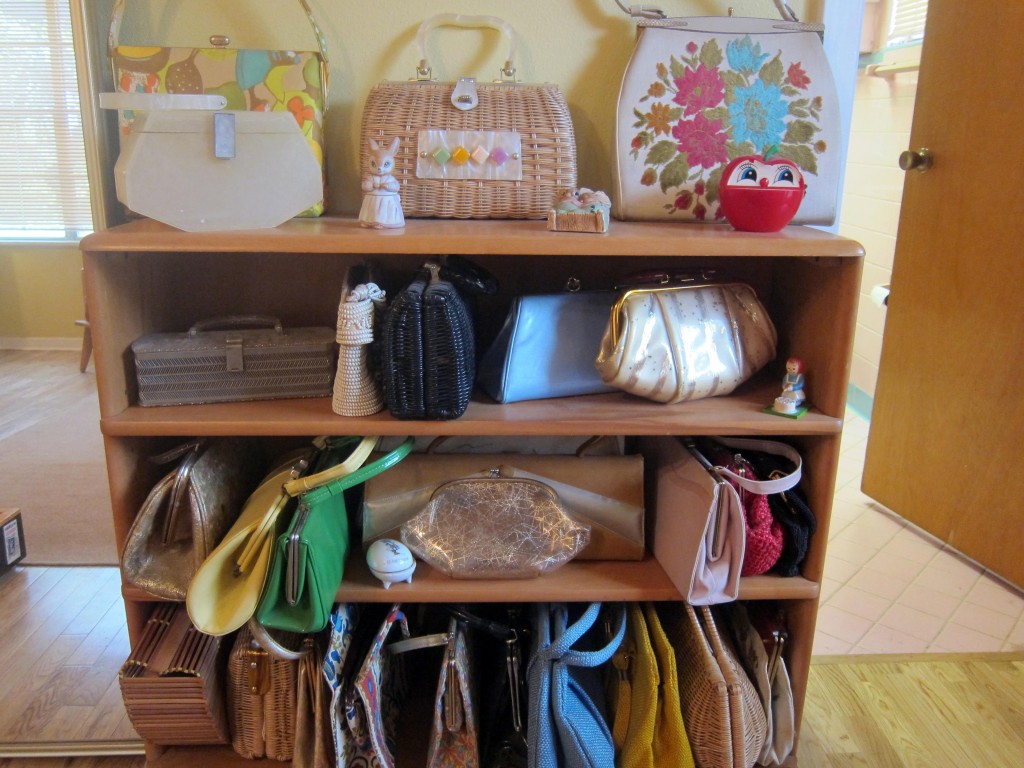 Purse storage is also a challenge.  This bookshelf does a good job of holding my non-Enid, smaller handbags. I still don't have a good system for my larger and shoulder bags.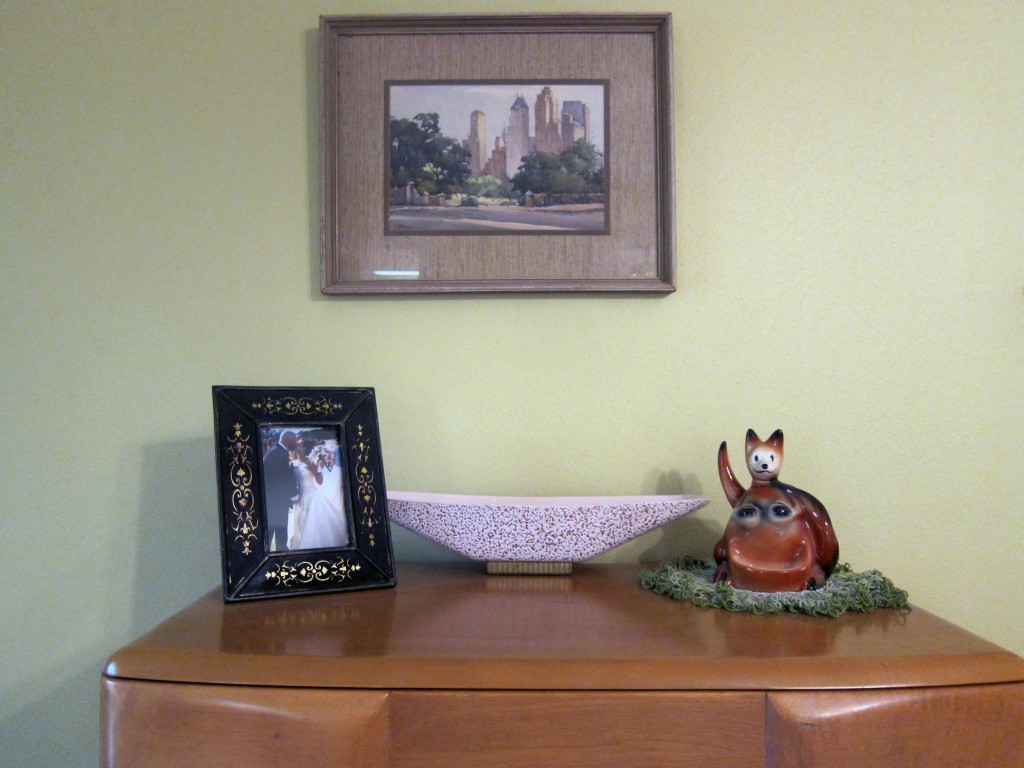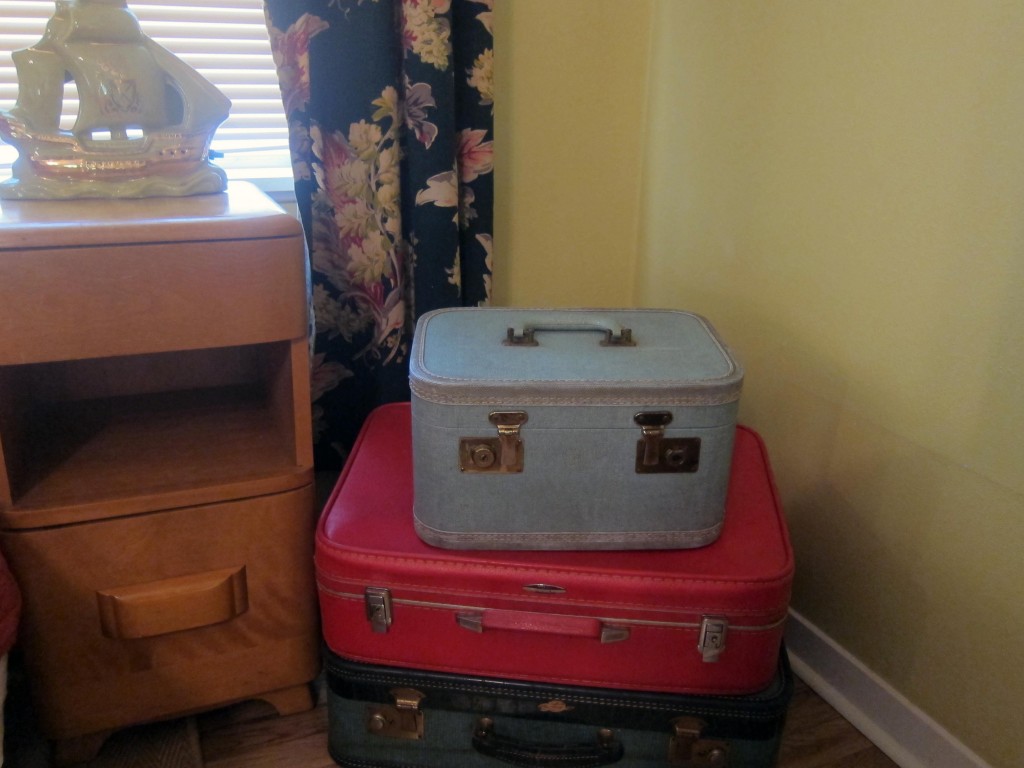 Of course the spaces in our home are always a work in progress, but it's nice to finally feel that this room is "done."  It's a warm and relaxing space for us that feels functional and pulled together at last.  The only thing left on my list is figuring out a way to create a walk in closet.  The one thing I can't live with mid century style are the closets!